I'm so excited to share how we constructed these built-in pantry shelving for our beach house. They're surprisingly straightforward to construct and can be easily customized to any space, even if you've got a small pantry or simple pantry closet. They're made entirely of two things: 3/4″ MDF sheets and 1 x 2″ pine boards (well, and some screws and nails). Plus, this process can be easily adapted to just about any space where you want to add some custom storage or shelving (bedrooms, playrooms, living rooms, etc). So even if you're a beginner, you can do this. Seriously.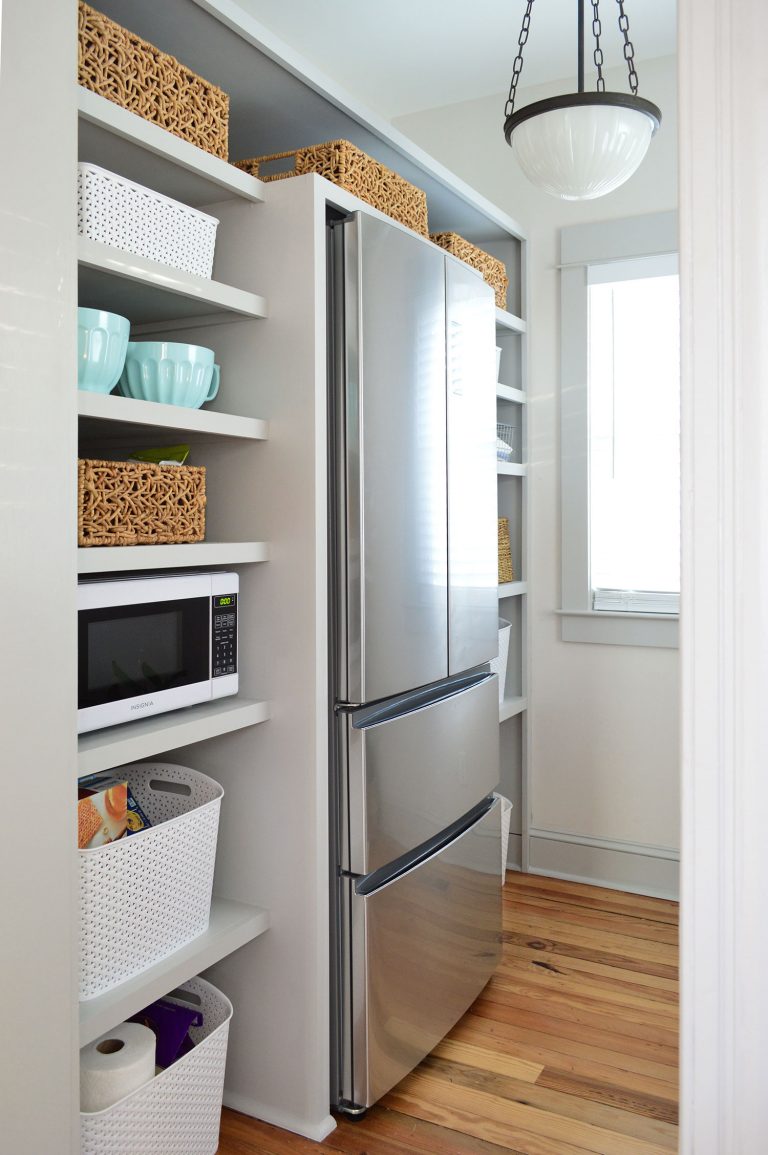 The technique we used is one we've used twice before: first in our son's room and later for our living room built-ins (shown below). Call me a creature of habit, but this method is easy to execute and we've always loved the finished look.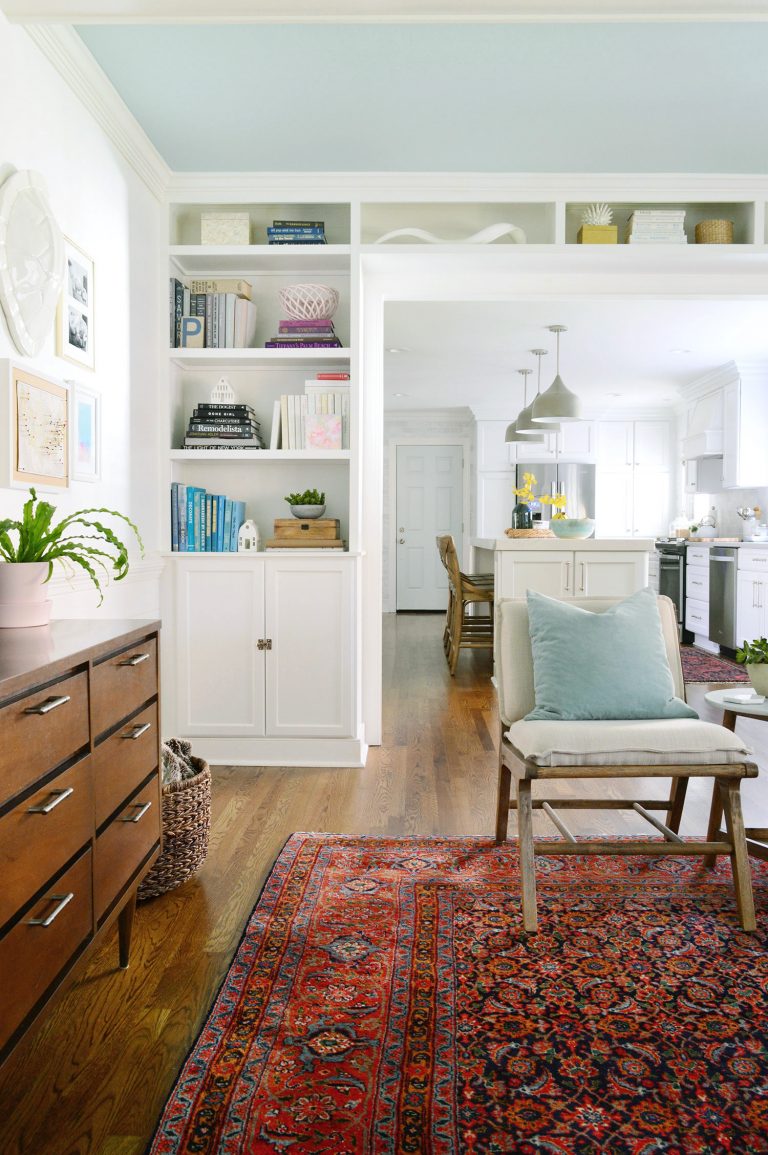 Tools & Materials Needed:
*I like working with MDF for projects like these because it's cheaper and it finishes smoother than plywood. But MDF has to be painted, so obviously use plywood if you want a stained wood look for your project.
A Video Of Our Pantry Build
We documented the construction of our built-in pantry shelves on Instagram Stories so I've compiled all of the clips into one video below. You'll see some of these steps in action and get a look at our thinking behind what goes where on the finished shelves. But you can still read a more detailed step-by-step tutorial below.
Note: If you're viewing this in a reader, you may have to click through to our website to see the video, or you can watch it here on YouTube.
Step 1: Planning Your Shelves
This room was originally slated to be a breakfast nook, but we quickly realized it would better serve us as walk-in pantry storage (plus a spot for our refrigerator). We chose this counter-depth refrigerator because of its size and its double-drawer freezer layout – a feature I wish we had in our fridge at home! It would become the "centerpiece" for our pantry design.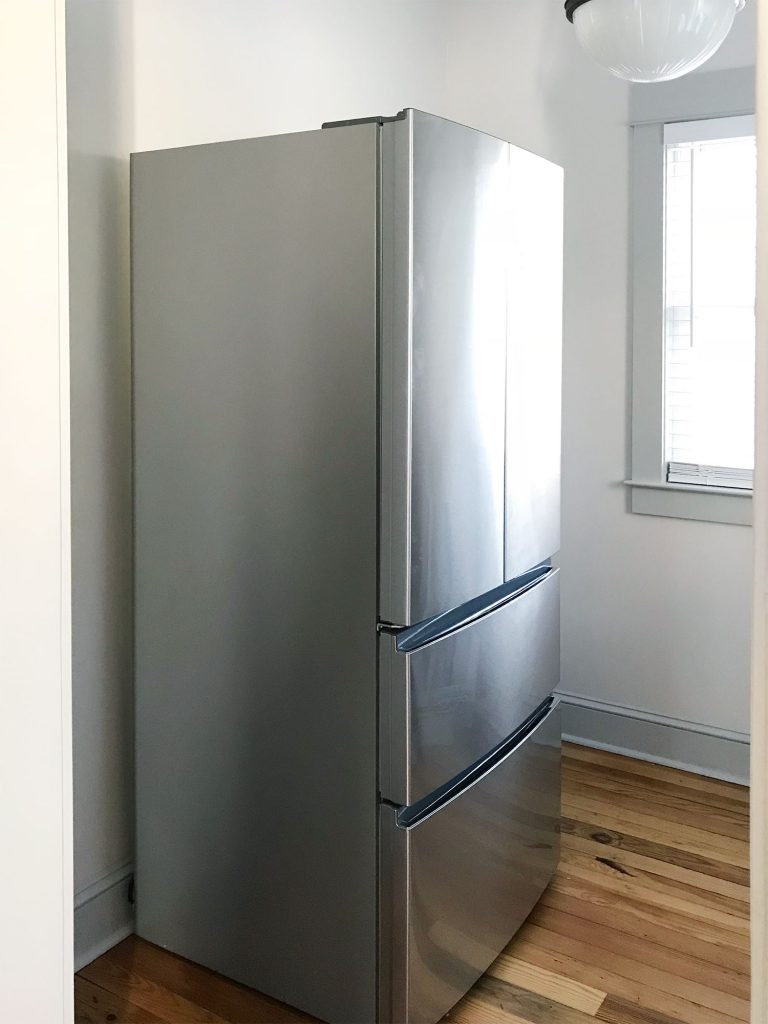 With measurements of the room in hand, I Picasso'd sketched an idea of what we wanted to create so that I could determine how many MDF sheets to buy. Our pantry shelves could only be 21″ deep due to some molding around the room's door, so we determined that each MDF piece should be 20″ deep. This would leave plenty of room for the 1×2″ pine board we'd be nailing to the front of each shelf.
You can see below that I assigned each shelf and vertical divider with a letter and accompanying dimensions in order to map out exactly how many 4′ x 8′ sheets of 3/4″ MDF to buy (those are the rectangles you see at the bottom of the page). At this stage it wasn't important to finalize my shelf heights or spacing, since I'd have plenty of leftover to make additional shelves if needed.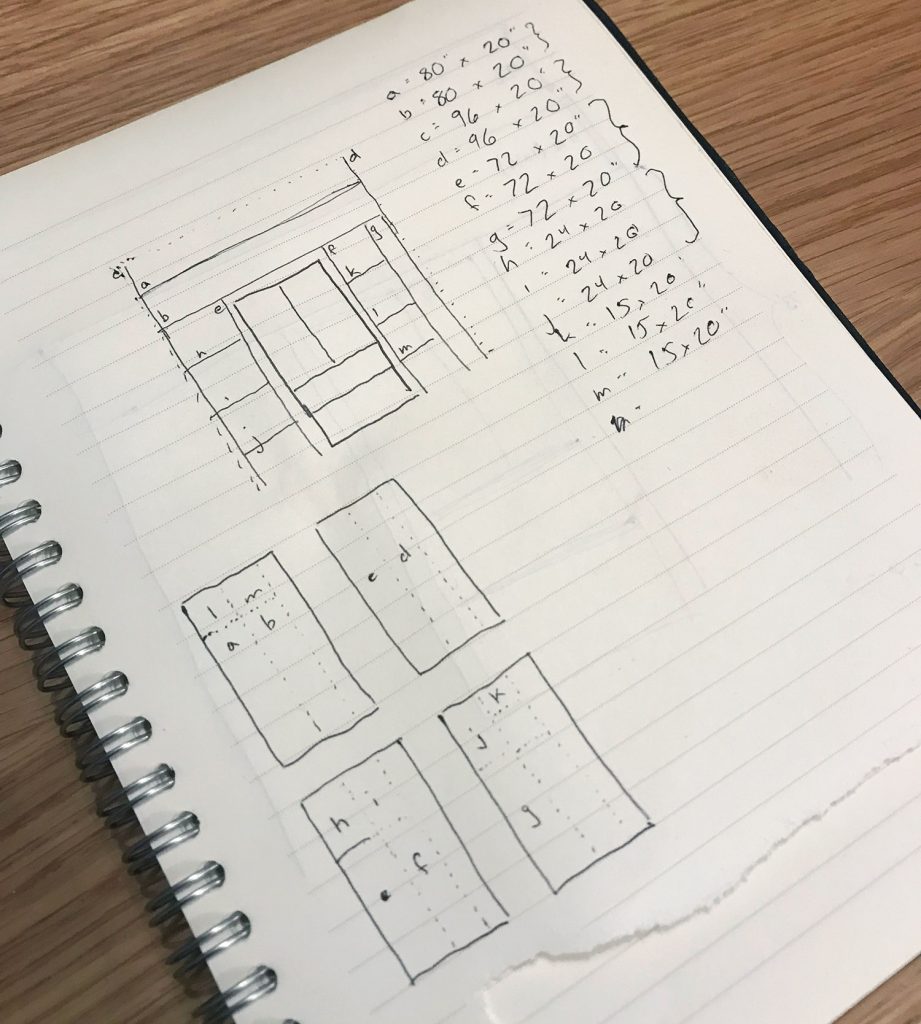 We originally planned a skinny vertical cubby for the broom/mop/vacuum situation but later nixed it, so ignore the long skinny cubby that's labeled "G" above.
Step 2: Purchase Your Materials
When we bought our MDF at Home Depot, I had them rip each 4×8′ panel into 20″ side strips. Not only did that make them easier to transport, but the big saw at Home Depot can make those cuts MUCH faster and more consistently than I can at home – and they do it for free!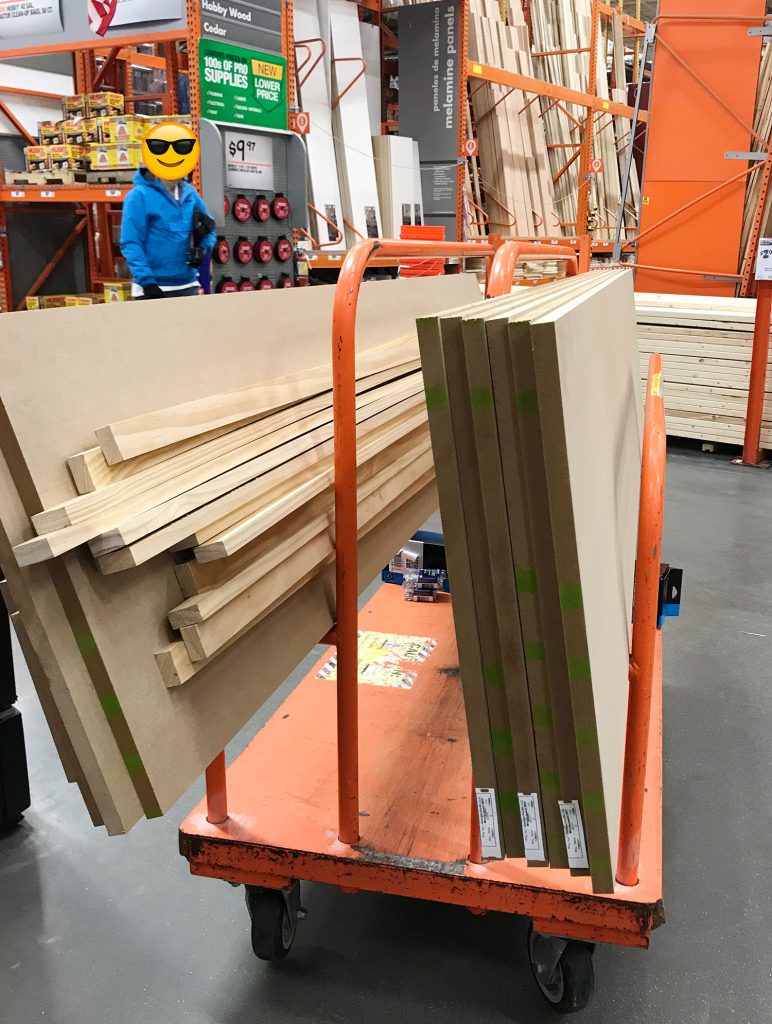 We also picked up a whole bunch of 1×2″ pine boards: enough to cover the exposed front edge of ever shelf, plus some extras to cut in half as skinny "support pieces" along the back wall (more on that in a second). All of my wood and MDF, plus some screws and wood glue cost me less than $200!
Step 3. Remove Any Existing Baseboards
Before building anything, our first step was prying off the existing baseboard. You'll want to save this to put back on later as needed so try not to damage it in the process. Easier said than done when you forget your crowbar!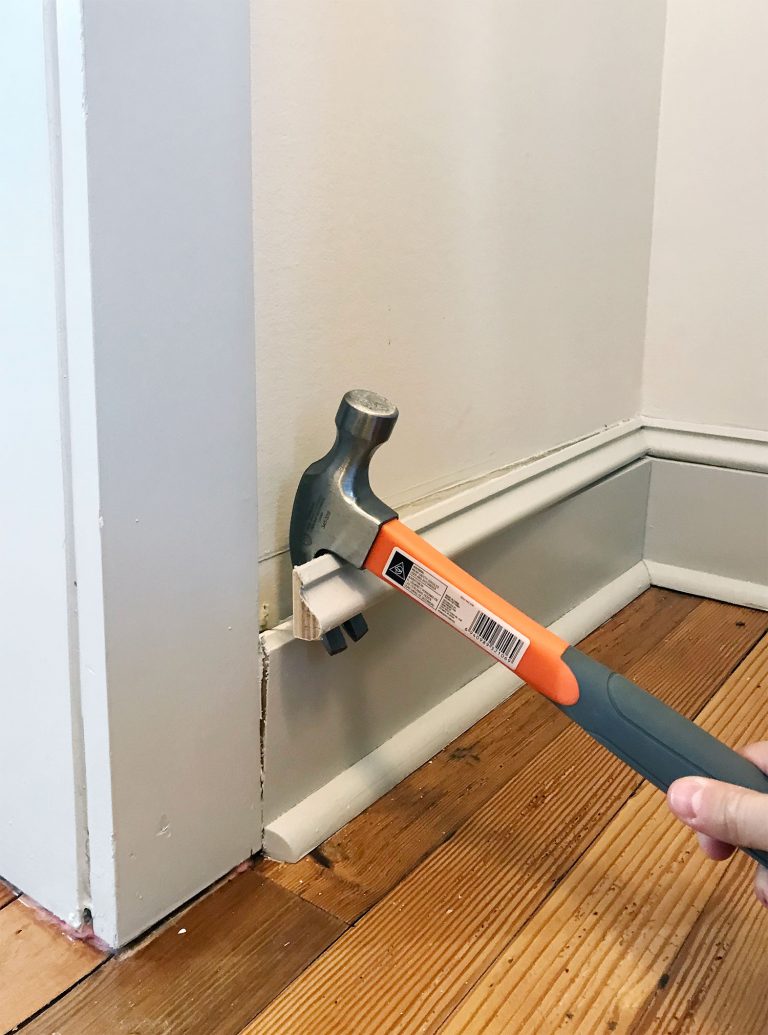 Step 4. Attach The Vertical Panels
We started by installing the vertical pieces along both walls and flanking the fridge. We cut them to the right height outside with our circular saw (more on that in a bit) and then leaned them in place. We used some scrap MDF pieces to make the panels next to the fridge a little deeper than 20″ so it covered the sides of the fridge better. We went into this knowing the fridge would stick out a bit, but figured we wouldn't mind. Spoiler: we did mind, so we adjusted our plan so the center section would bump out a little further around the fridge, which ended up looking even more custom in the end. You can see that a little later in the post.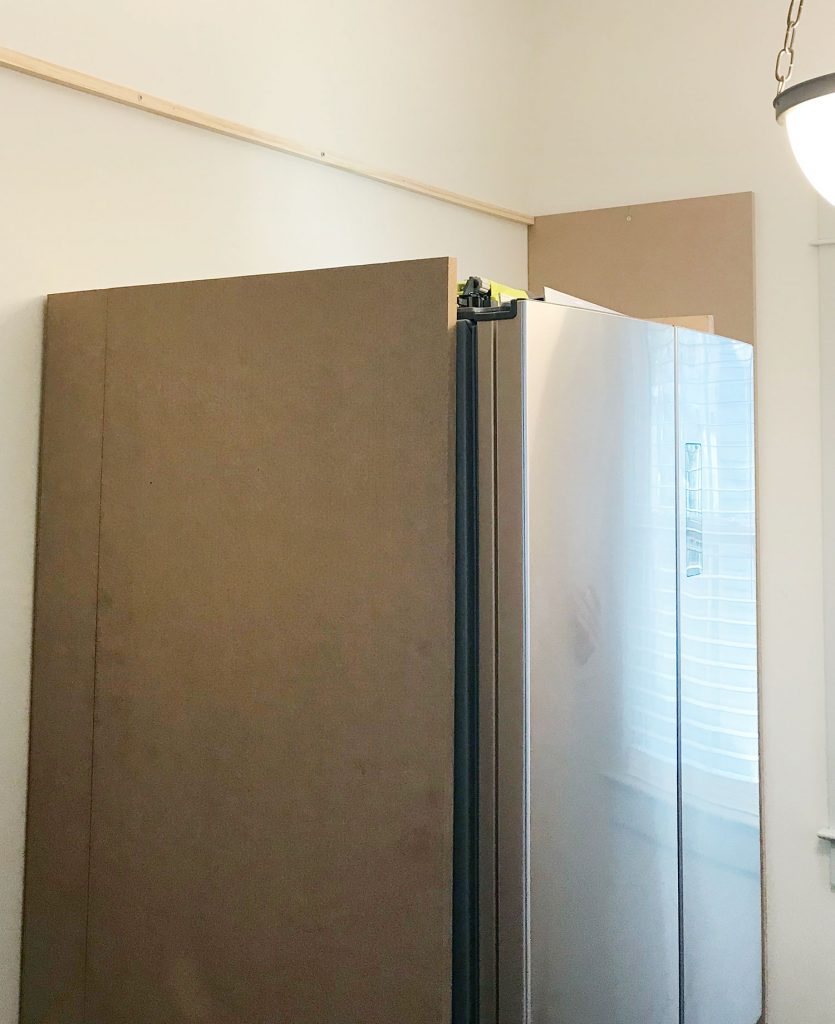 We screwed the panels against the walls directly into the wall studs in several spots, so they're easy to attach (again, here's our favorite stud finder).
The vertical panels that "float" next to the fridge were a little trickier since you (a) can't screw directly into your refrigerator and (b) you want to leave enough gap so the fridge easily slides in and out and has some side ventilation. So we held each panel where we wanted it (using a level to keep it straight) and then we marked the wall and floor. Then we screwed some skinny "support pieces" of wood into the wall and floor, giving us a secure place to attach the MDF panel.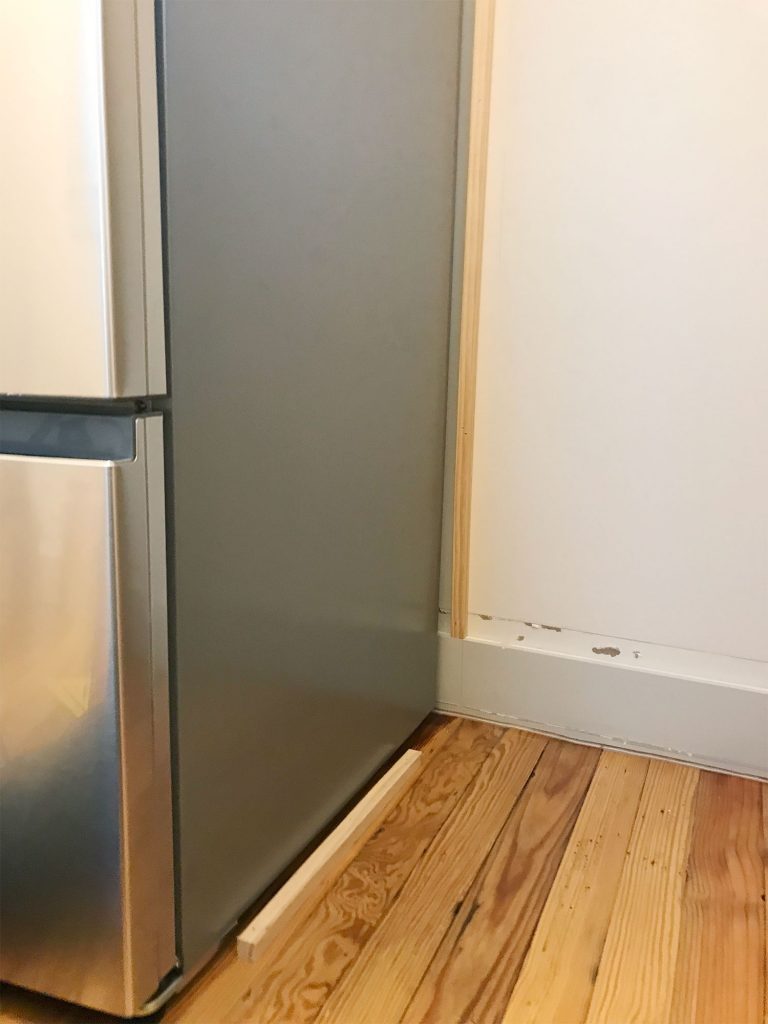 We made those skinny support pieces ripping some 1 x 2″ pine boards in half on my table saw. You could also use spare MDF or just buy these pre-cut pieces instead, but it's a little more expensive that way. We used a fair amount of them in this project (you can see another long brace piece above my head in the shot below – providing support for the big shelf across the back wall) so for us, it was worth the trouble to cut our own. We always put the cut edge against the wall so the visible sides aren't raw.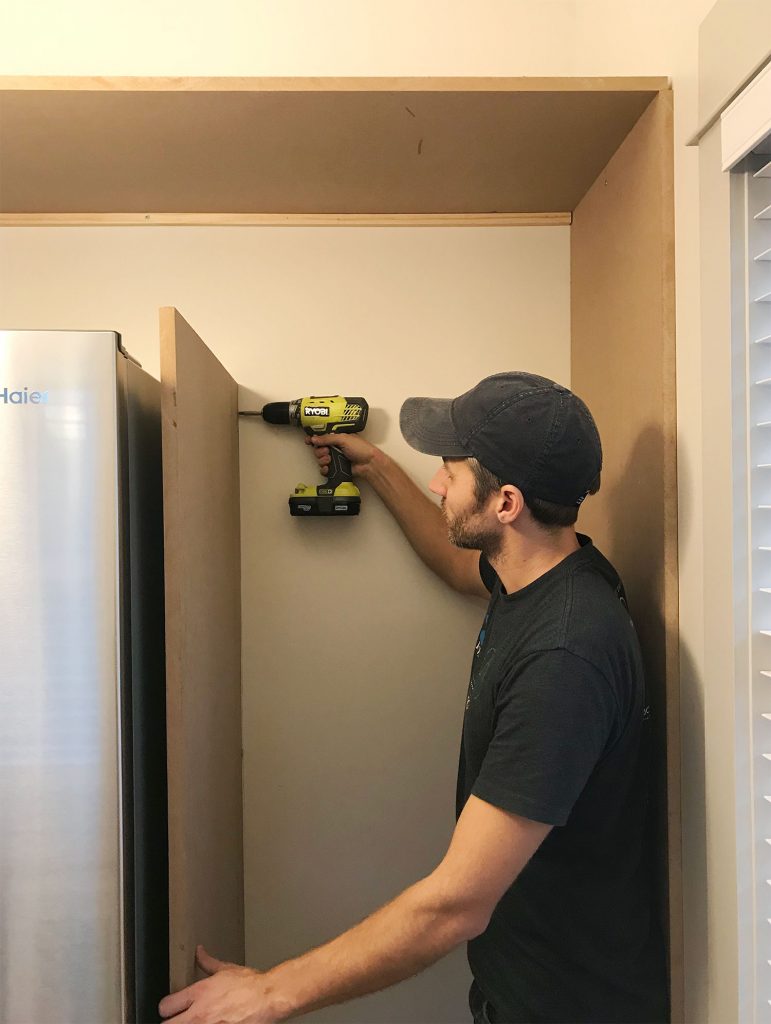 Step 5: Add The Top Pieces
With all four vertical pieces secured, we started adding the long horizontal pieces to create the large "boxes" in our design. The very top shelf rested on the two wall pieces on each end and across a skinny support piece we screwed into on the back wall. The shelf across the top of the fridge rested on the fridge panels and on brace pieces that we added to the back and side walls. We used a long level throughout to keep things square and screwed everything in place, adding a lot of strength to each box.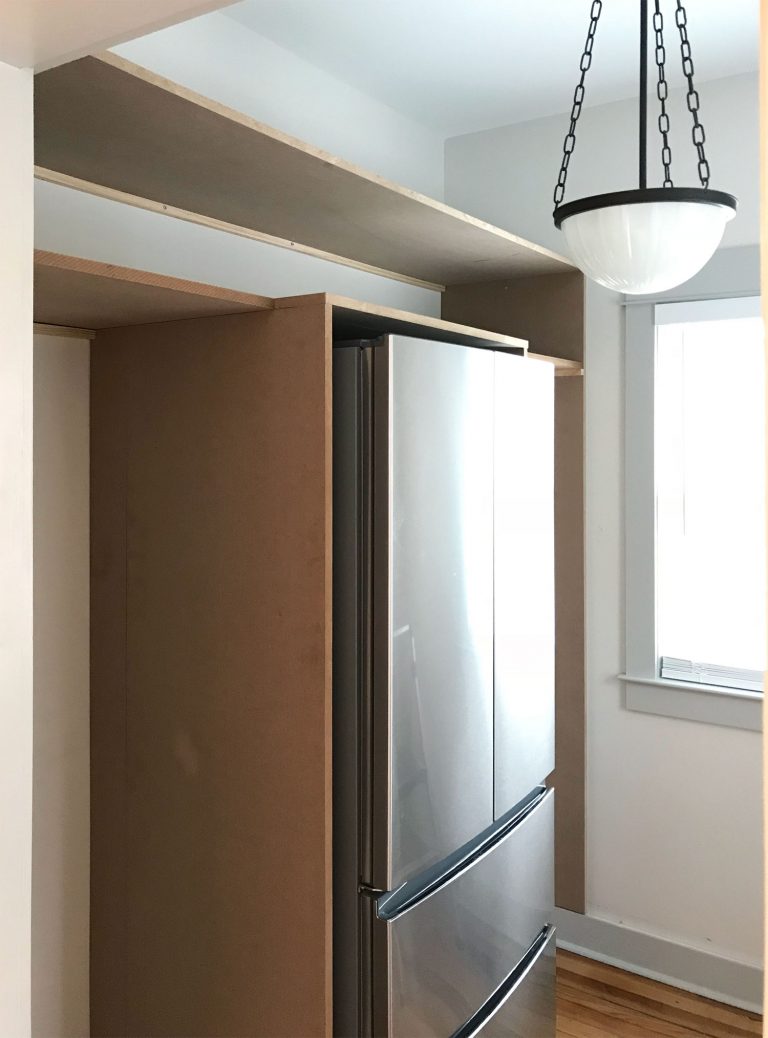 The angle below shows the support pieces a bit better. It's pretty easy and quick to add. Once it's cut to length, I hold it in place with a level and then fire a nail or two in with my nail gun. Then we followed up with screws spaced around 16″ apart for a better long-term hold. We always go into studs when we can, but one pro to screwing those side wall MDF panels into studs is that it makes the entire panel really firmly attached and secure, so you can pretty much screw brace pieces into it anywhere.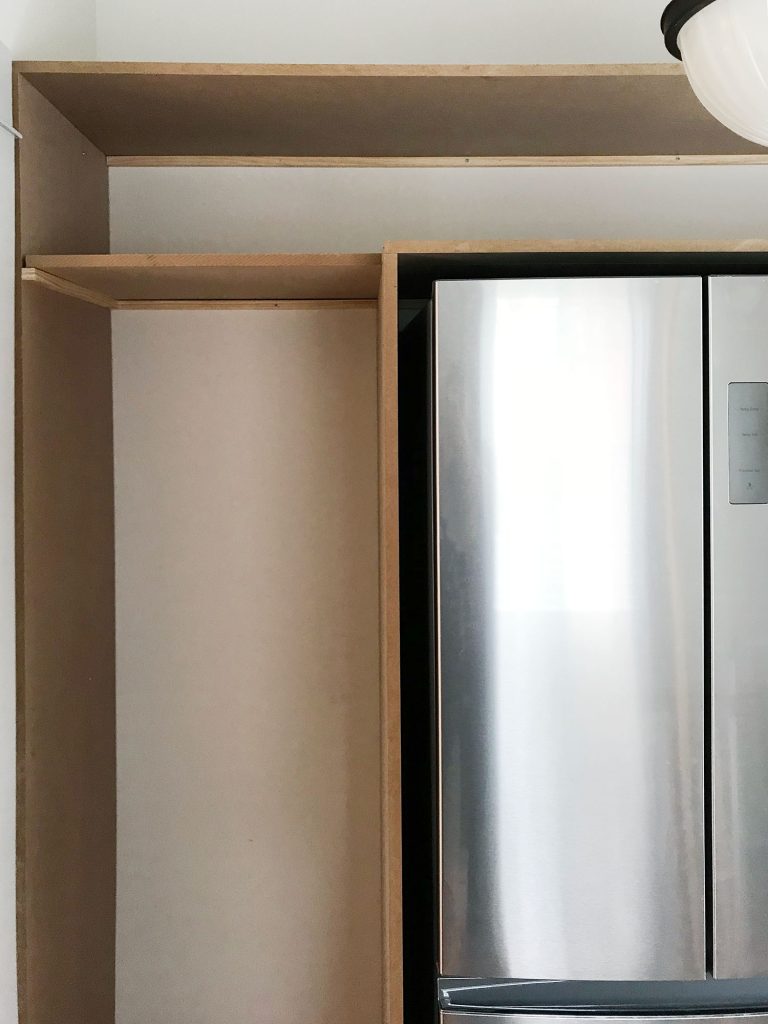 Step 6: Cut & Add The Shelves
From here it was just about repeating that process for all of the smaller pantry shelves down each side. We cut all of our shelves first, using our circular saw outside. If you can, try to double up your boards (like I've done below) so you can get two shelves out of each cut. Just be sure to clamp them together firmly first so they don't shift while you saw.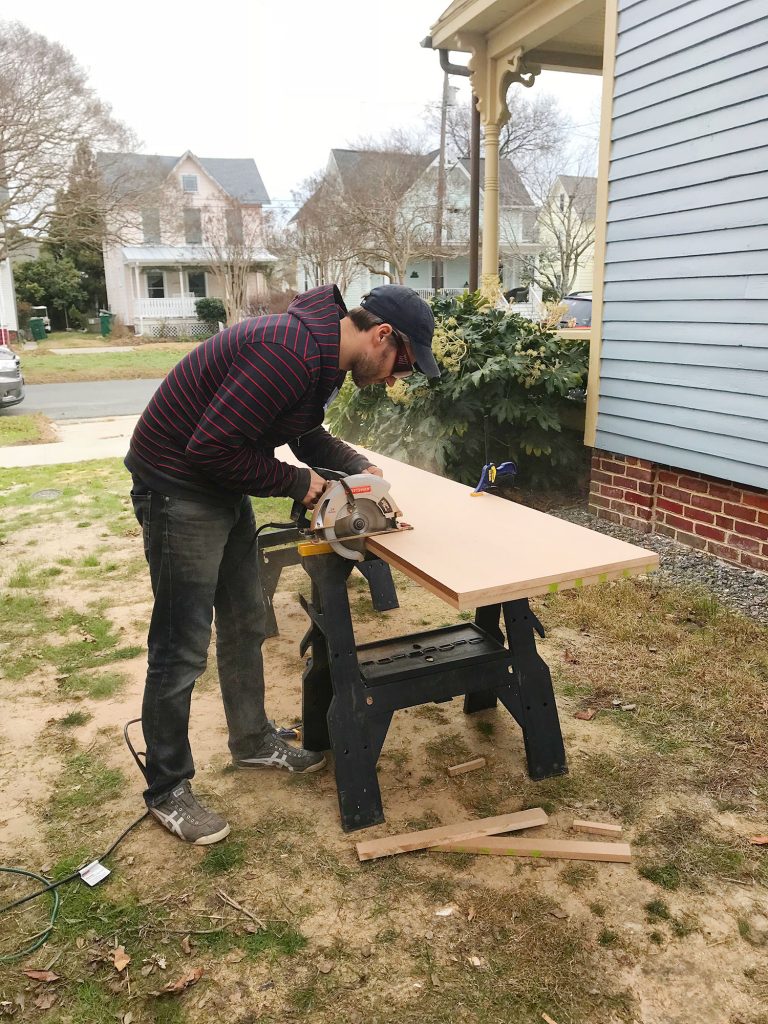 To determine the shelf heights, we brought actual objects into the pantry (like cans, storage bins, and those jumbo cereal boxes and chip bags) to see what we needed. We landed on a combination of mostly 8″ and 14″ high shelves, plus some larger ones at the bottom to accommodate things like a beach cooler. Once we measured and marked each shelf, we leveled/nailed/screwed all of our brace pieces along each side.
Just remember that you want your brace piece to be attached 3/4″ lower than the top of your final shelf height (since you'll be resting the 3/4″ MDF shelf piece on top of each brace).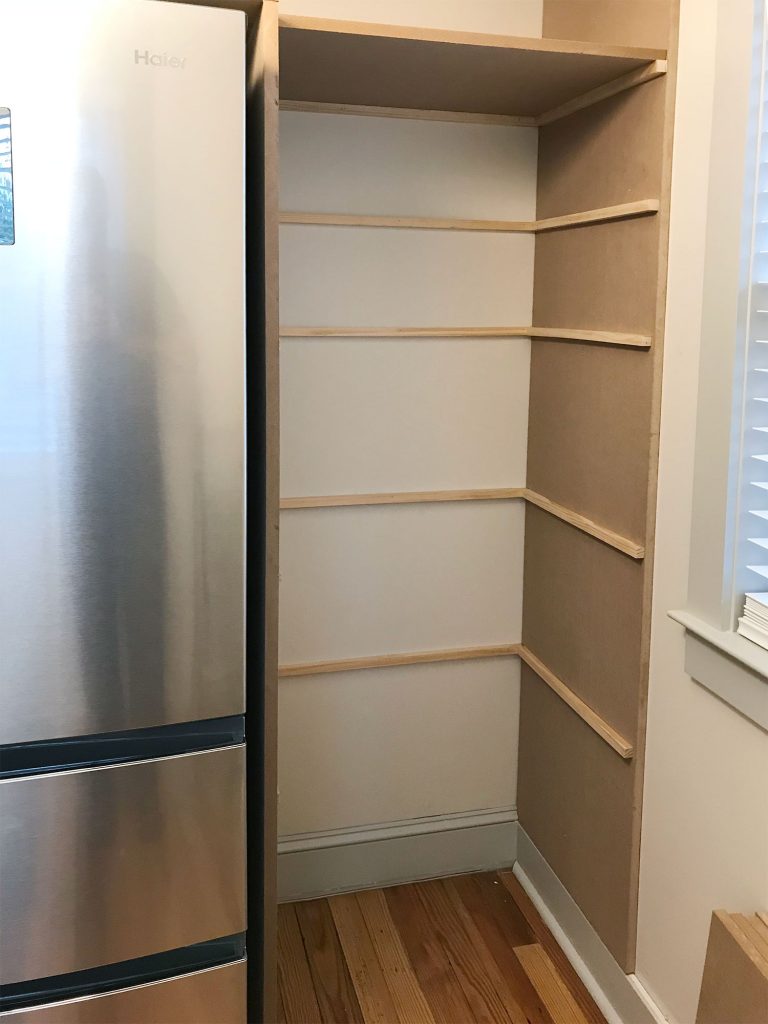 Then we got to slide each of our shelves into place and secure them in each corner with short screws. This isn't absolutely necessary, but it keeps your shelving from being wobbly in case any of your brace pieces ended up being slightly unlevel or your MDF is a smidge warped.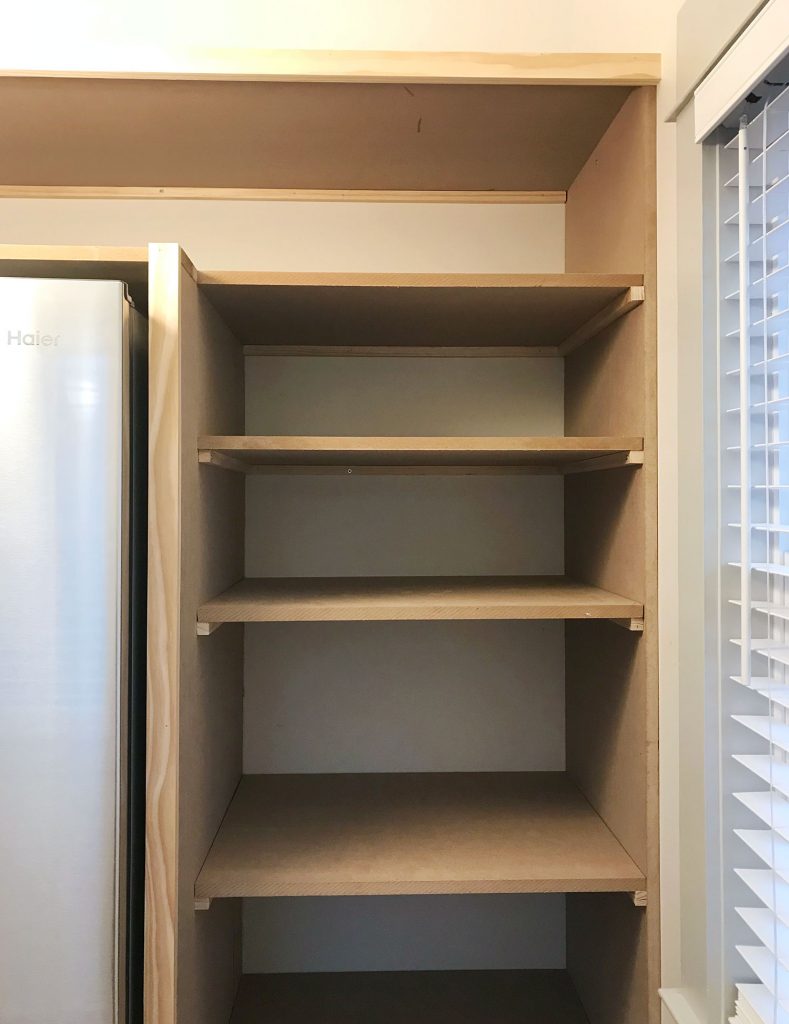 Step 7: Finish Off The Shelf Fronts
The last step was adding 1×2″ face pieces across each exposed edge. You can see below how much more finished they look (the top shelf has it already while the other two under it don't). They're basically triple threats: (1) they cover the rough MDF's cut edge, (2) they hide the brace piece under it and (3) they make the shelf look thicker and more substantial. Win-win-win.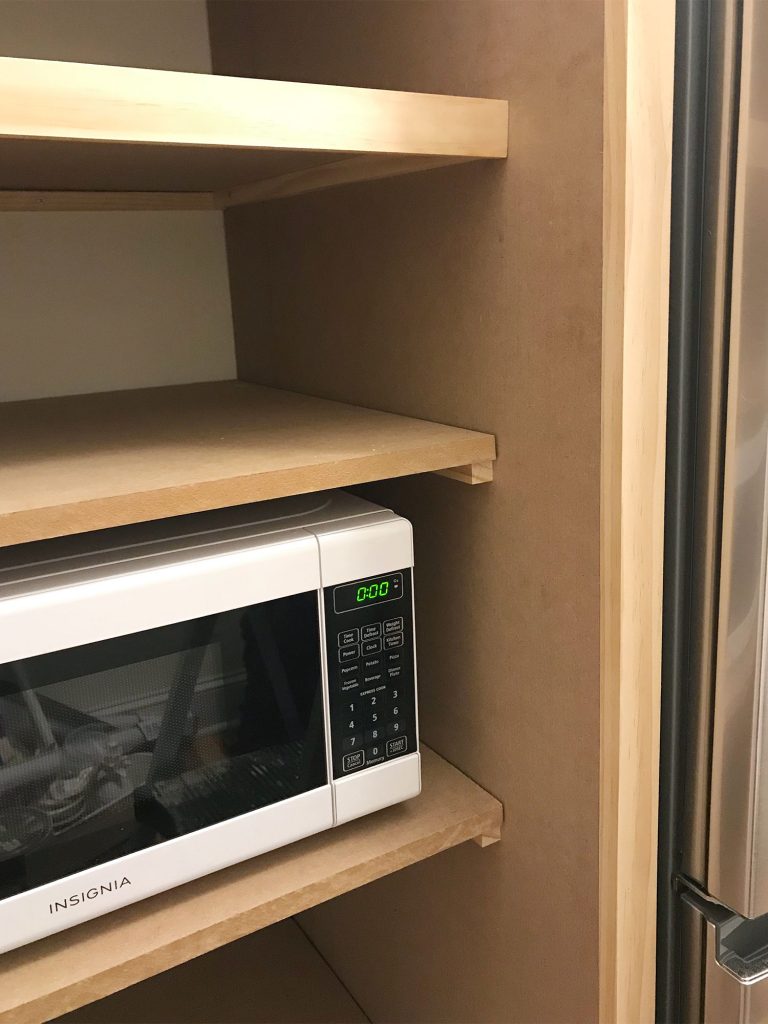 We attached these with some wood glue on the back and some finish nails, since we didn't want big screw heads visible. The little nail holes will need to be filled with spackle later, but that's really quick to do.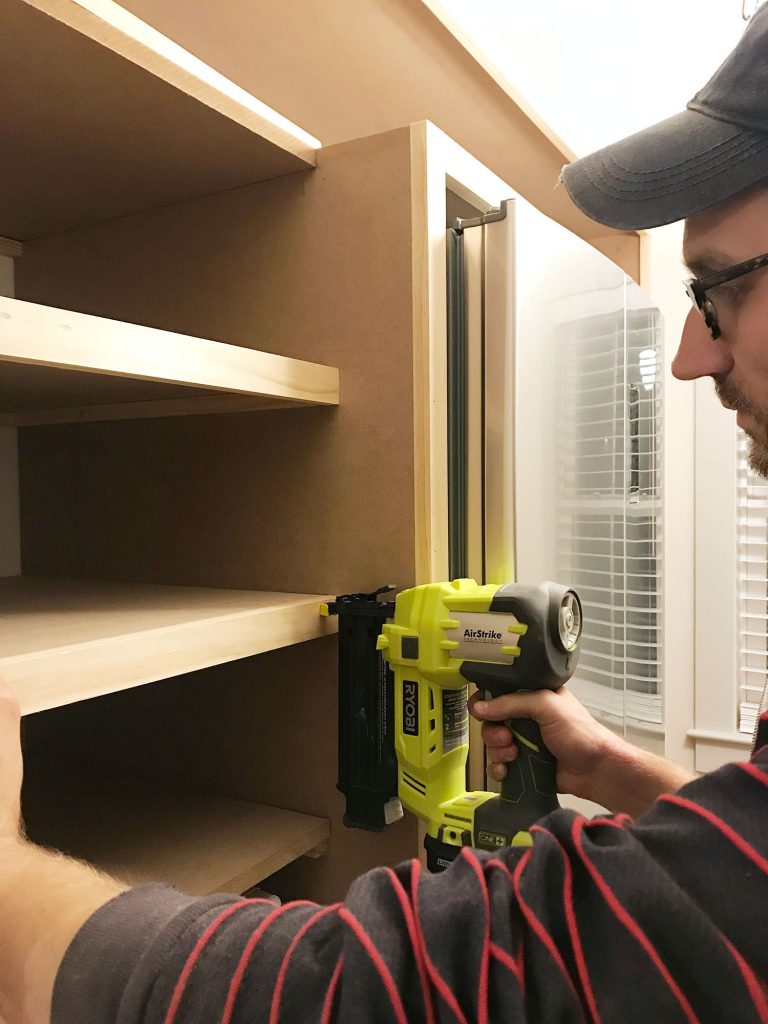 Note: Since our only outlet on that wall is behind the fridge, I just drilled a 1 1/4″ hole in the side of the microwave shelf so we could snake the plug through there, behind the fridge, and into the other outlet back there.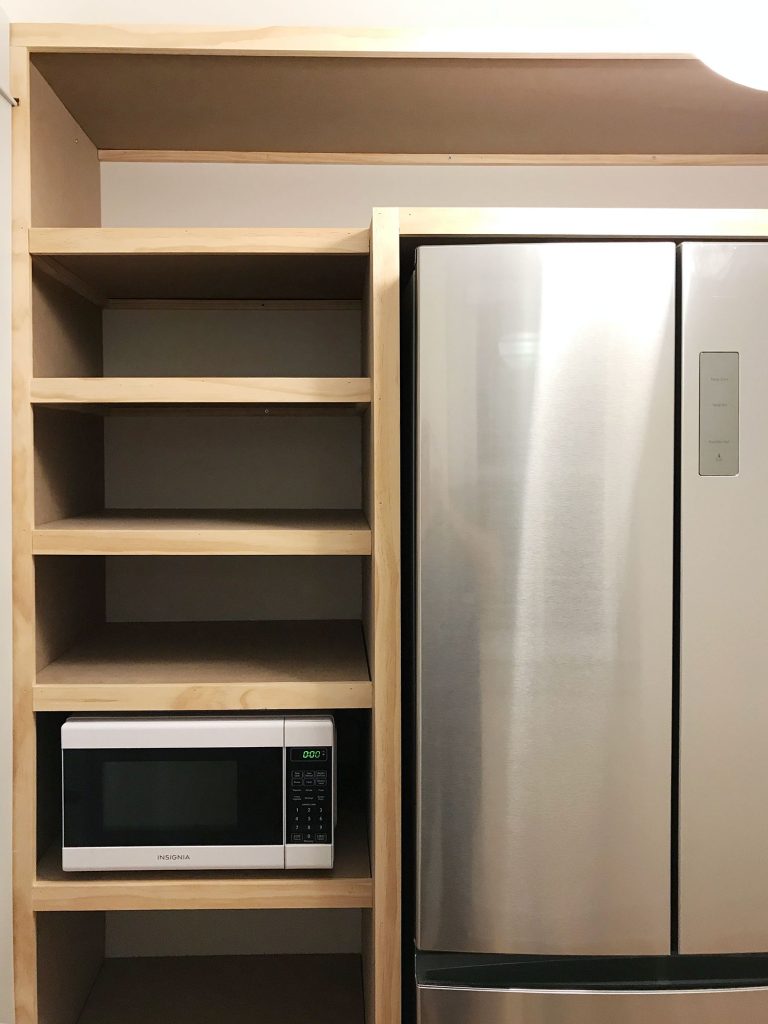 Step 8: Caulk, Spackle, Prime & Painting The Shelves
Like with any construction project, your last steps are to caulk any seams (like where the shelves meet each other or the wall), spackle any nail holes, and then prime & paint. Since we were painting ours gray to match the rest of trim (SW Stone Isle) we had our primer tinted gray to get better coverage.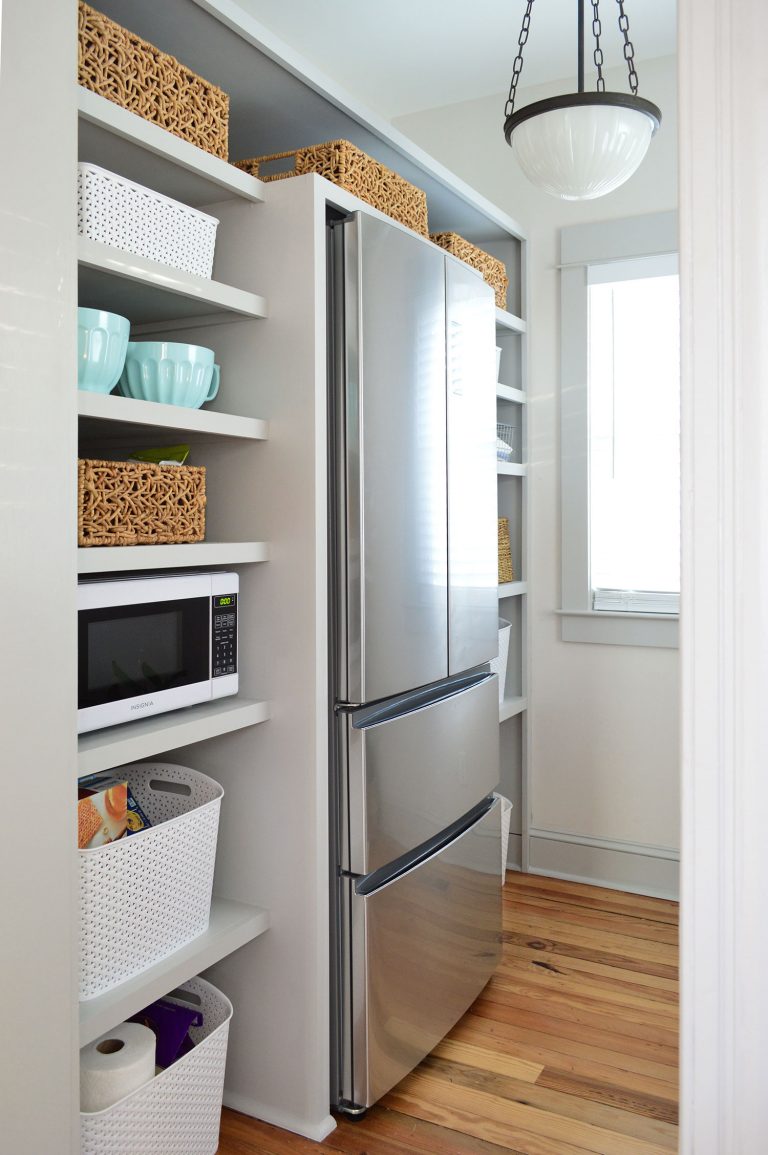 Alternatively, you could prime and painted one coat on everything BEFORE we constructed anything because it's easier to paint everything laid out on a drop cloth. But we don't have a big garage/workroom/shed to spread out for painting at the beach house. Plus, we always have to do touch-ups afterward anyways (to cover up caulk, spackle, and any scuffing made when we assembled things), so it's not too bad to do it all at once at the end.
Step 9: Fill & Organize Your Shelves
We love open shelves, but they do take a bit of organization to not look messy. So we relied on a lot of baskets in this pantry to wrangle things and keep the open shelving looking clean. You could also use plastic containers, jars, and other storage accessories you see fit. If you have these before your build, you can also use their measurements to make your shelves the perfect height to
You can see how we organized our built-in pantry as part of our beach house kitchen organization post. It includes a video walk-through of the kitchen and pantry where we open every cabinet and drawer! You can also see how we added some shallow storage cabinets on the opposite wall along with a convenient counter space for putting things down when they come out of the fridge.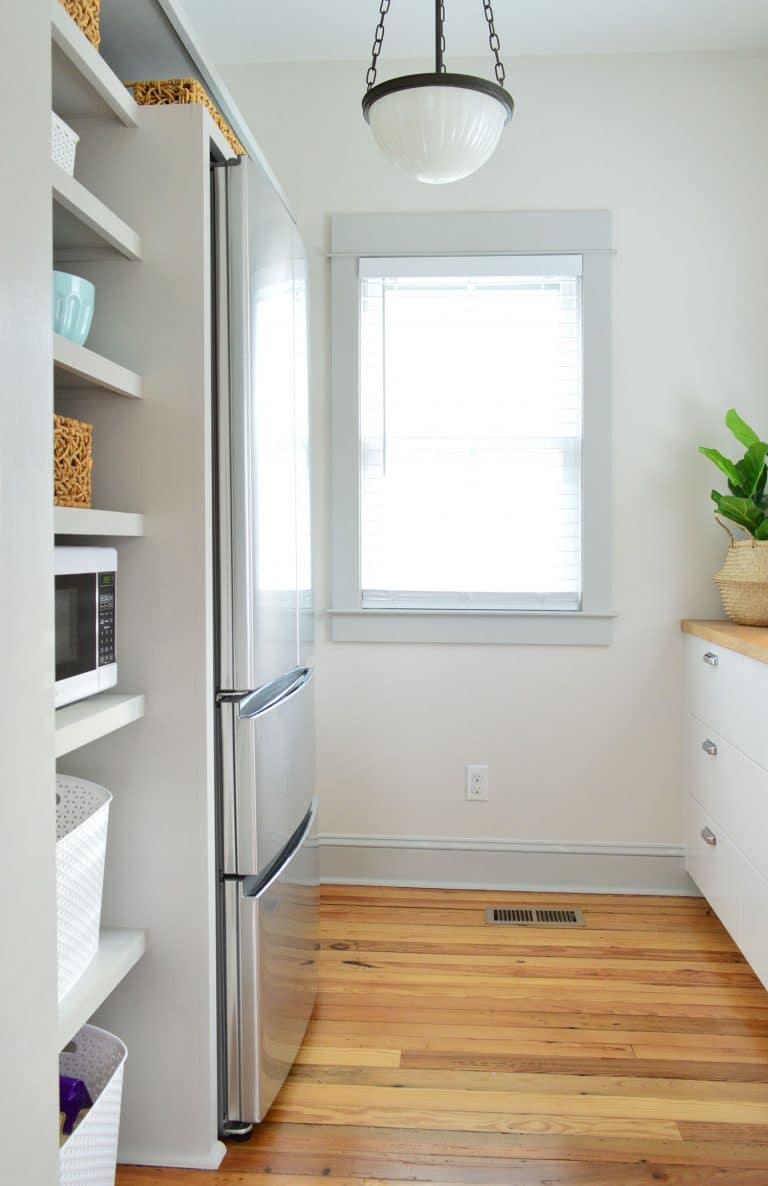 We're so grateful for all of the storage we were able to squeeze into this room thanks to these custom shelves. We've got room for everything from food and cleaning supplies to kitchen essentials like small appliances like a toaster and blender, mixing bowls, dishtowels, that beach cooler we mentioned, etc. If we were into cookbooks, I'm sure they'd look great up there too!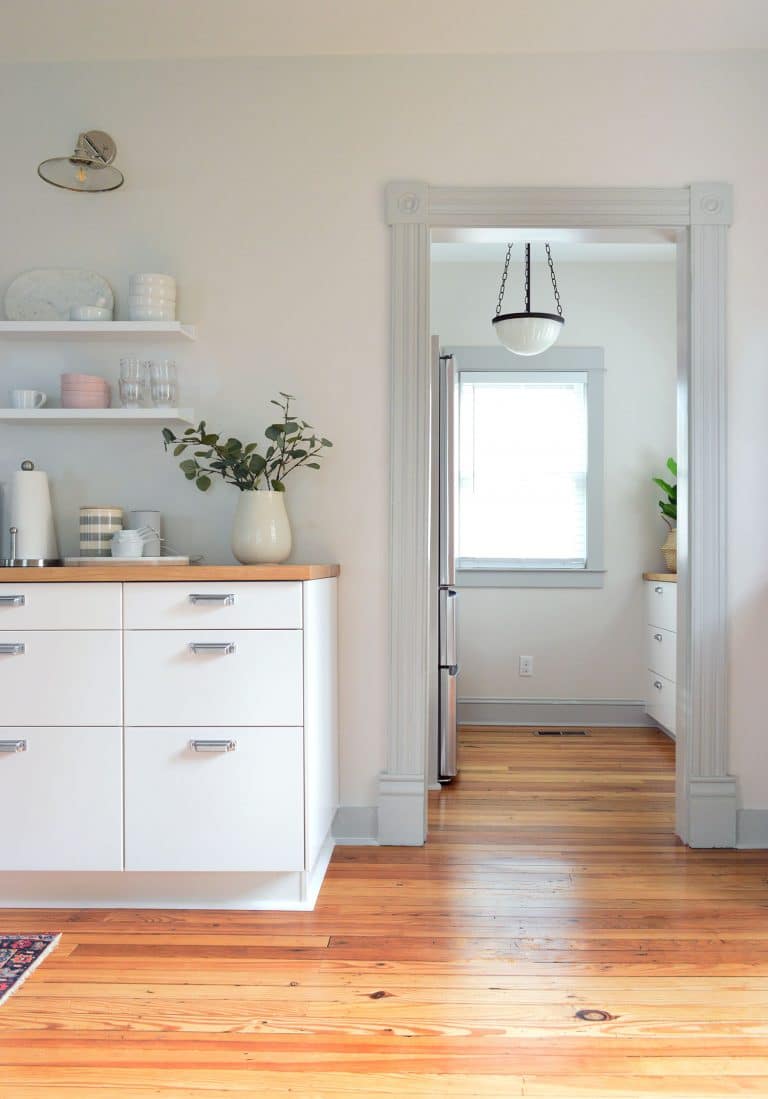 More Resources
If you're looking for more detail, we constructed our son's built-in shelves using the same method and offer a closer look at some of the steps. Plus, in that post and the one about our living room built-ins, you can see how we included some closed drawer/cabinet storage into the plans as well. They're both still some of my favorite DIY projects to date, they're holding up really well, and they're extremely functional for our family. And now this pantry is about to be welcomed to the club.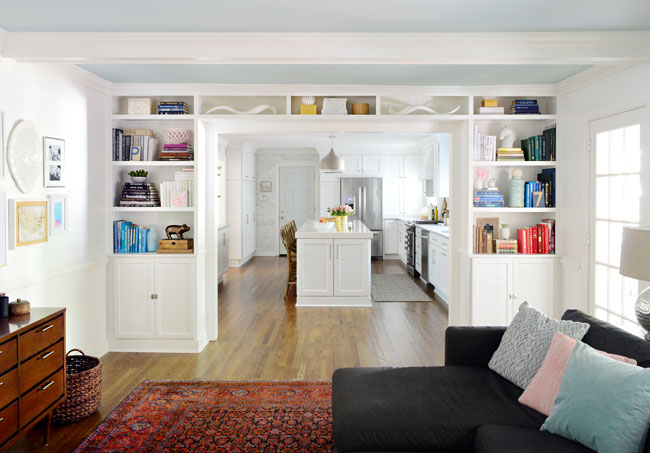 And If you want to see another pantry makeover project we did, check out how we made over our old kitchen pantry by adding some smarter organization (and lots of paint!).
UPDATE: We also more recently added a large pantry cabinet to the kitchen in our Florida home. So if you're not interested in fully DIYing your way to a new pantry, here's how we added lots of food storage using ready-to-assemble cabinets from Ikea.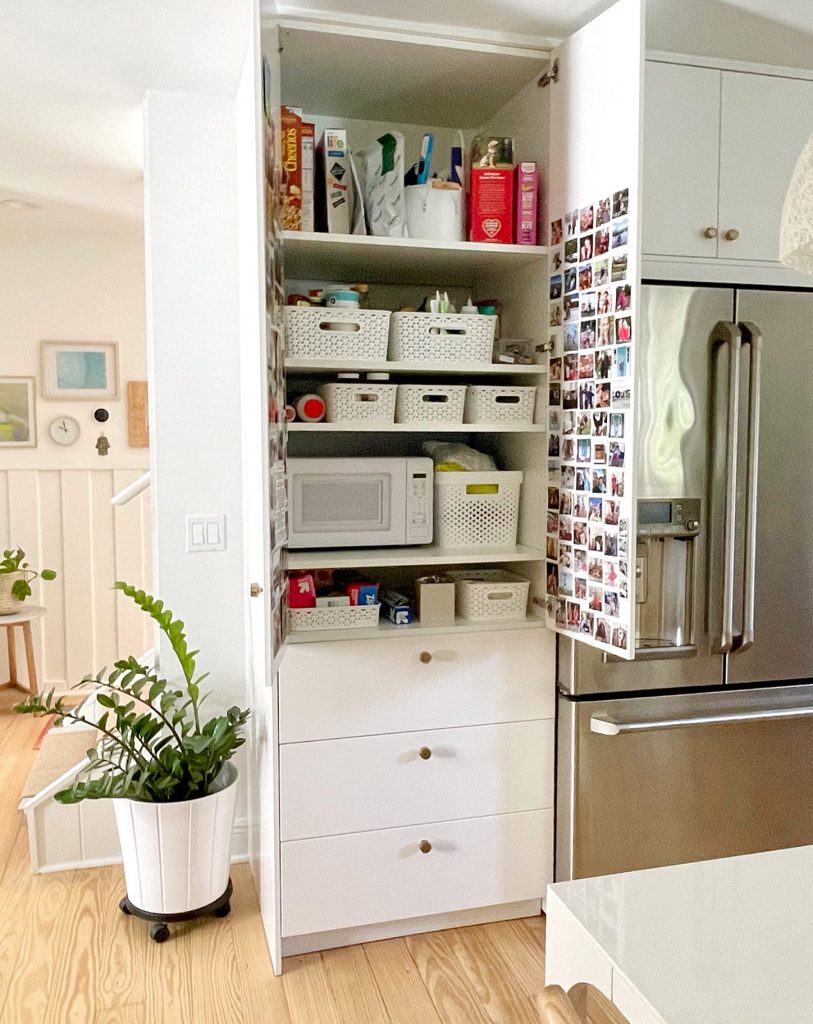 *This post contains affiliates*
Originally published January 2018. Updated 2022.