If you follow our Instagram stories, you've probably seen the news that we welcomed a new member of the Petersik family recently. But I wanted to take a moment to properly introduce her here on the blog. So… say hello to Penny!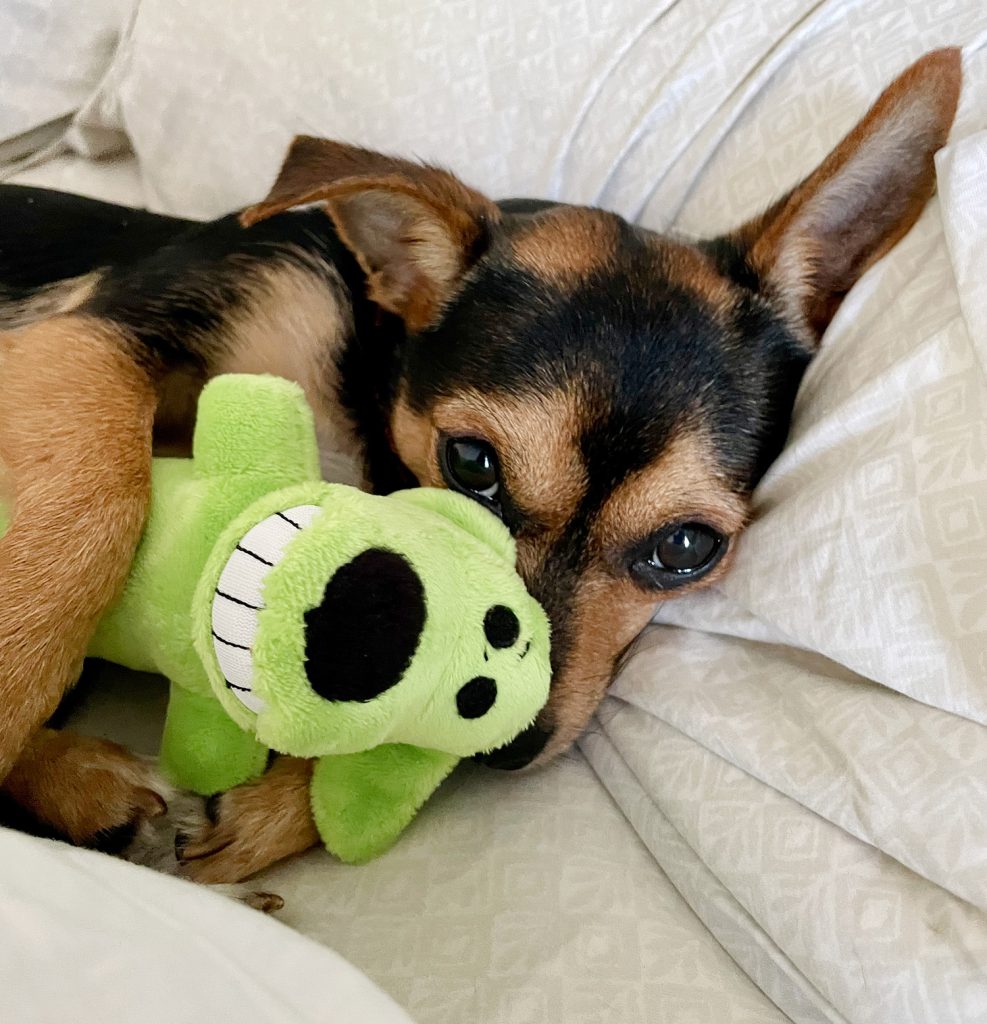 After Burger, our chihuahua of 15 years, passed away in October, we were wrecked. It was a huge loss for our family, and in the initial days after Burger's passing we donated a ton of things he left behind (our vet was able to pass along his treats, food, crate, and heart medication to other dogs in need of those items). Of course we saved a few keepsakes like his collar and blanket, but we tucked them away in a box because we couldn't bear to see "dog things" all over the house when the absence of his clicking paws and jingling collar felt so loud in our ears. Every sun spot felt stupid and annoying without him in it.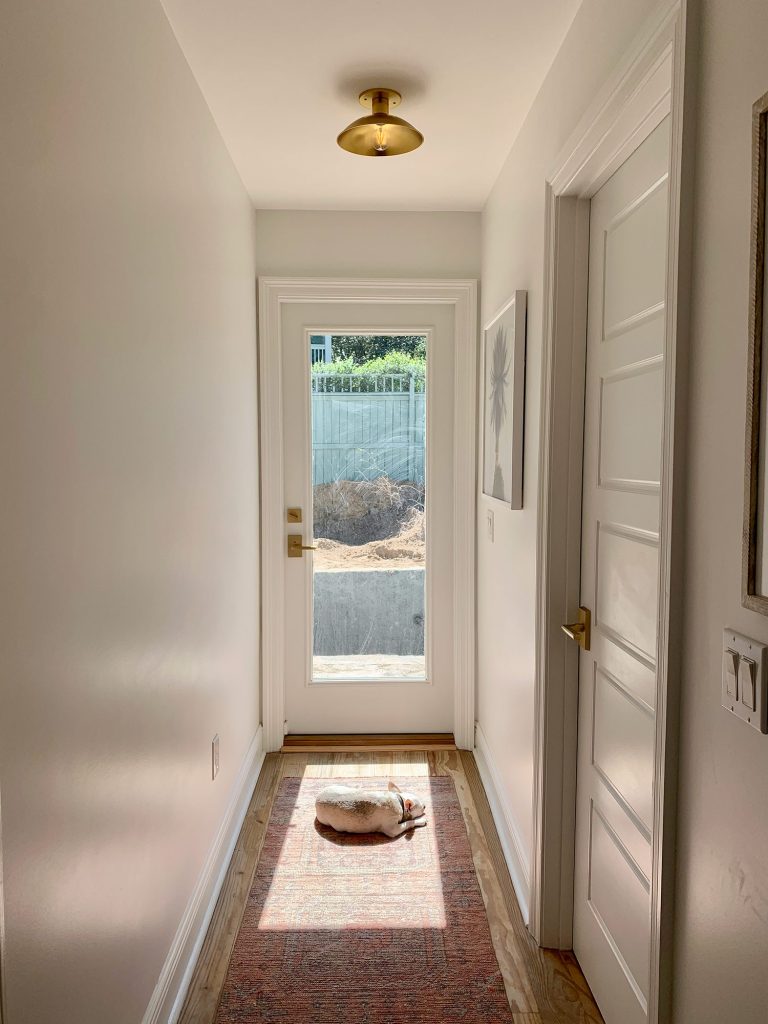 We knew we liked the idea of giving another dog a loving home, but we weren't sure when we'd feel ready. Many of you comforted us by sharing your experiences with pet loss and saying "you'll know when you know" which sounds cryptic and amorphous but turned out to be true.
Over the weeks, bit by bit, we noticed that we no longer felt a pang of sadness anytime a dog walked by. Gradually memories of Burger elicited more smiles than tears. We could laugh about how he would've gobbled up that piece of spaghetti we dropped on the floor or how some scrap of paper would've definitely ended up stuck to his nose.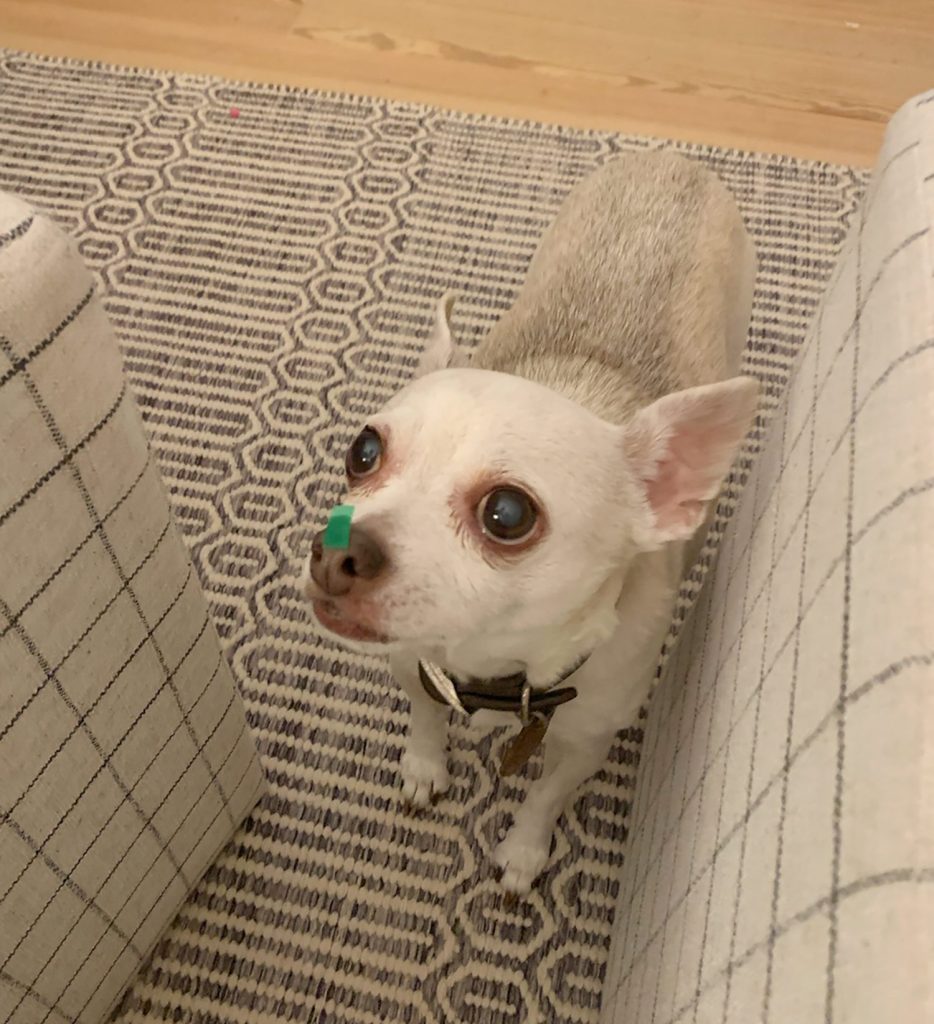 In December we started browsing shelters on Petfinder and local rescue Facebook pages " just to see." For a while, it felt more like a fact-finding mission than a serious hunt, but then on New Year's Day, around two and a half months after Burger's passing, we laid eyes on Penny on a local Facebook rescue page and just had that immediate feeling. We filled out an application through the rescue website, messaged with the foster mom, drove out to meet her, and were lucky enough to be chosen as her adoptive family. All in one day. What a way to start the year!
This is actually a photo of the day we met her at her foster mom's home when she put her head right into our daughter's cupped hands. Pretty much from the second we met her, we all fell for her.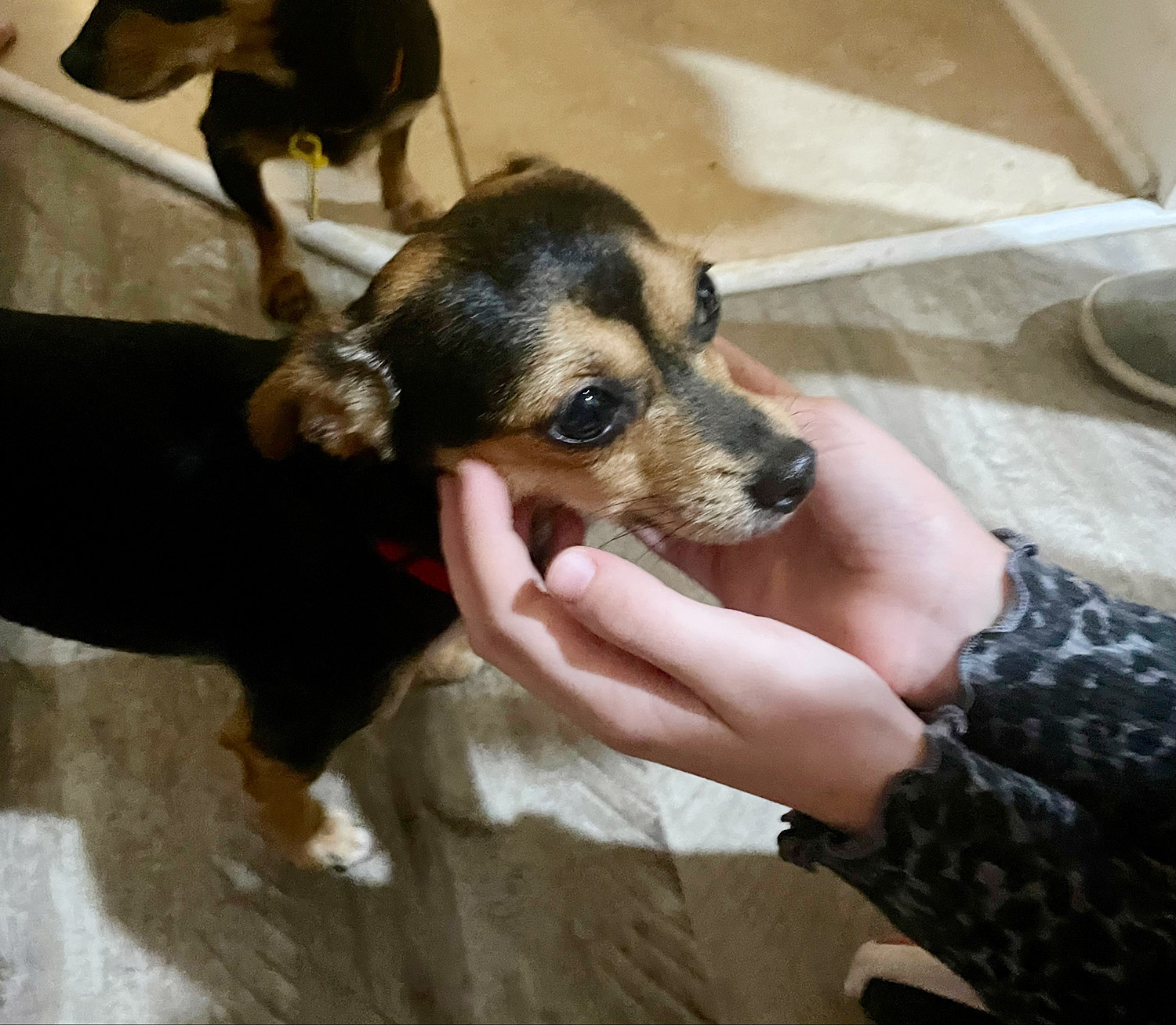 Her old owner had multiple dogs that she surrendered to the rescue because she thought they deserved better care and attention, which is how Penny made her way into the foster mom's care (along with a ton of other dogs – I think there were 11 at her house that night!). Penny is two and a half years old and had never had any shots or been to the vet ever – and was actually in heat when we rescued her (never got spayed) so that was a new experience for us. Catching her up on all of her shots and scheduling her spaying and getting her all checked out was how we spent the first few days of the year, and she got a glowing bill of health, which we're very thankful for. The vet said she was a little underweight, so Sherry has had fun spoiling her to get her all caught up to where she should be.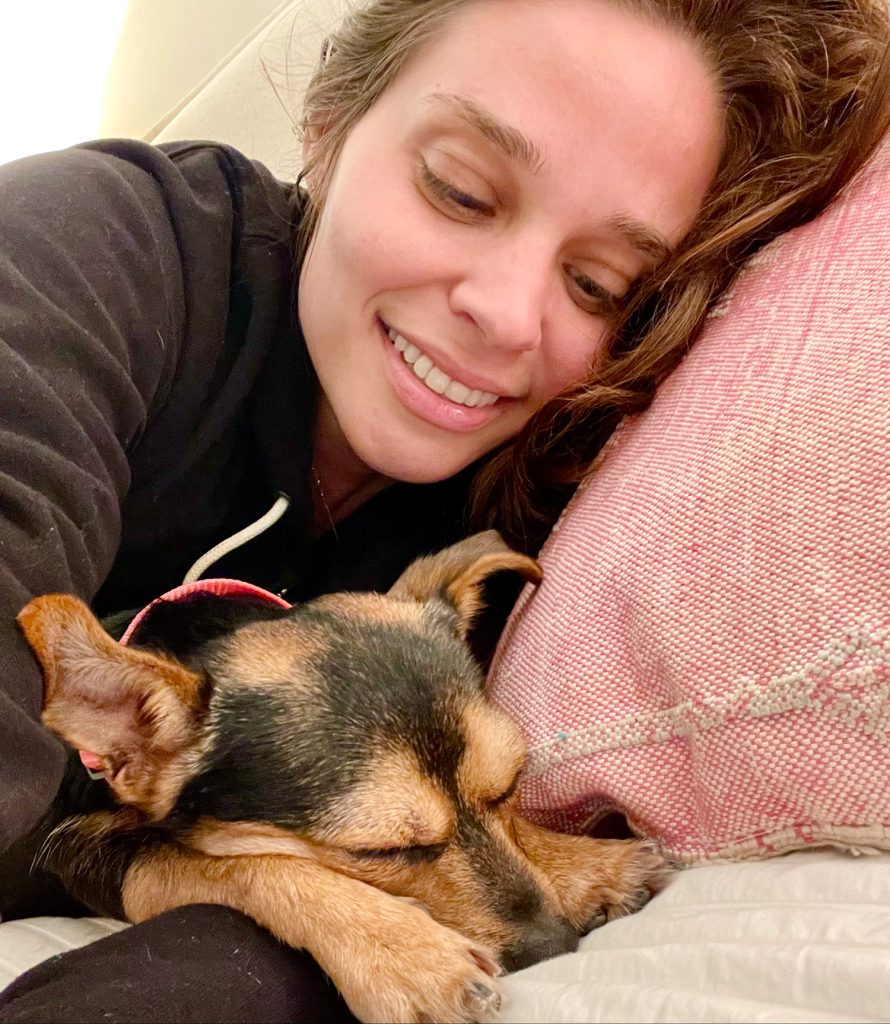 Penny is most definitely a mutt (the guess from the rescue group was Chihuahua/Yorkie – which I guess the cool kids call a "Chorkie"). Although we could also see some MinPin or even some Dachshund being in there. We've already sent off this Embark Breed Identification Kit that our friends recommended. You just rub a q-tip along the inside of their cheek – which Penny very happily did while we laughed about how Burger would NOT have appreciated it. Can't wait for the results.
UPDATE: We got the results back from the Embark Breed Identification Kit! About a month after we sent the swab we got this breakdown in our email: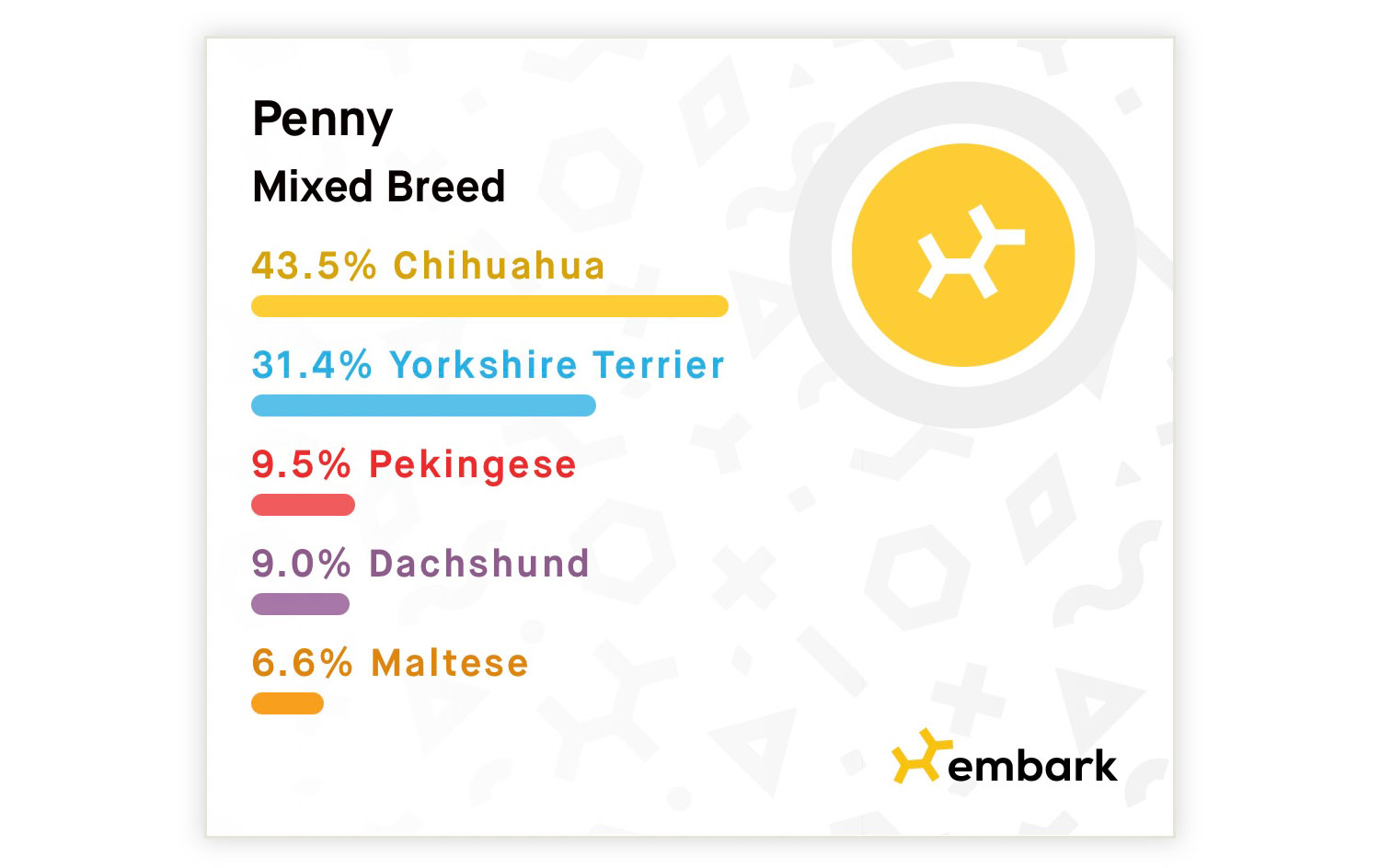 We weren't surprised to see it turn up Chihuahua and Yorkie as her top two results just based on what we were told by the rescue group. And even that little bit of Dachshund mixed in there confirmed our suspicion, so that was no surprise. But Pekingese and Maltese were total curveballs (it feels so unusual that she doesn't have long hair) and it still surprises us that there's no Min-Pin in there. Strangers on the street ask us if she's part Min-Pin more than any other breed!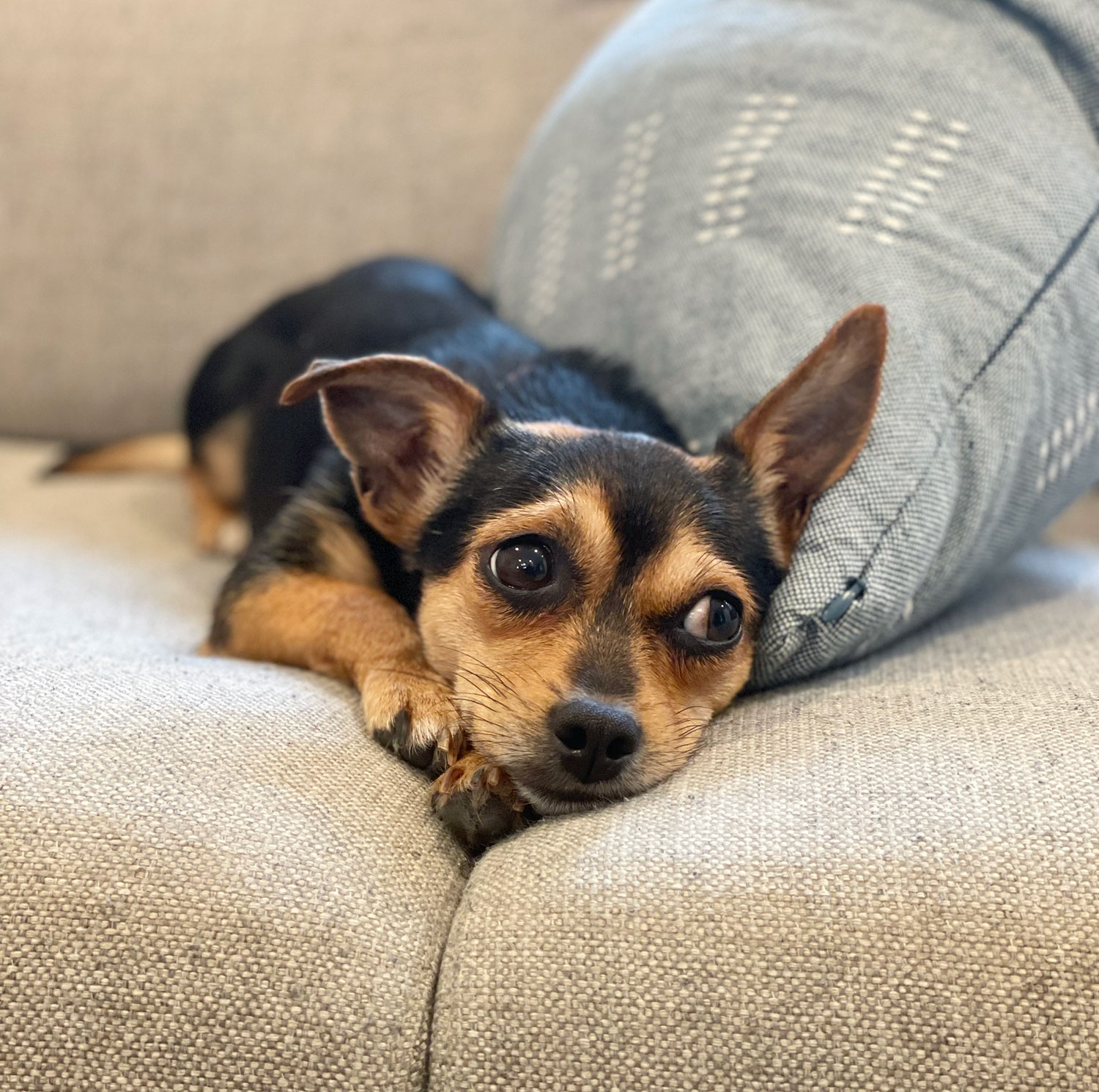 Penny was a name that our kids came up with, and it quickly felt right for her. She's small and has copper coloring like a penny in several places – including two round little spots between her ears (you can see what I mean in the photo below). Plus we were all feeling very fortunate to have found her – she's our "lucky penny" of sorts.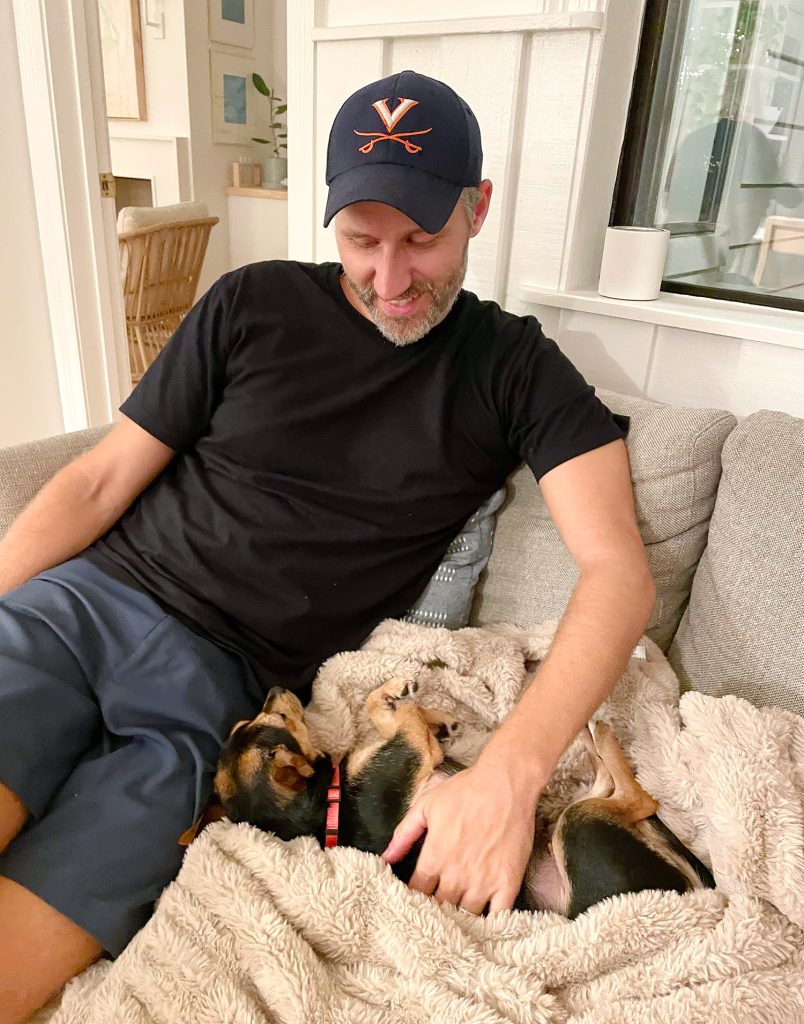 Among the many nicknames we have landed on, the group favorite is Penny No Pants and Sherry, our resident Beatle-maniac, sometimes calls her Penny Lane. I, our resident weirdo, find myself elongating her name into random words that "Penny" might be a nickname for (ex: Pendulum, Pennsylvania, Pensacola, Penicillin). No one thinks it's funny except for me but, hey, dads gotta dad.
She is definitely a snuggler. Anytime any of us are sitting, she'll come running to snuggle next to or even on top of us. And don't get me started about her one floppy ear. It's just *chef's kiss.* Wouldn't change a thing about her. She fits right in.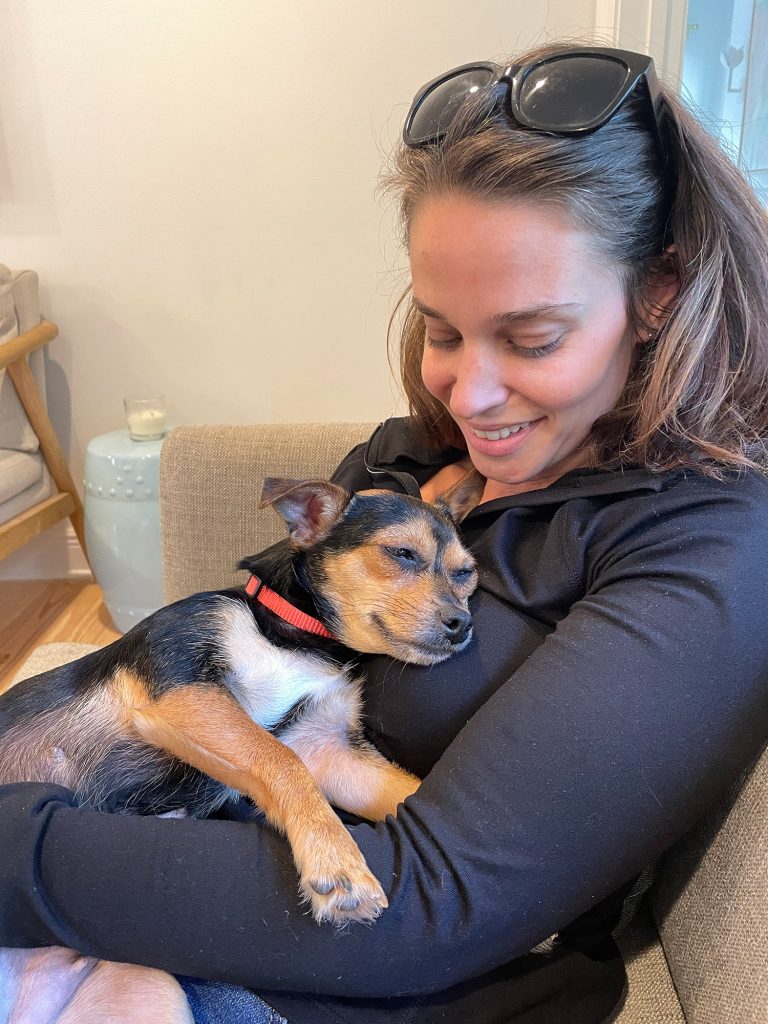 She also loves the beach. Like truly adores everything about it, from the sand that she kicks up behind her to the very exciting moment when she sees a bird.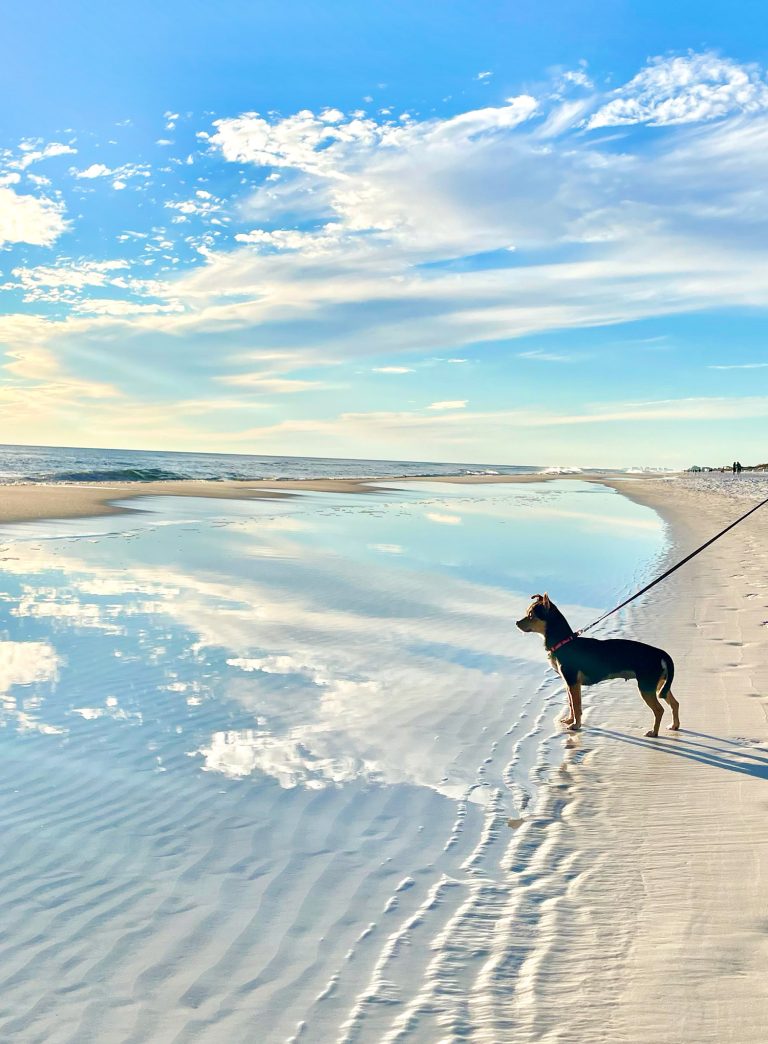 All she wants to do is sniff a bird, but for some reason they keep flying away.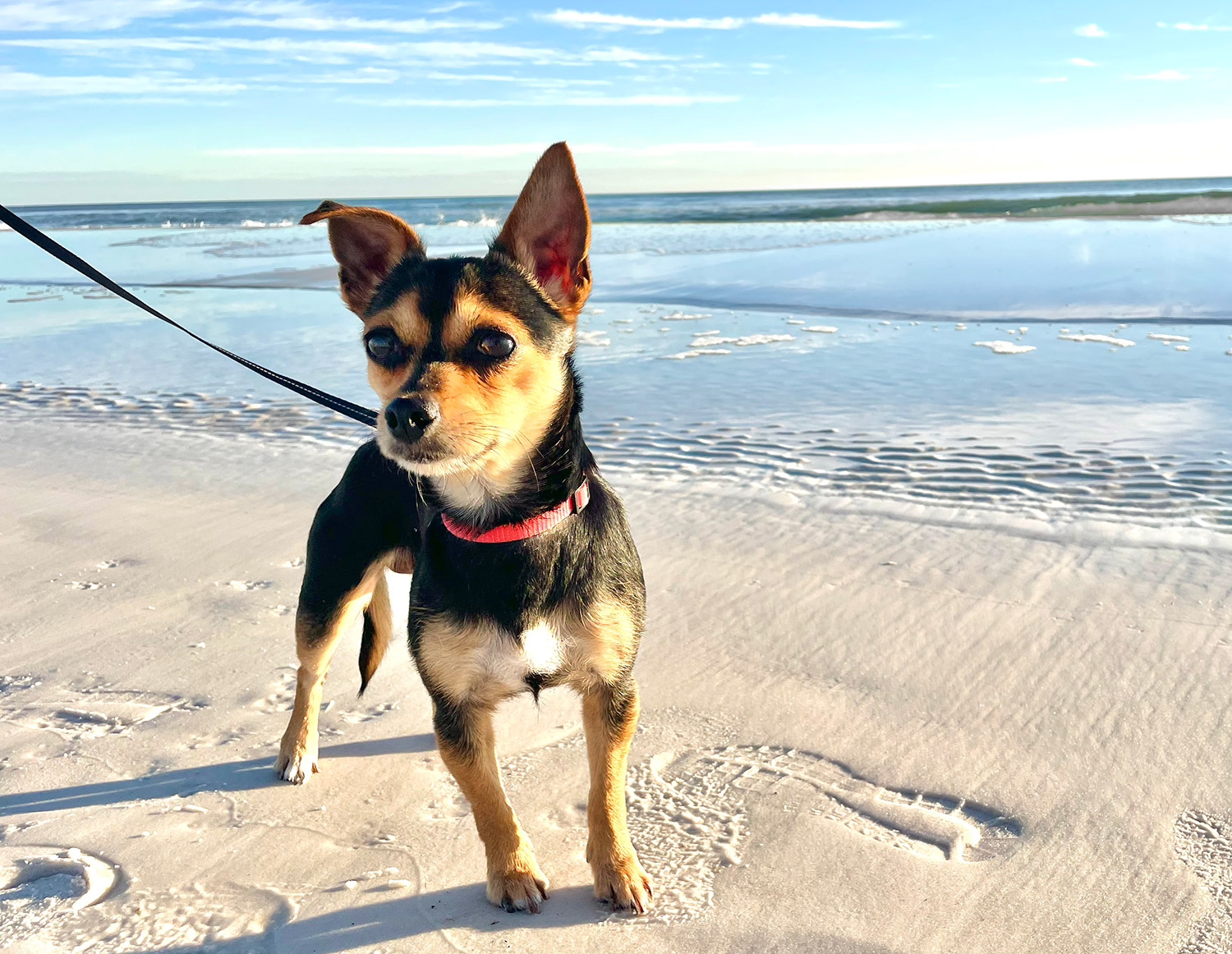 Initially, we assumed we would adopt a puppy so we could maximize our time together (I'm sure the psychology of wanting as much time as possible with your next dog after losing your last one makes sense – and we had gotten Burger as a puppy so we had the experience of training him to feel confident that we could do it again). But as we browsed the local rescue pages we realized that puppies have a line a mile long, and sometimes the dogs who are a few years older sit a while longer.
So we started looking at dogs who were a few years older than all those fast-moving puppies, and we're so glad we did, because Penny came galloping into our lives. She turns three this summer and we can't wait to celebrate her. It breaks our heart that she and Burger can't meet each other, but Sherry says he sent her to us, and somehow that feels like it's true.
As I previously mentioned, she is EXTREMELY snuggly and loves to be cuddled up by a person at all times, which is great for two work-at-home people like us. She is currently trying to sleep with her head ON my laptop keyboard as I write this because Sherry's lap isn't available (she's doing something that requires standing – how dare she?). And once the kids come from school, they're quick to assume the position of Penny's snuggle buddy.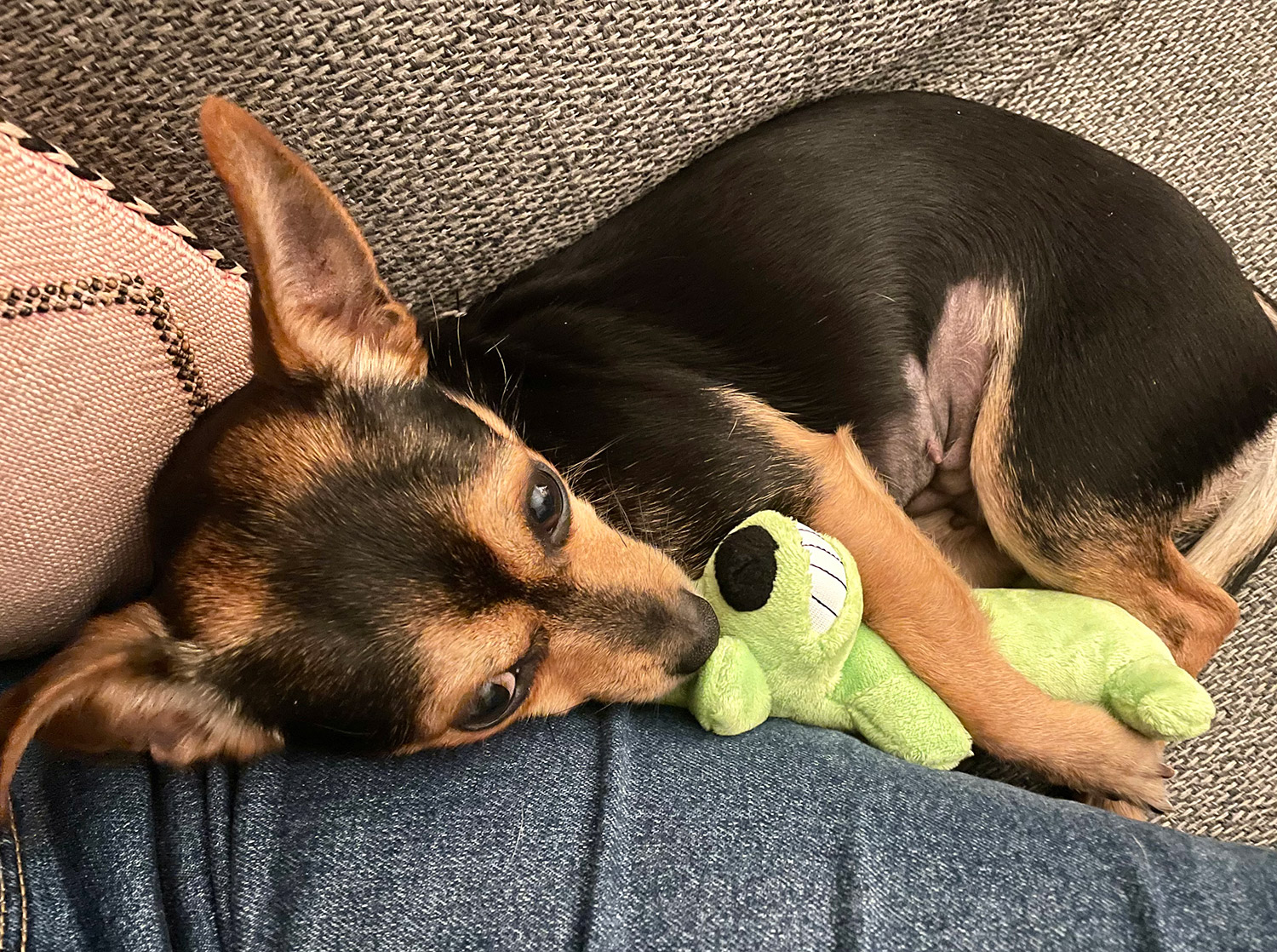 She does have a particular soft spot for Sherry, and whenever Sherry leaves the house Penny will go on a quick hunt around each room to make sure she's not hiding anywhere.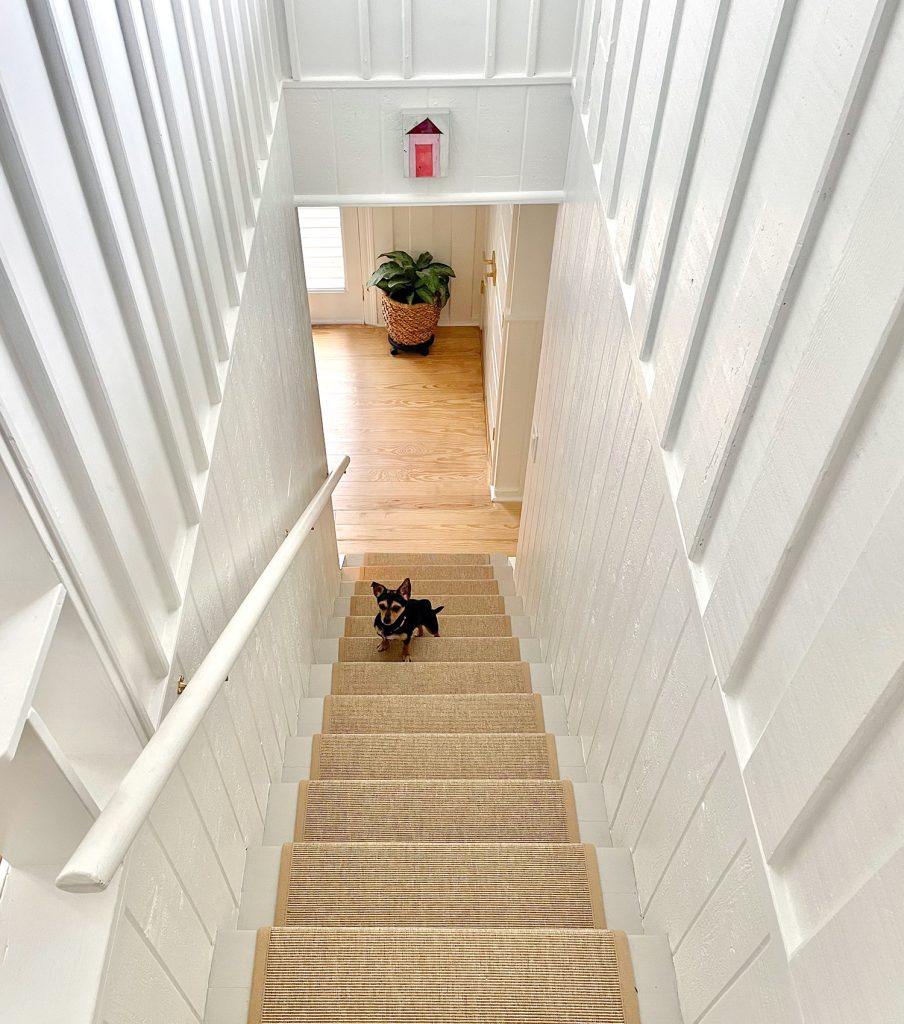 We've had her now for nearly a month, and it has been fun to watch her ease into life at our house and for her personality to more fully show itself to us.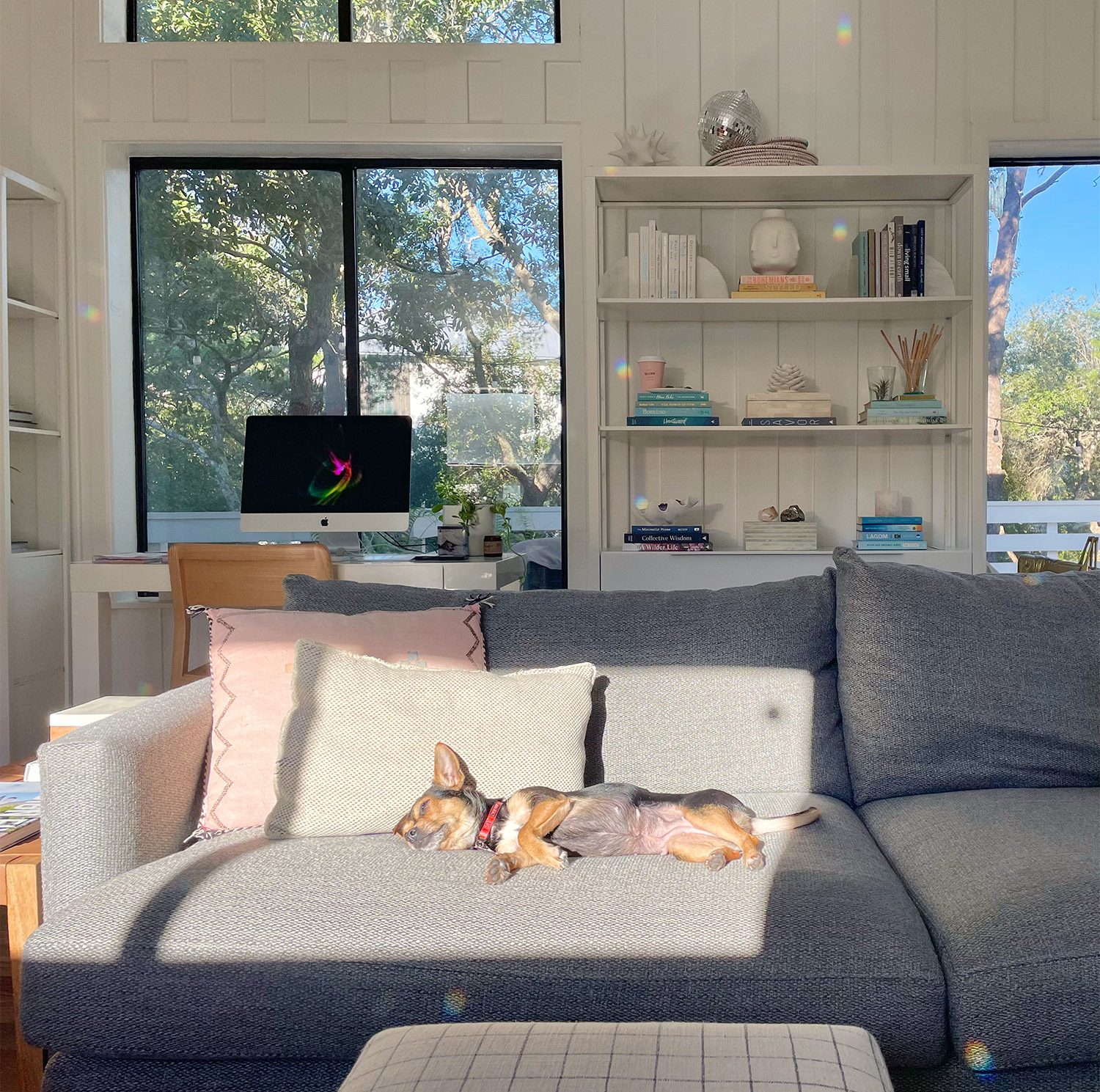 While she does many of the same things Burger used to do around the house – like seek out warm spots in the sun – she definitely has a personality and quirks of her own. For instance, she's got some cat-like agility that springs her up onto tables and over couch arms without any fear. We joke that she's half mountain goat.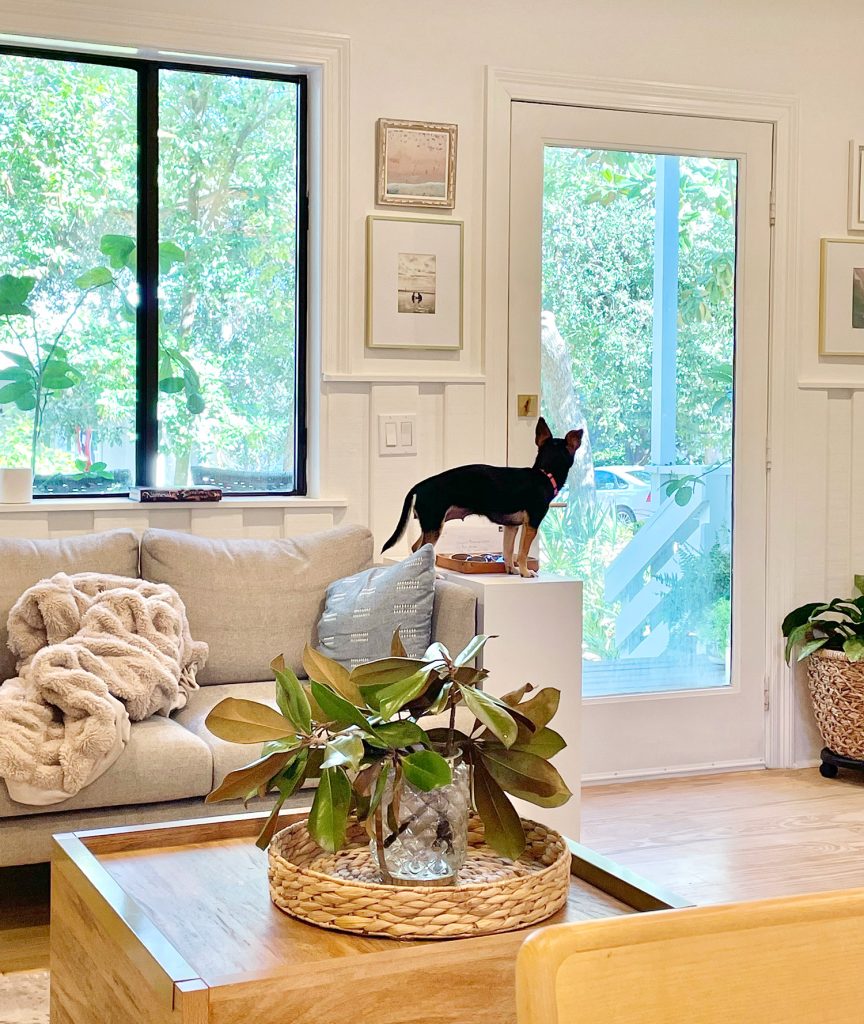 She also enjoys this odd way of relaxing, with her back legs splayed out behind her like they fell asleep on her mid-stretch.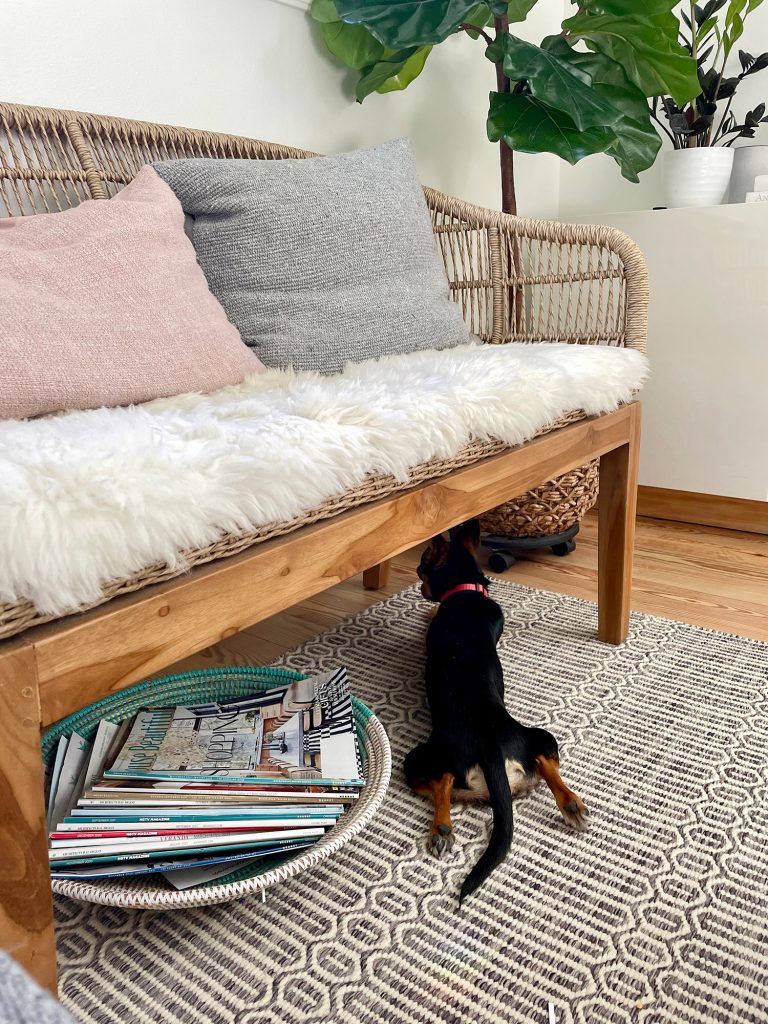 Maybe it just feels warm on the belly? I dunno. Dogs are weird.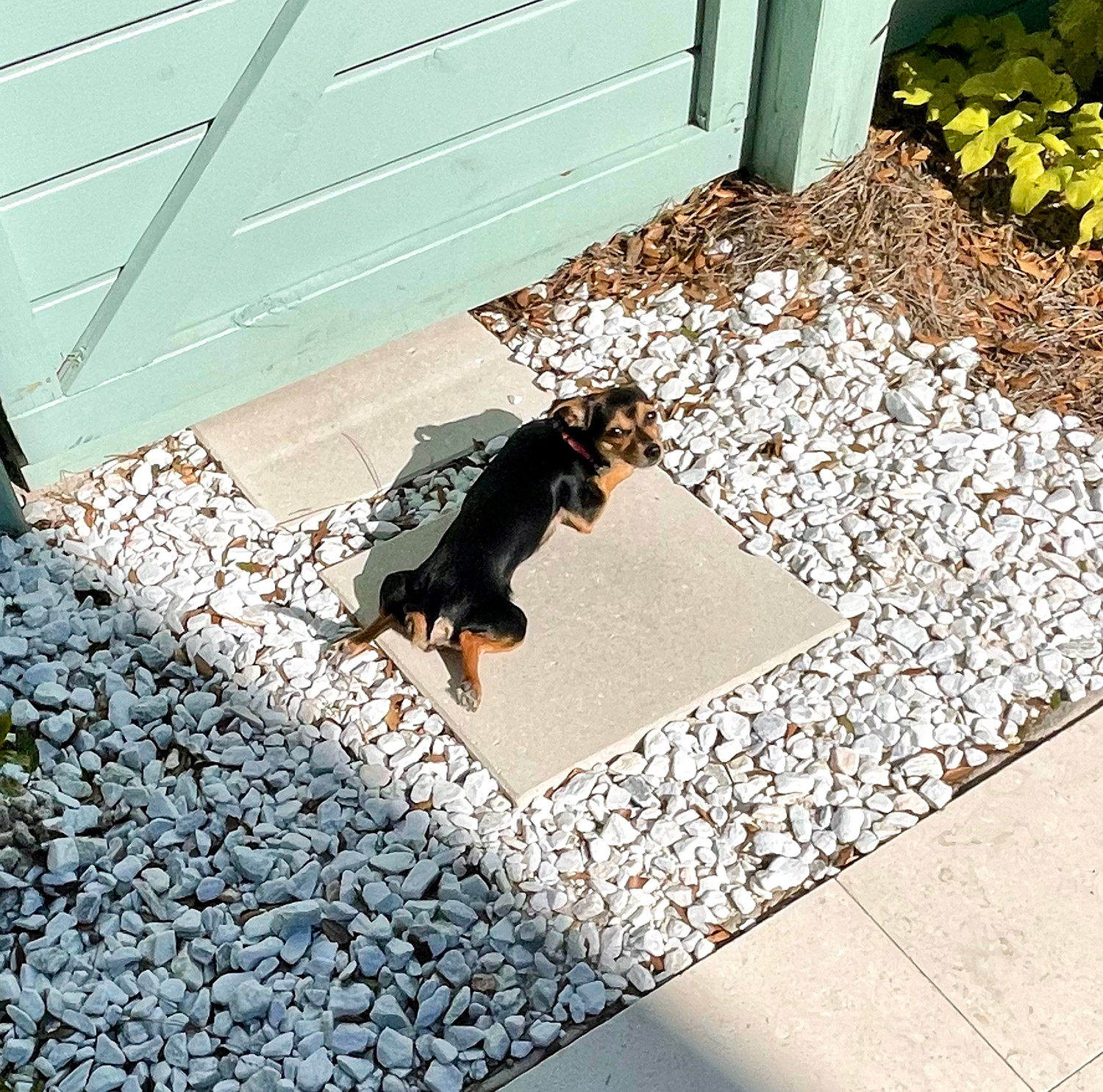 Perhaps our favorite thing is how her mouth curls up into this smile when we snuggle her. We don't know what her last 2.5 years were like, but she just seems so genuinely happy to live with people who love loving her.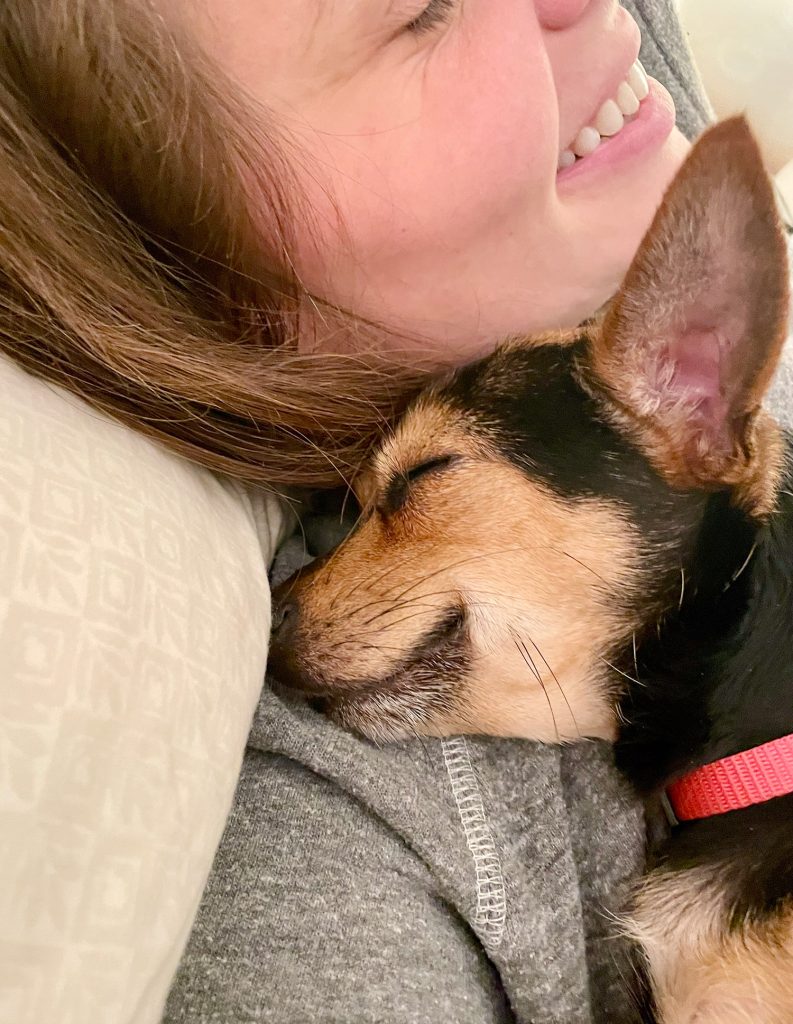 Sometimes she smiles with teeth. I mean, how can you resist this face?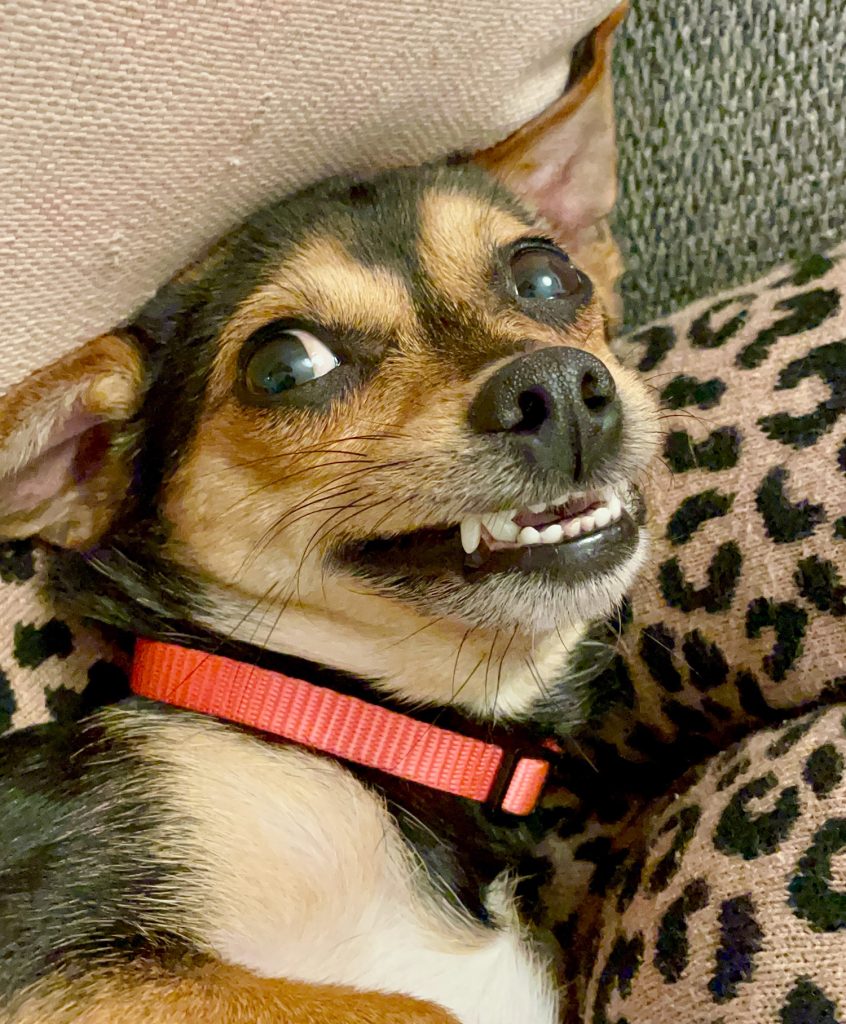 In summary: we're so so so thrilled to have her and we're grateful we felt ready to welcome another dog into our family. She really does feel like she was hand-picked for our family (thanks Burger!).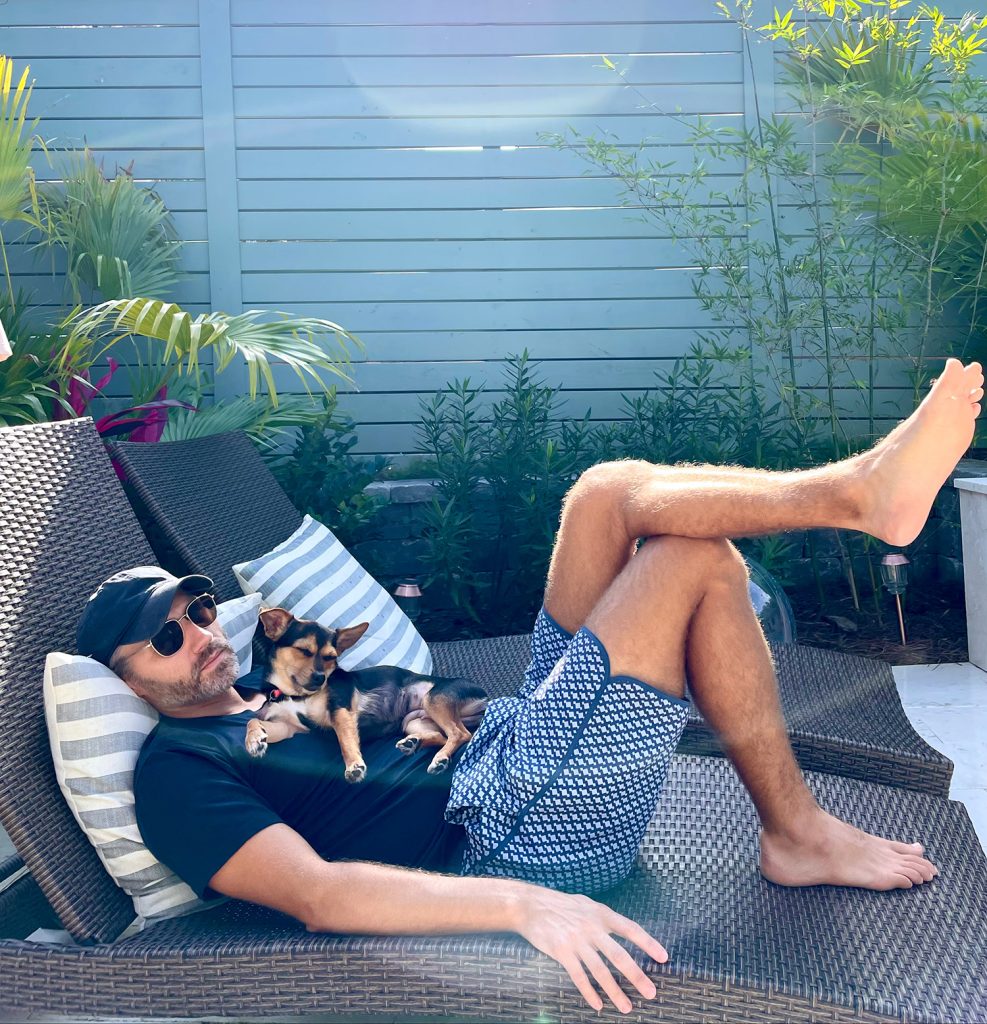 And now that you've been formally introduced to Penny Petersik, you won't be surprised when she starts popping up in blog posts here and there – most likely laying around in some room photo…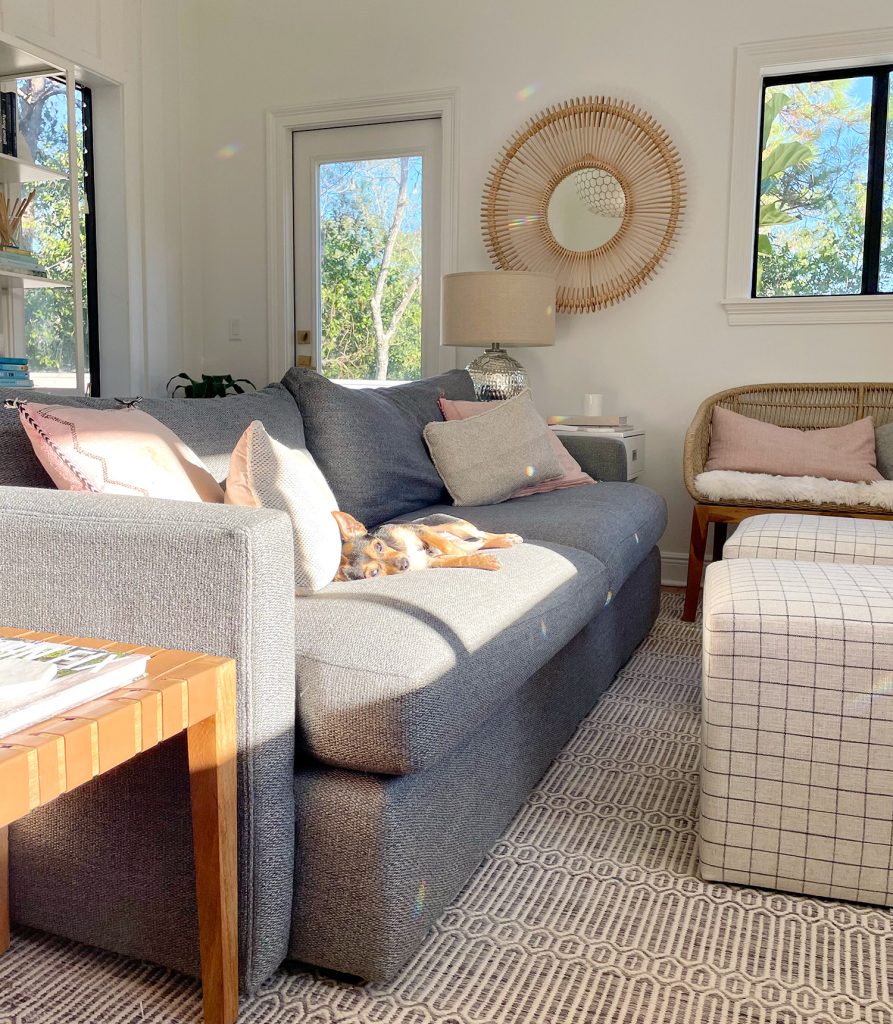 …our scaling some piece of furniture to get a better look outside.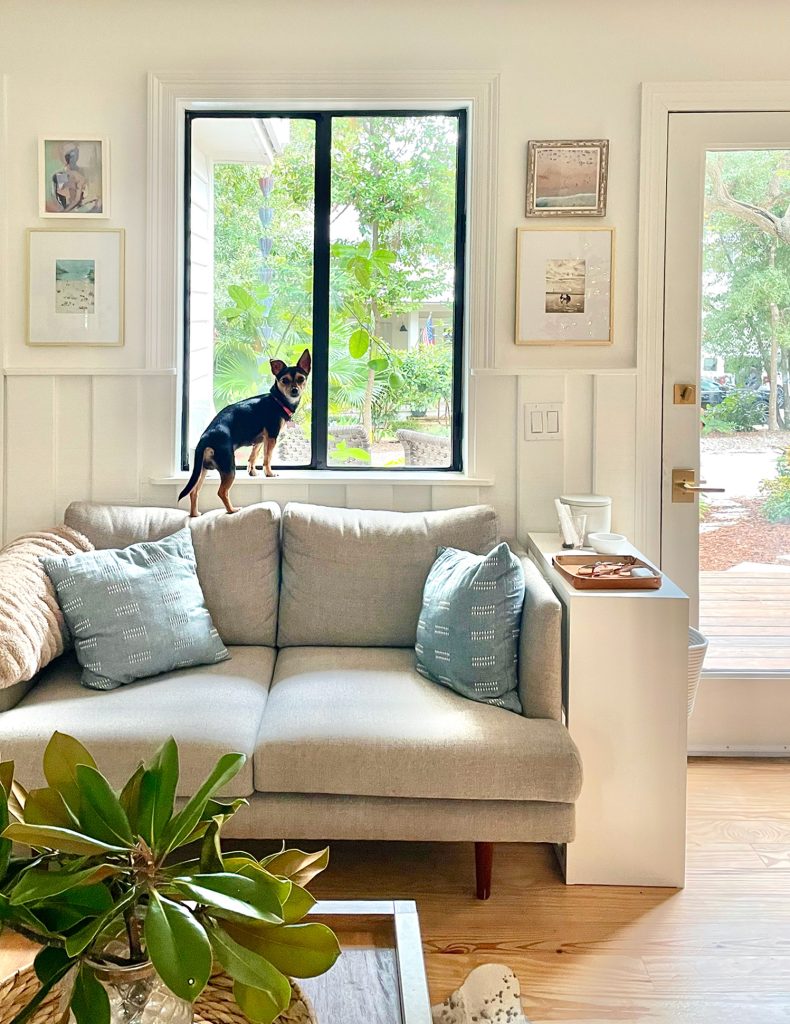 Either way, we hope you enjoy having her around these parts as much as we do.
*This post contains affiliate links, so we may earn a small commission when you make a purchase through links on our site at no additional cost to you.