Hi, we're Sherry and John. We started this blog 14 years ago to chat about updating our first home (we loved DIY so much that we even DIYed our own backyard wedding). When we clicked "publish" on that first blog post back in 2007, we never could've guessed that blogging would lead to us renovating 7 homes, sharing 3,000+ projects, writing books, designing products for Target & Home Depot, and starting a podcast. This blog was even a full time job for us at one point (imagine telling your parents you're cannonballing out of your career path to be "bloggers").
We both have other jobs these days, mostly in the writing/marketing vein that we used to work in before, but we still love to check in here when we have something fun to share… usually with as many words as possible. Speaking of which, it's storytime, so settle in. The photo of us below was taken on a trip to NYC, which is actually where we met back in 2005 when we were 23.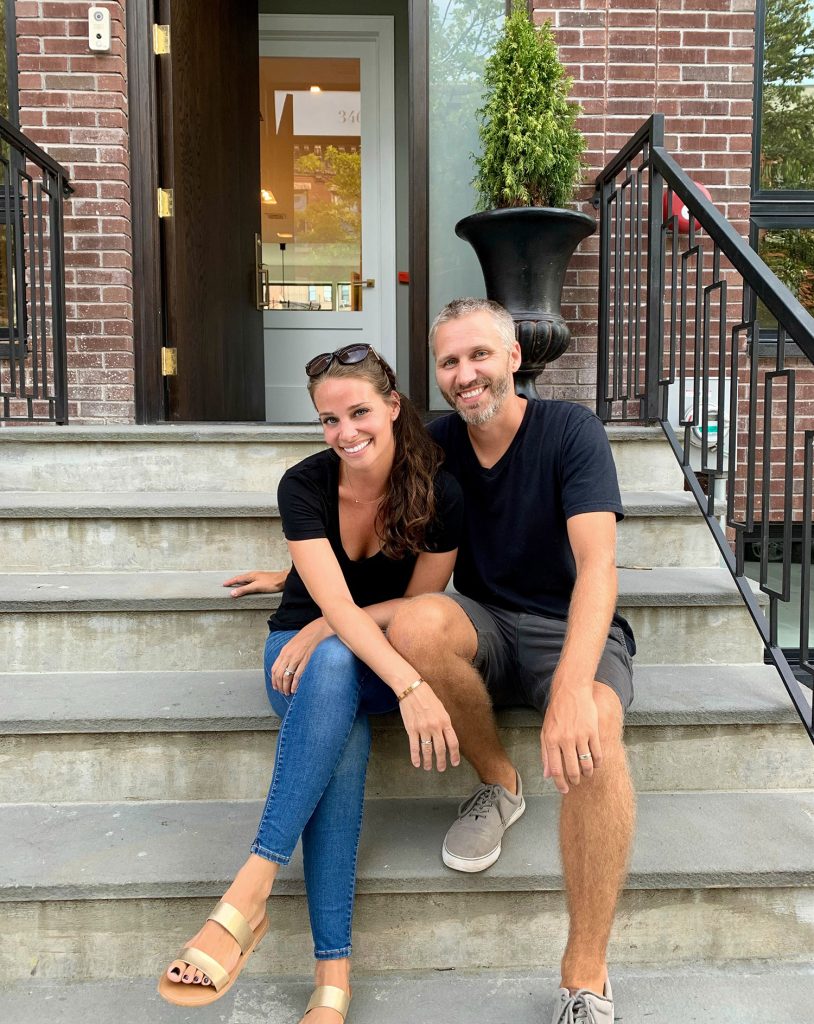 We worked at an advertising agency in midtown, and we each lived in various tiny rental apartments in various boroughs (we bounced around a lot). We had so few items that when we moved to Virginia together at age 25 with all of our worldly possessions, they fit in one minivan.
A lot happened over that decade and a half of living in Richmond and having two kids and a dog, but the cliff notes version is that each home that we bought for our family got bigger and bigger. And we filled them up with more and more stuff. This is our last house in the Richmond suburbs that we fixed up, which was a whopping 3,150 square feet on almost an acre of land. It was lovely, but large.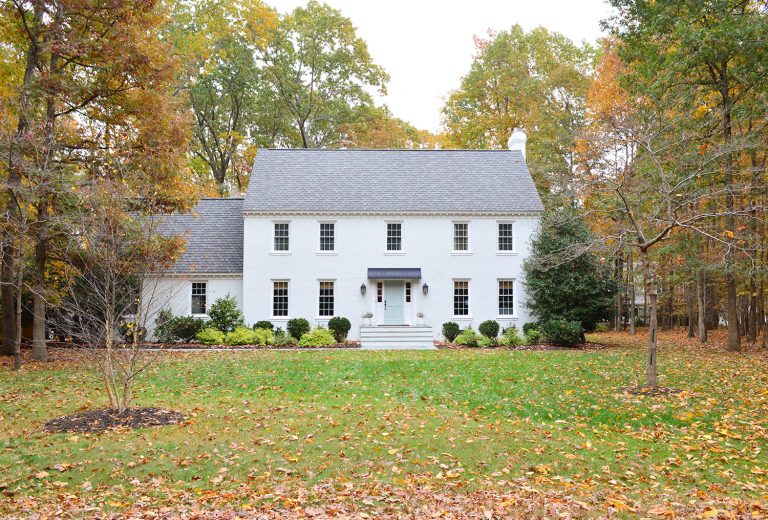 While living there we also fixed up a beach house and a duplex that was two attached houses that we rented out on Airbnb… which led to us taking care of over 7,000 square feet of property. And that didn't just mean the fun stuff of renovating and decorating them all. It was cleaning & maintaining them all, mowing & weeding all those yards, traveling back & forth any time there was something we needed to fix or check, and paying for utilities, insurance, and taxes on all of them. You see where this is going, right?!
It didn't all happen at once. It was a slow creep to doing and having SO MUCH.
And then came January of 2020, when we thought deeply about everything that we were aiming for and realized… we were headed in the wrong direction. More houses = more problems (leaking things, regular upkeep, increasing amounts of time spent driving back and forth, so many electric bills and water bills and insurance payments – pretty much all the things). So we majorly course-corrected and aimed for something smaller and sweeter and a whole lot simpler. We sold lots of things (all of those aforementioned houses, but also a ton of extra furniture and STUFF that we had packed into garages and attics and closets) and we loaded all of our remaining worldly possessions into a 16 foot POD…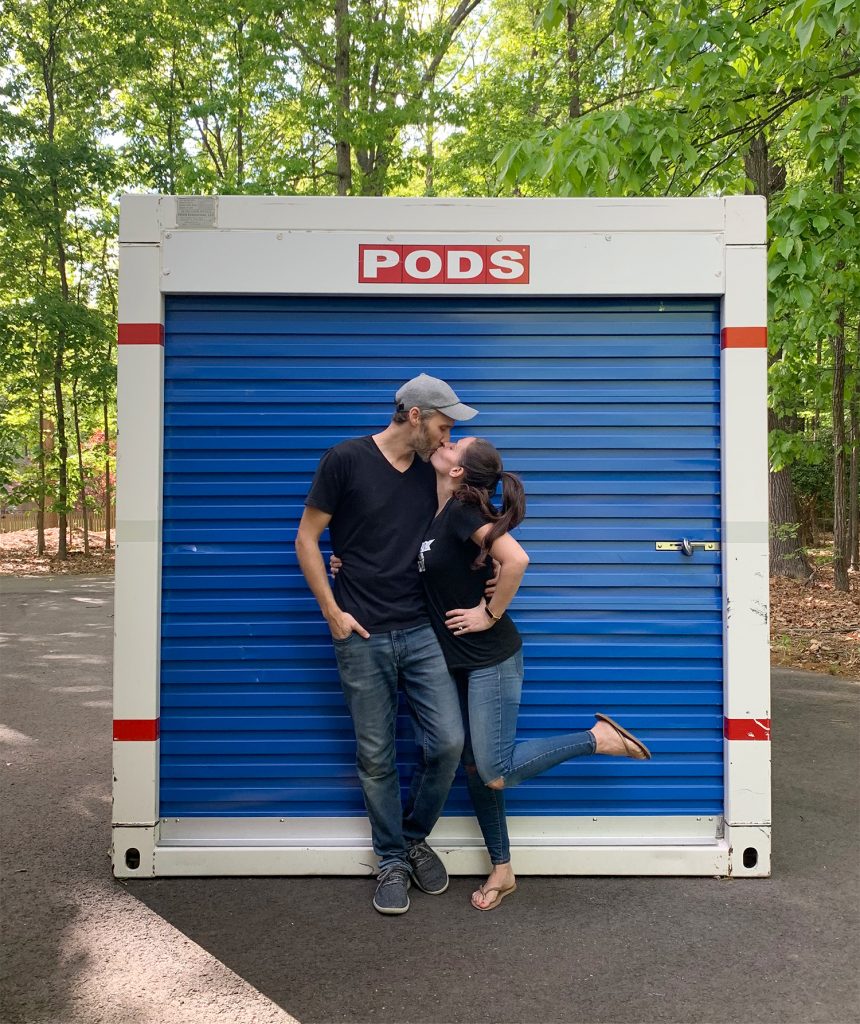 …that we shipped to our much-smaller house in Northwest Florida. Located just a few blocks from the Gulf of Mexico, our six-room 1,400 square foot house with one bathroom isn't nearly the size of our minuscule NYC pads, or anything that qualifies as a "tiny home," but our house here is less than half the size of our old one – and we cut our lot size by nearly 90%. We actually have our old beach house in Virginia to thank, because that house was smaller (and on a much smaller lot) than our big suburban Richmond home… and it taught us how much we all loved a walkable beach community and a smaller house to maintain and enjoy.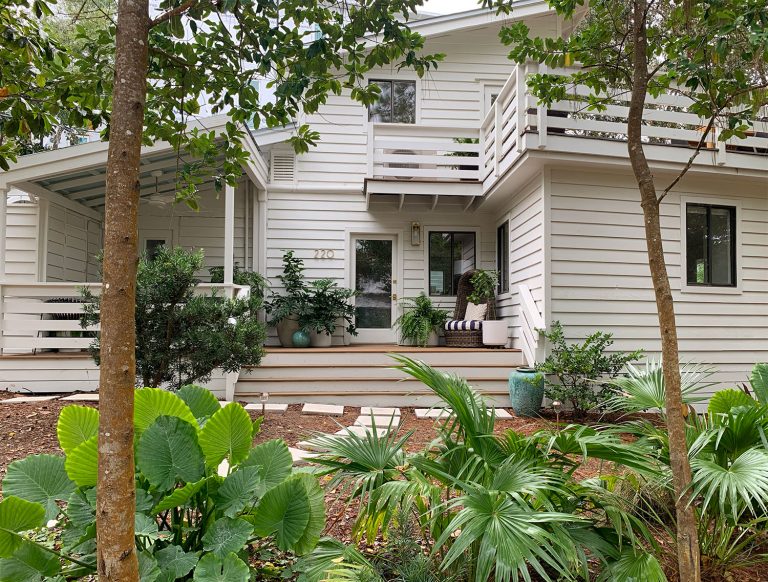 Less time cleaning out the garage on the weekends = more time on a pineapple-shaped float at the beach. Less time mowing the lawn = more time walking to get ice cream after lunch. Less time scrubbing a bunch of extra bathrooms = more time sitting out on the porch with friends up the street. Less time in the car driving from place to place = more time for leisurely walks to a nearby town square that has everything from shops to restaurants and even a quaint little bookstore. It clarified so much for us in just one summer that we spent there.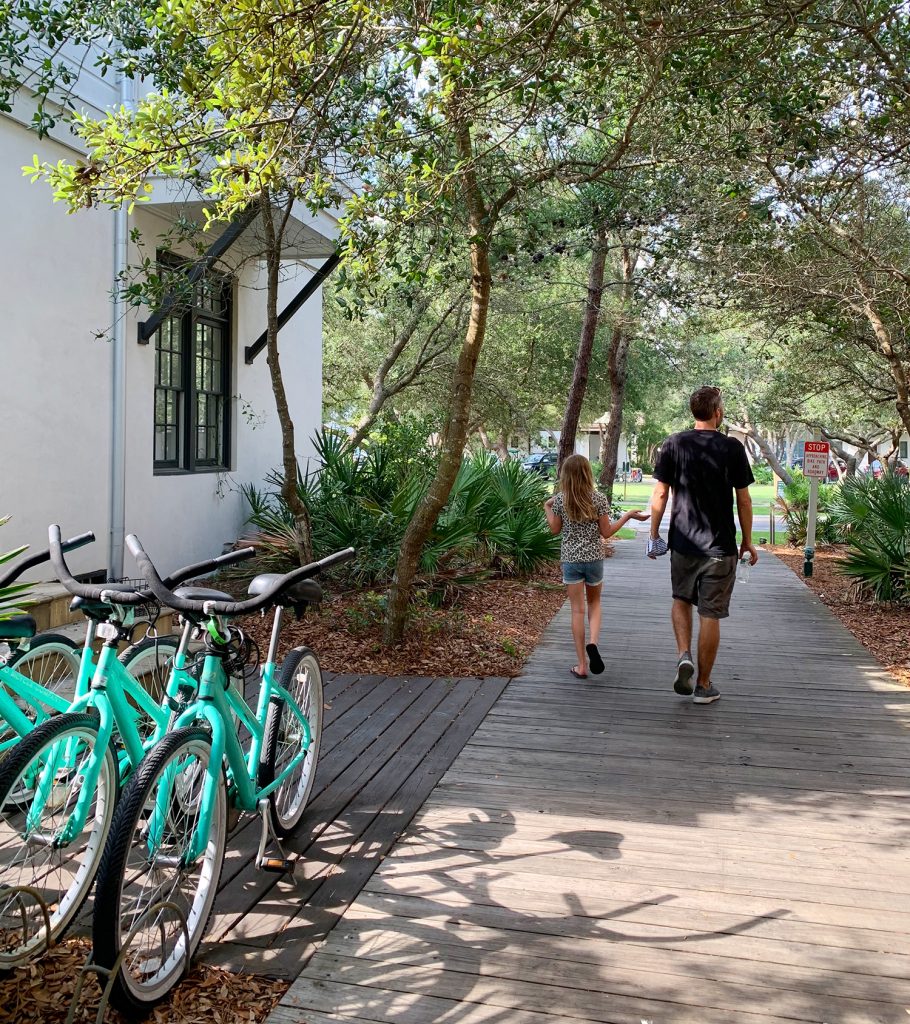 As for how this giant life change all went down… I'd say… not very smoothly. We bought our Florida home in February of 2020. Yes, like a month before the pandemic. We literally had no idea what was right around the corner. And while buying & renovating during lockdown from afar (and selling three houses and moving during a pandemic) was not anything we'd describe as easy, we got through it!
And what was on the other side of that uncomfortable (and sometimes scary) process was worth every single moment that we spent getting there. You can read more about our big decision to move here, and how downsizing has been for us (we wrote this 6 months after moving in) here. We're endlessly grateful that we made the leap.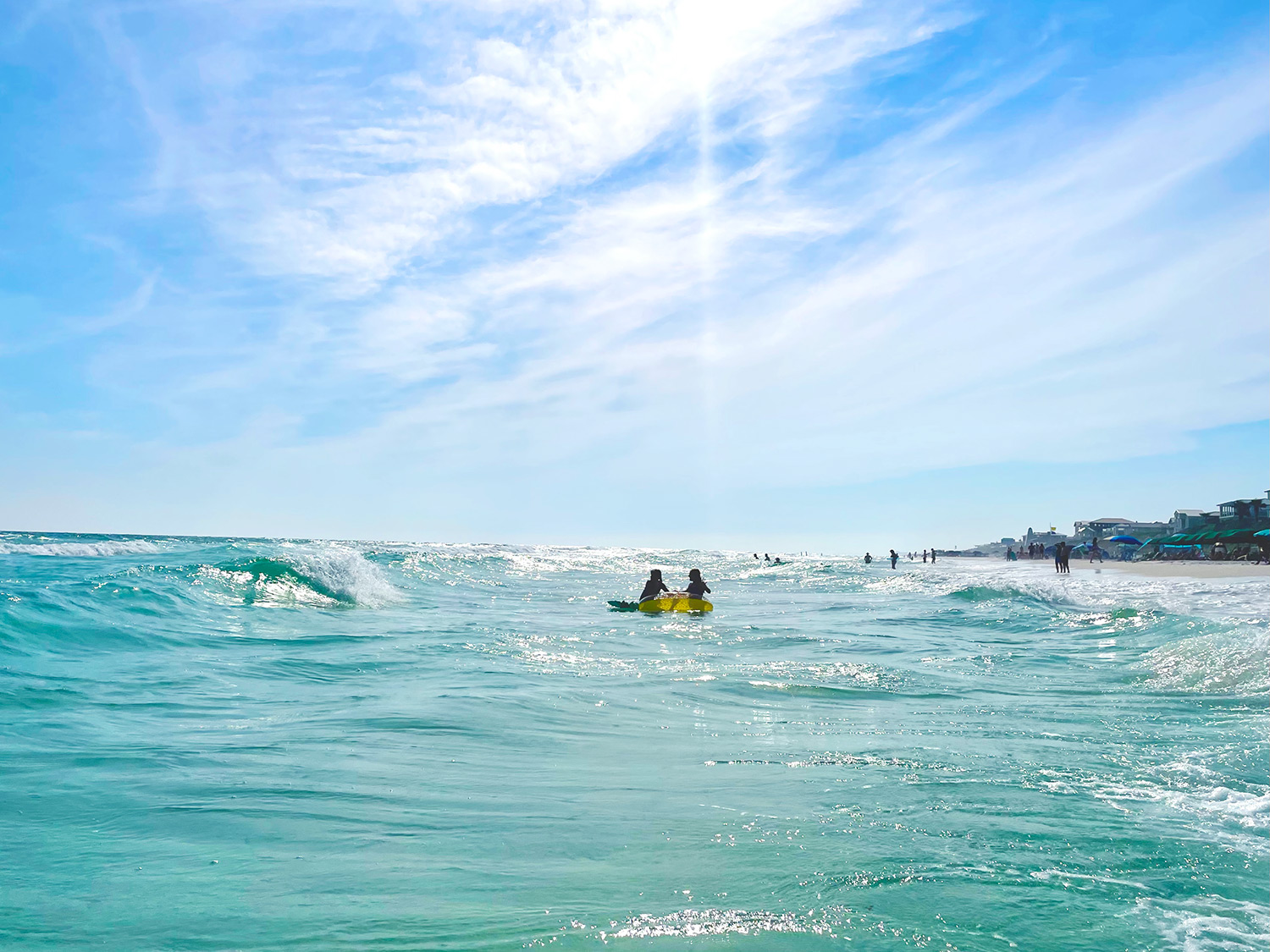 If downsizing (or even moving in general) has taught us anything, it's that there are always trade-offs. We live a few blocks from the Gulf Of Mexico (we can walk there in three minutes!) but we all share one bathroom. Eventually we'll add another one (we have the perfect spot for it in our bedroom), but it has been surprisingly fine to have just one – likely in part to having an awesome outdoor shower that we all love.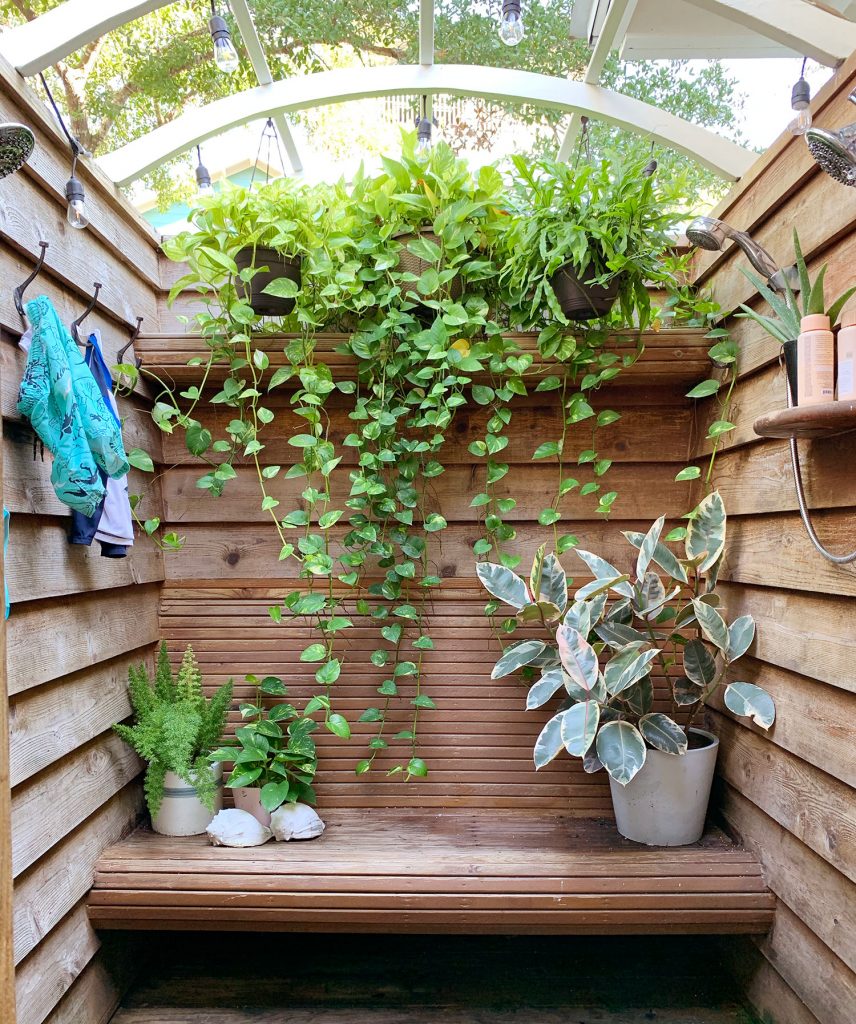 Another trade-off is that we don't have a garage (we park outside in pine needles) but we have a huge second-floor deck up in the trees.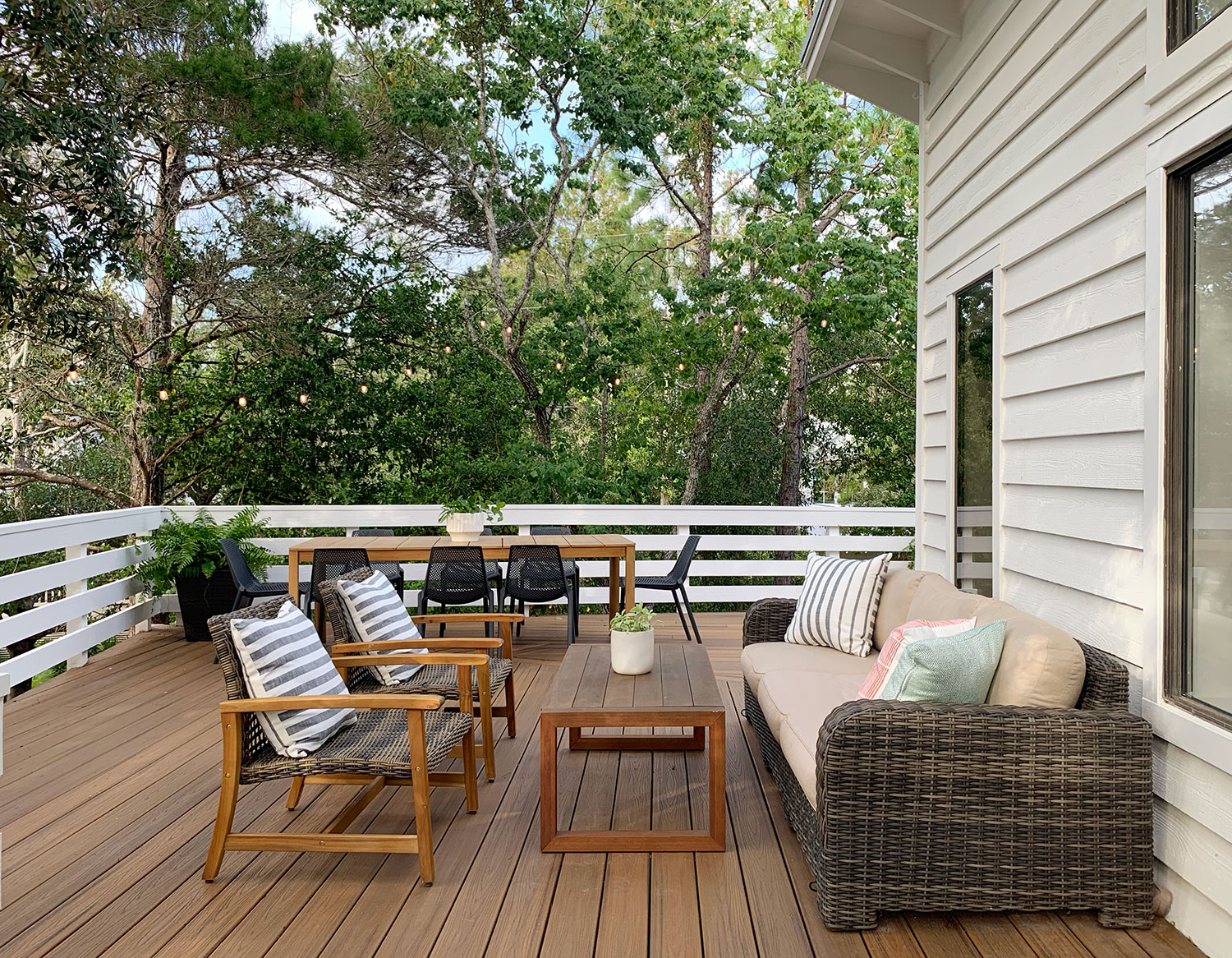 Our kitchen here has 5 drawers and 7 cabinets (and our last one had 51!) but there's a grocery store, many restaurants, and more than one ice cream shop within walking distance. Our internet isn't always reliable (that's putting it kindly) but we have a tree-filled outdoor hangout area with a firepit that we all love for frequent s'mores nights.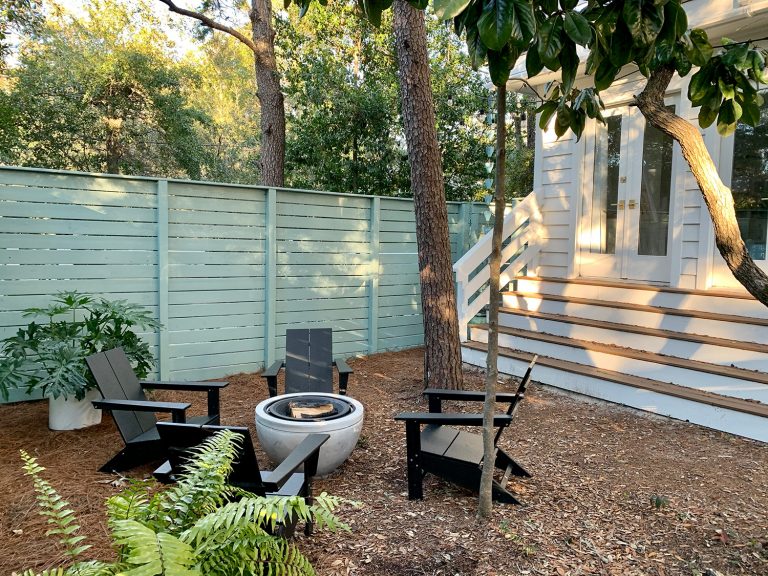 We have a lot less square footage than we used to have, but it's easier to clean and more affordable to heat & cool. We have a much smaller yard, but we just finished putting in a pool that we can use year-round along with having parks, green spaces, and playgrounds within walking distance where the kids can run and play. Not to mention spending a whole lot of time down at the beach for sunset strolls or meals and swim dates with friends (eating takeout pizza on the beach has turned into a legitimate pastime – don't knock it until you try it).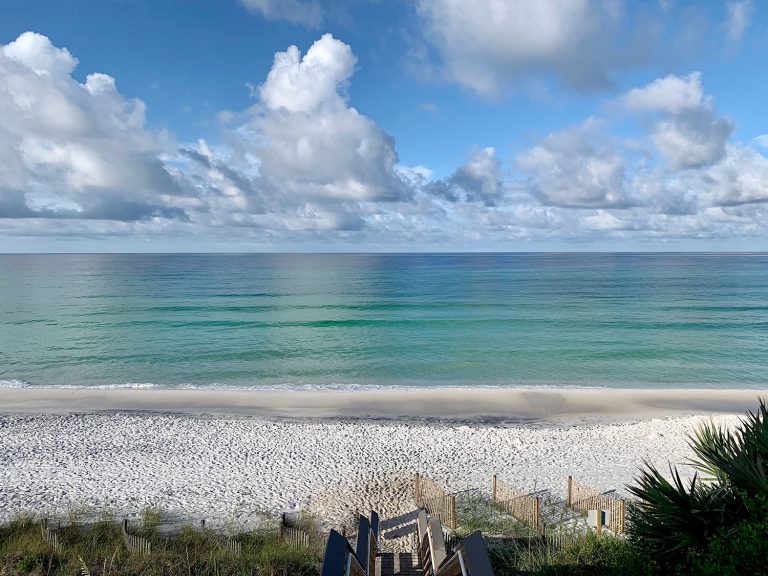 So we don't miss having a big grassy yard (or mowing!) in the least, but, you know, now we have a pool to skim.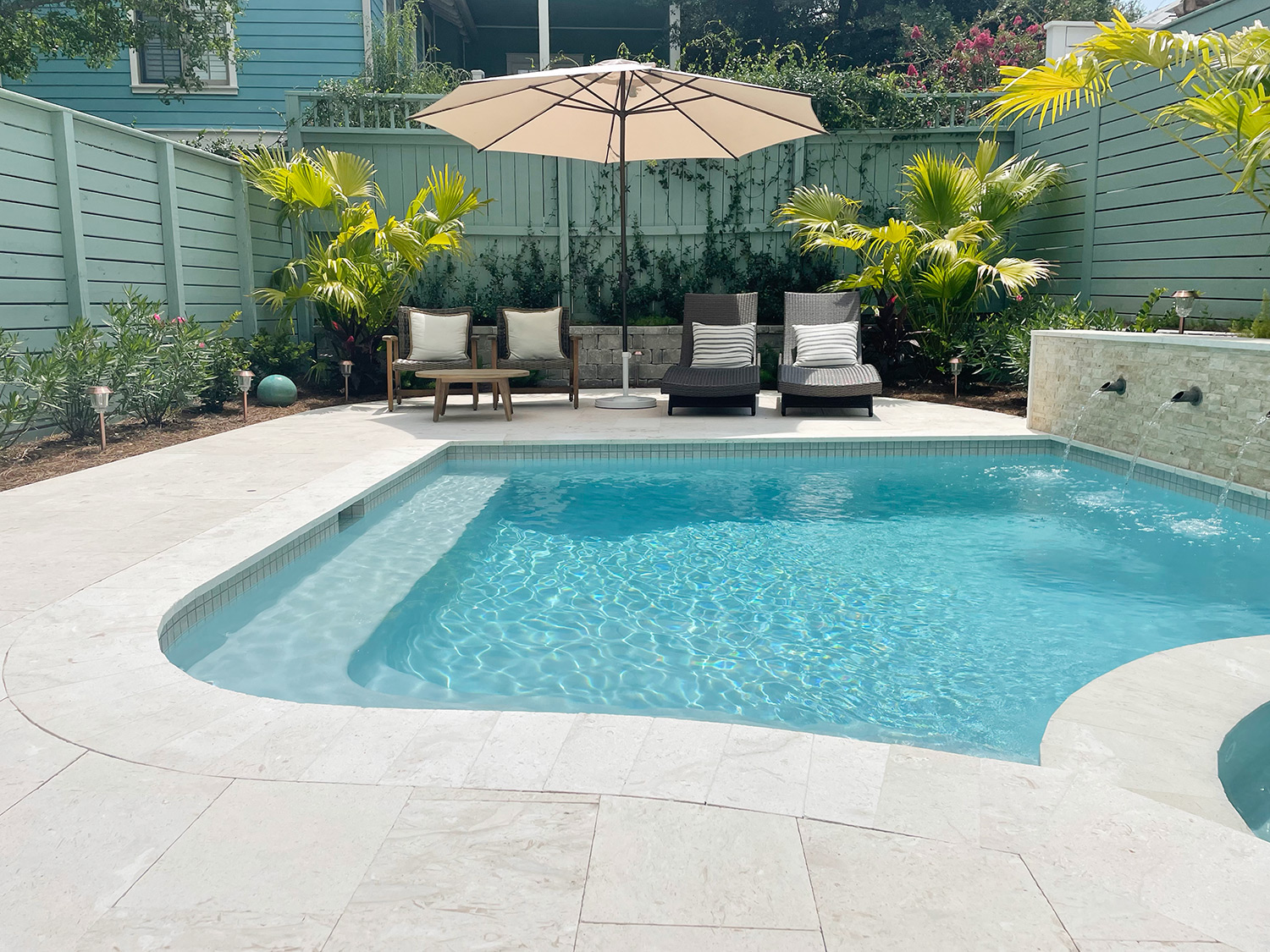 And we have to rinse our feet multiple times a day in the outdoor shower to keep sand out of the house. And we spend a surprising amount of time inflating floats for the beach on weekends instead. Trade-offs are a real thing. 
We can't adequately describe how much our lives have changed for the better since letting go of all of that extra stuff & responsibility, so we are extremely grateful that we made the leap. We never want to move again, so we're relieved to have settled into a more relaxed DIY pace (it's nice to focus more on contentment and embrace what we have right here & now instead of constantly chasing more improvements). It also means we can spend less time on social media and more time in the real world, which is never a bad thing.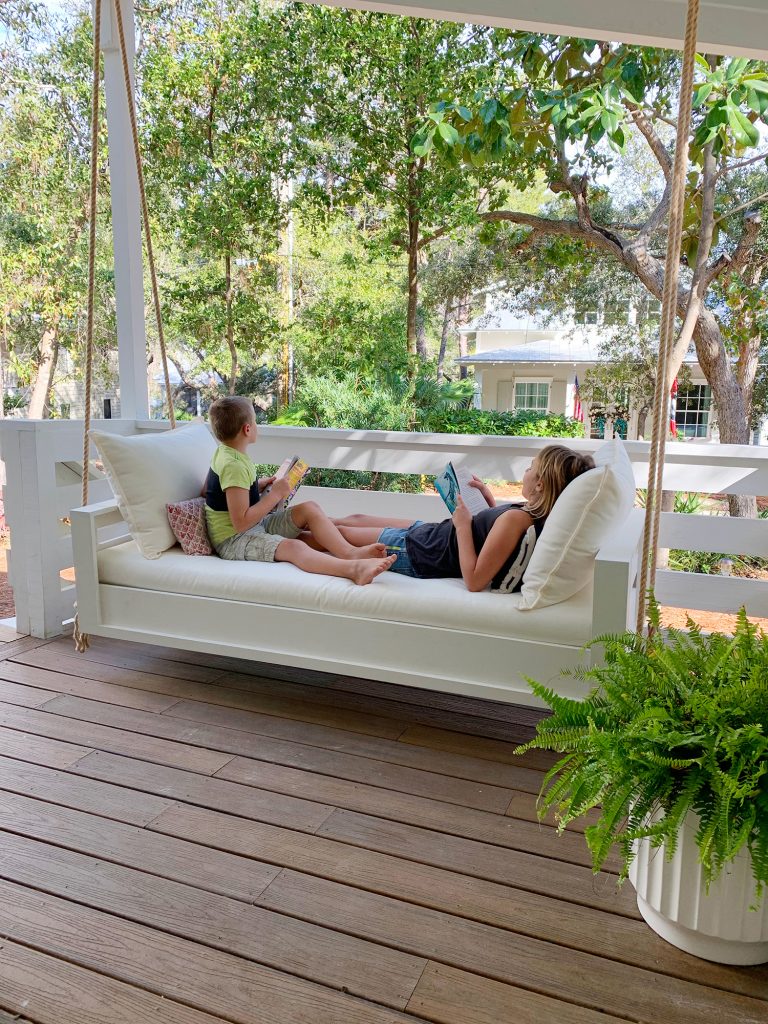 We still love to check in when we have something fun to share, so feel free to check back here occasionally for any and all updates (we also share stuff sporadically on Instagram Stories). And thank you for following along, whether you've been here from the early days, or just stumbled across us randomly this morning.
Still wanna keep clicking around? You can: