I'm so excited about this next post. It's my favorite transformation to date and the ironic part is that I'm about to reveal our brand spankin' new laundry nook and I'm not even the one who does the laundry (it's the twenty first century, people!).


The fact that we cobbled this new laundry area together on a budget just makes my chest puff up with pride. It has worked wonders on updating our house and laundry has never been more fun for my hubby (sorry babe, your love of doing laundry is now public knowledge).
Yup, this is what it looked like as we knocked out those bi-fold doors (see how close the wall was to the sunroom door- it robbed us of so much hall space!)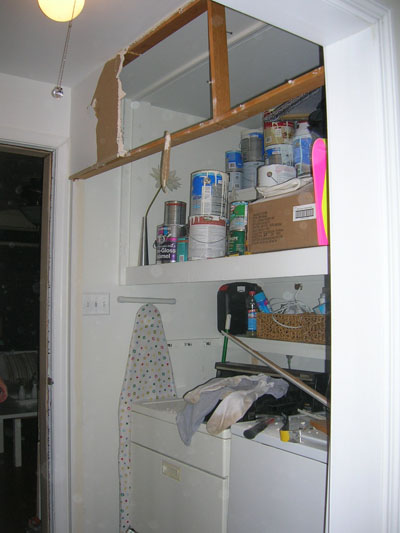 And here's a shot of our beautiful new laundry nook: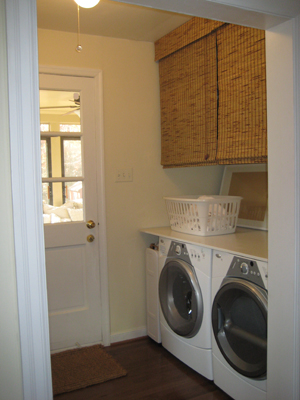 Basically three affordable elements were all it took to completely make this space over:
a piece of plywood
two large frames
two sets of bamboo blinds
That's it! We made the counter ourselves from a piece of plywood that we painted and polyurethaned, we leaned two big frames from Ikea (showcasing some cheap wrapping paper, which always makes for cheap art) against the back wall to cover the ugly plugs and pipes, and we hung some Wal-Mart blinds to cover the cluttered storage shelf above: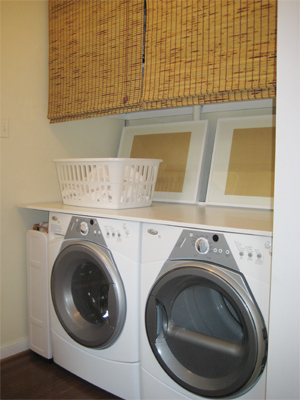 Plus we got a rolling storage caddy from Target (for under twenty bucks) which fits perfectly beside our washer and dryer and holds all of our cleaning supplies: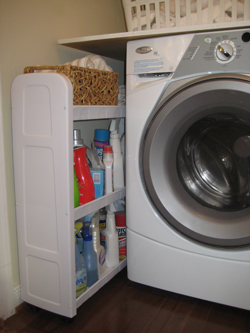 Life is good in our little laundry nook. And we'd love to hear about how you've organized everything from your laundry room to your attic- we have about 20 other corners, closets, and crevices that could benefit from a little organization so let us know what works for you.