The excitement began yesterday when we visited the stone yard to check out our granite slabs. And ended when we laid eyes on the giant hunk of Blanc Noir. The small, white sample with gray & black flecks that we fell in love with months ago looked nothing like the huge, gray, polka-dotted pattern in front of us. We knew our tiny kitchen definitely couldn't pull off that busy, 101 Dalmations-esque look and we had to hunt down another option. Fast.
Thankfully, several trips to Home Depot and a few local stone yards led us to our one true love: Pashmina. It's everything that Blanc Noir isn't: much lighter and less spotty with much more natural "movement" (think big wave patterns and veins, not heavy repetitive blotches on every square inch of the slab). Check out the side-by-side, close-up and full slab comparison below to see what I mean – but keep in mind that those full slabs are 20 feet long, so those unassuming grainy dots on the Blanc Noir are much bigger and more demanding in person:

I'm happy to report that the huge "sample" chunk of Pashmina granite that the stone yard lovingly let us keep passed the home test and sent Blanc Noir running out the door, spots and all. It looks pretty darn perfect in our space. Subtle. Interesting. Not like a dog that a fireman would own. Here's Sherry's photoshopping to give you a sense of the old choice of Blanc Noir in our space, and the newer, lighter, more marble-esque option of Pashmina, below: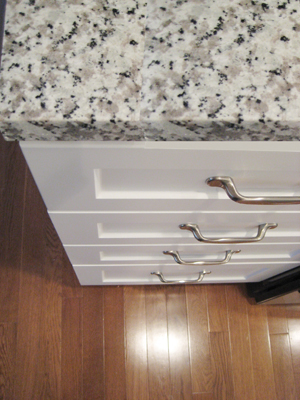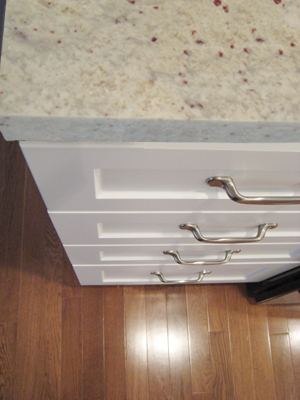 Note: Blanc Noir actually doesn't even look that bad here, but covering every countertop in the entire kitchen with it would have definitely been a whole lot busier than our newer option. I think we just have a thing for a more organic, muted, and varied look – not something that's grainy, repetitive, and high contrast.
The good new is that it's actually manufactured by Stonemark, the same company who makes Blanc Noir, so the switch was relatively painless. Of course our new granite is in a slightly higher price bracket than the last, but isn't that just how it goes? Those few added bucks will hopefully be worth it in the long run, so now we're just waiting to hear if we can still keep our installation scheduled for next week. Here's hoping!