Woo to the hoo. We finally finished the nursery! And at just four weeks before the beanette's estimated arrival (although we're sure she's gonna be late) we're beyond excited to have a cheerful and functional room waiting for her. It definitely has come a long way from the blank canvas that we started with: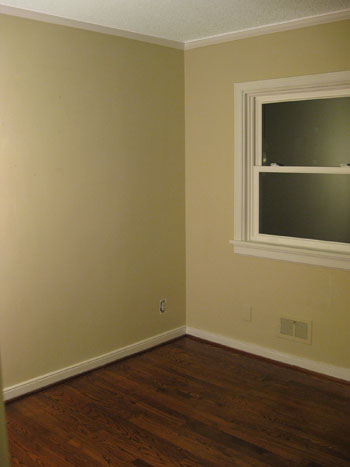 And that closet. Let's just say it was one of our major challenges when it came to storage space, function, organization and all that good stuff: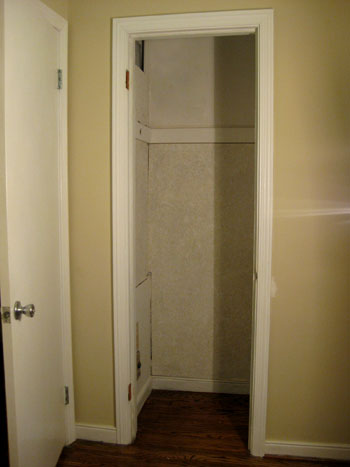 Luckily we were able to introduce a ton of stash space thanks to a crib with a large built-in drawer, a generously sized double dresser (snagged on Craigslist for just $20), an already owned storage ottoman, and a side table with retrofitted basket "drawers." Plus adding a padded bench with a large toy bin slipped under it (two more things we already had on hand) gave us even more spots to tuck toys, clothes, books, and everything else that comes with having a wee one. Oh and did we mention that the room is only 8′ x 10.5′? Yup, it's the smallest room in the house (except for the bathrooms). But without further ado, the big baby-tastic after pics: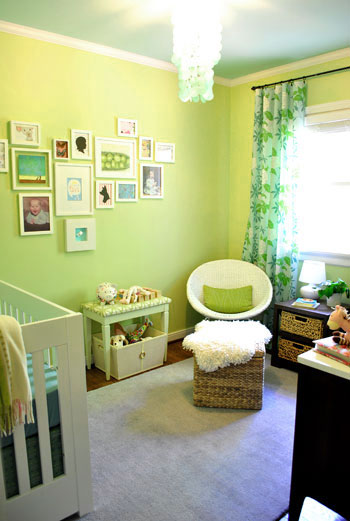 We had so much fun hunting down deals like this playful $50 aqua capiz chandelier from a local lighting outlet (which casts so many fun shadows on the ceiling for Baby P to enjoy).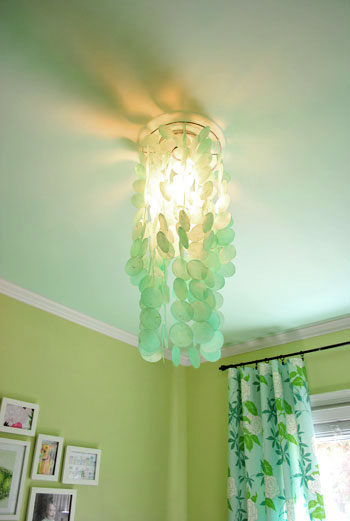 And DIYing our own no-sew curtains with some cheerful printed fabric allowed us to create a much more balanced and grand look on a wall that formerly boasted a small-ish window that was off to the side (we're all about cheating windows with curtains so they look centered). Is there nothing that a set of high and wide fabric panels can't solve?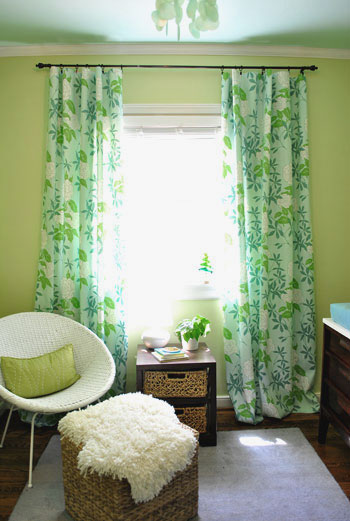 Bringing in the former side table from our guest bedroom (originally from Target) creates a nice spot for a glass of water, a reading lamp and some books. And the super insane coincidence was realizing that some woven baskets that we already owned slipped perfectly into the side table's open shelves to create two basket "drawers" (which offer up even more room to house books and toys out of view- anything to keep the clutter factor to a minimum!). And because the baskets are woven and don't have any harsh pointy corners, we even think Baby P will be able to easily use them to put away her own toys when she gets older and a bit more mobile (which of course will be our cue to switch out the real plant on the table for something less dirt-riddled).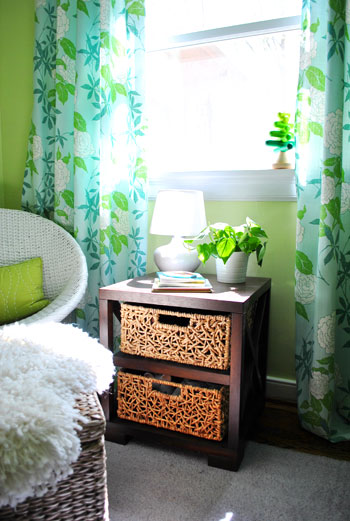 And we can't forget about the super cozy sink-in-able bucket chair that we snatched up for just $20 at a thrift store. Paired with an already owned ottoman (topped with a homemade faux sheepskin rug) it creates a nice little feeding and reading corner that even Burger thinks is the bee's knees.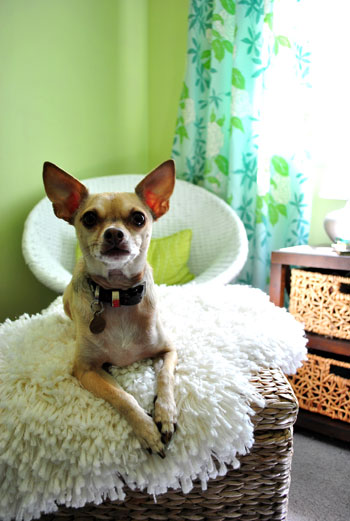 We also love that we were able to place the chair next to the window so we can appreciate the natural light streaming in during the day, along with the view of our big green backyard (which is sometimes accentuated by a playful chihuahua on an intense bug hunting expedition). And isn't that little wooden tree in the windowsill adorable? We got so many great baby gifts from friends and family, and the makers of this one (Plan Toys) are extremely eco conscious and use only the greenest materials and non-toxic dyes and glues.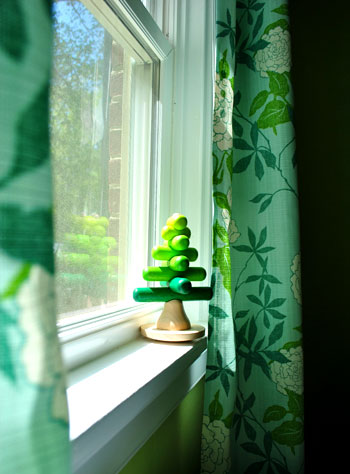 Oh and we can't forget how much the soft aqua ceilings (Mythic's Adanna Aire in a flat finish) next to the crisp white molding and the pear green walls (Mythic's Autumn Bloom in eggshell) transformed this formerly tan-walled guest room into a dreamier place for our little girl (read all about the painting process right here). Plus we figure she'll constantly be gazing up at the ceiling when she's in her crib, so it's nice to know it's sort of sky-reminiscent as opposed to plain old white.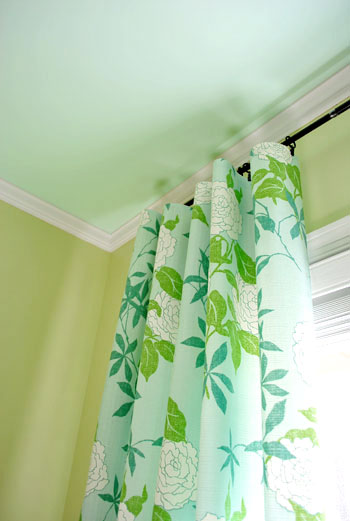 Here's a shot of the $20 Craigslist double dresser that we totally refinished (earning ourselves six generously sized drawers for storing everything from diapering supplies to clothes and even tiny socks, bibs, and other pint-sized accessories). And the wire and faux flower mobiles that we made to hang over the changing pad along with the DIY shelves built by my handy hubby really add kid-friendly function and form to the entire wall.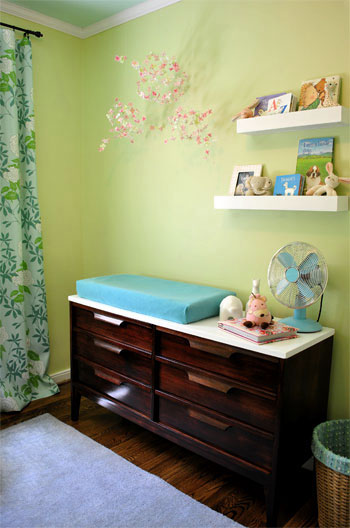 You might notice that small basket to the right of the dresser in the photo above. Well let's zoom in, shall we?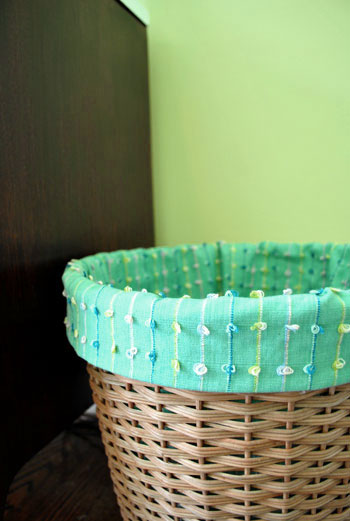 It's actually a cheap-o Ikea basket which we then lined with extra crib skirt fabric that we already had on hand. Bam- instant hamper for under $5. And we like how the lighter woven texture ties into the basket "drawers" in our makeshift side table under the window- and even the textured ottoman that we paired with our thrift store chair.
But back to the dresser for a minute. Remember when we lined the drawers? They definitely add a splash of happy to the space every time we slide them open to gaze at all the tiny outfits and accessories awaiting Baby P. Is there anything cuter than baby shoes?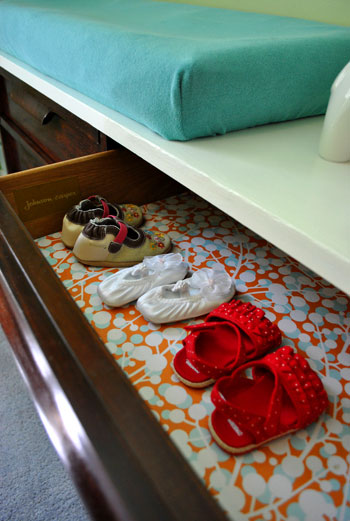 Here's a closer shot of the three-orb mobile that we crafted while parked in front of the TV one night for less than $12. We love how it gently sways above the changing pad and we have our fingers crossed that it'll really come in handy once the beanette gets more wiggly and we have to keep her distracted while we hurriedly change her.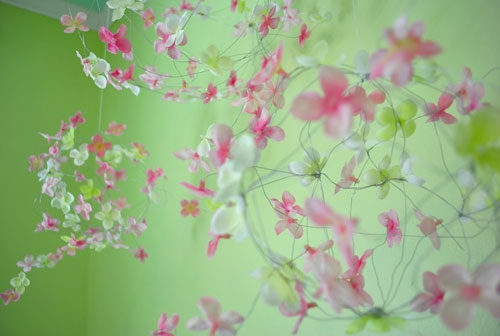 And here's a detail shot of those lovely shelves that my manly man built with his own two hands (ok, and some power tools). We love that they're constructed like long skinny wall mounted boxes to keep books from toppling down as they might on an open shelf. And we can easily switch out those books, frames, and toys to keep reinventing that wall as our baby girl grows.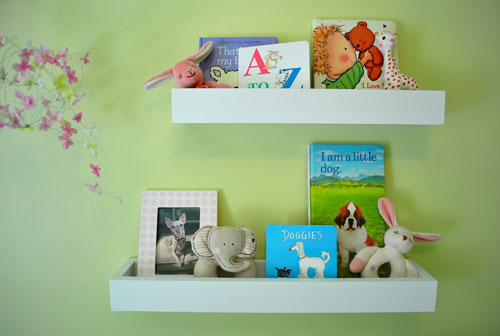 And because we've heard that well ventilated rooms with fans can help when it comes to scary things like SIDS, we sprung for this vintage-looking turquoise charmer (by Deco Breeze in "sky") which is just as easy on the eyes as it is functional. Plus we love the fact that small fingertips can't fit past that protective wire cage.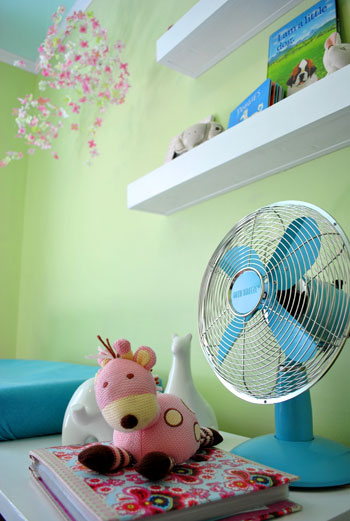 But let's swing over to that formerly sad little closet. We livened things up by painting the inside of it the same soft aqua color as the ceiling, hung a fabric curtain for some pattern and interest, and added a second hanging bar along with baskets, shelves, and boxes to store a lot more than we thought we ever could in that tiny enclave. Check out the whole closet transformation here.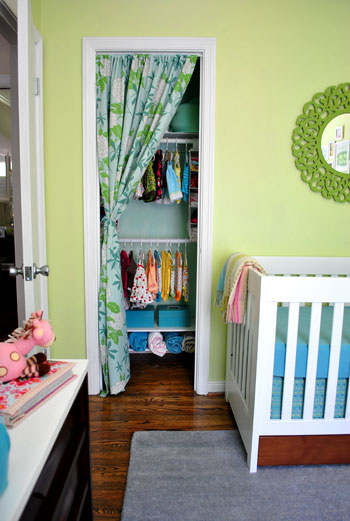 And maybe I have to revise my "is there anything cuter than tiny baby shoes?"question. Because the answer might be "baby clothes." Oh and we love that we were able to repurpose a hanging shoe organizer from Ikea as a caddy for everything from bibs to burp cloths and even tiny leggings.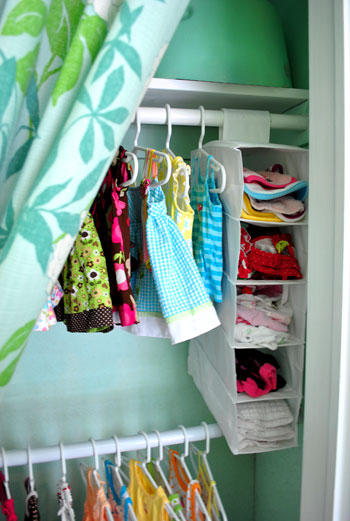 Here's a shot of our crib tucked into the corner to keep as much open rug space available for playtime as Baby P grows. We love that the crib we chose has that drawer built right in for even more storage space (it's actually empty right now, along with the storage ottoman- which we think is a good sign since we're sure to accumulate more stuff as we go). And we even got to whip up a no-sew crib skirt to the tune of just $14 to add texture and hide the formerly open space between the bottom of the mattress and the top of the drawer.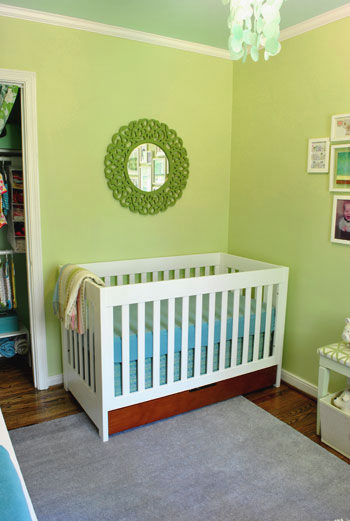 Here's a close up of a super affordable Marshall's mirror that we grabbed back when it was black. Reinventing it with some cheerful green paint and hanging it (extremely securely) across from the window allows it to bounce some nice light around the small room. And we figure between staring up at the blue ceiling, the aqua chandelier and this whimsical mirror while she's in her crib, the beanette will have no shortage of places to peer while she dozes off.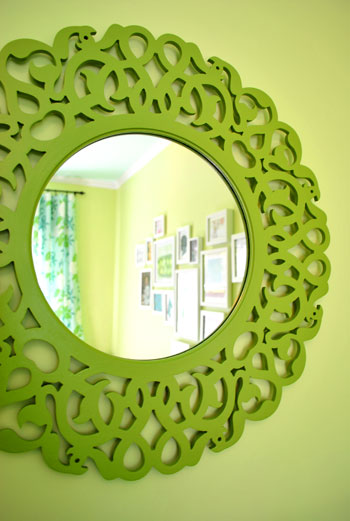 And here's our art wall which we recently refreshed with some under-one-dollar decorative craft paper, a few photos and prints that we already had, and two new pieces from Etsy and Wall Blank. We especially love the mixed and matched feeling of playfulness that it adds to the room (and the fact that we can switch things out whenever the urge strikes). Plus the asymmetrical arrangement makes it feel more fun and less formal, which seems fitting for Baby P's cheerful pear and aqua nursery.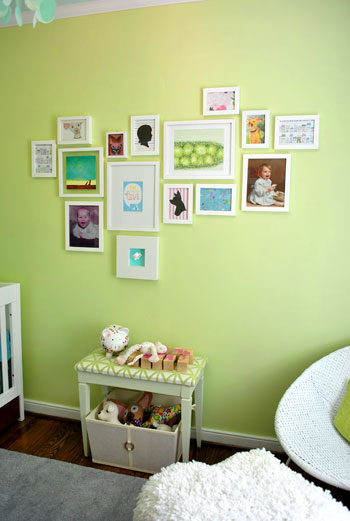 We already mentioned the old thrift store bench that we brought in with a bin of toys under it for more display and organization space in our modestly sized room. We really love how the soft celery color and the patterned upholstery fit right into the room without competing too much with the curtains. Talk about a happy accident since we redid that $7 bench over a year ago without ever knowing that it would someday be worked into our future nursery.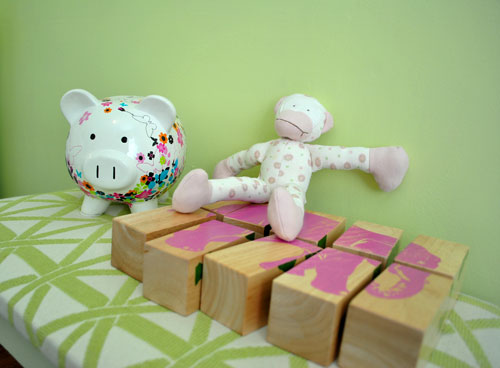 But back to our art wall for a moment. Here's a closer shot of one of our favorite sentimental ideas. We'll be placing the beanette's hospital wristband in that chunky frame on the bottom (and until then we made our own little placeholder version). We also plan to create a paper silhouette of her sweet profile once she's here (to match the one that we already have of her four-legged brother Burger). Gotta love some fun and easy personalization- especially when it's free.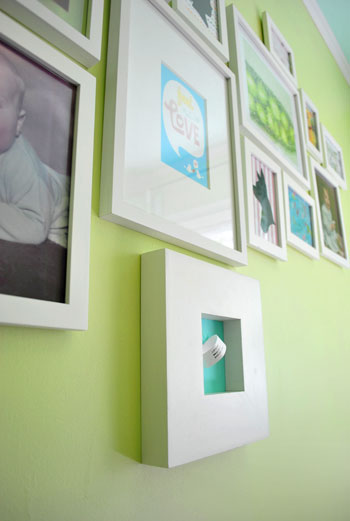 So that sums up our recent guest-bedroom-to-nursery makeover. And because we're suckers for photo documentation, we glanced at this picture from the beginning of the project…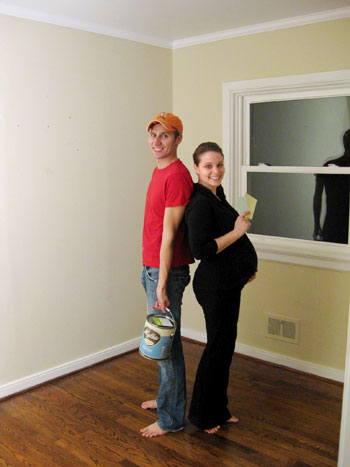 … and just knew that we had to replicate it a few months later now that the room is done: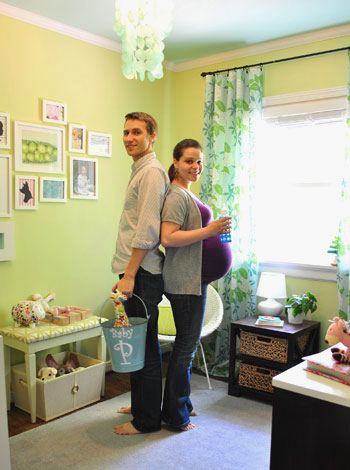 There's that belly shot so many of you have been requesting. The funny thing is that while I'm definitely bigger in the after shot than I was back in January when the first back-to-back picture was taken, it's crazy to think that in it's been three months since that photo and I haven't grown all that much. I guess it's safe to say that I popped early.
But enough bump chatter, let's talk budget. We headed into the nursery makeover assuming we'd spend around $1500 (since we had absolutely nothing and needed lighting, paint, a chair, a dresser, a changing area, a crib, a rug, storage solutions, a closet makeover, a mirror, art, curtains, shelving, a mobile, and more). We arrived at that estimation since some simple online shopping revealed that even affordable places like Target charge around 1K for a crib, a dresser and a changing table (which doesn't include other major items like a chair, a rug, lighting, art, shelves, etc). Of course we hoped to whip things together for less, but we always like to be realistic instead of overly optimistic when it comes to budgeting (since it feels a lot more triumphant to come in under budget when you take the time to land on a feasible estimate- as opposed to completely blowing a budget that was way too low to start with).
Here's the full budget breakdown:
Not too bad, right? Especially when you think about shows like Trading Spaces having 1K to transform a space. And the fact that we were able to pick up two major pieces (the chair and the dresser) for just $20 a pop definitely allowed us to take on a ton of smaller projects that might not have originally worked within our budget. Now granted the gifted crib and mattress definitely helped when it came to staying under a thousand dollars (and coming in at less than half of our original $1500 budget) but we're thrilled that we were able to whip up so many under $20 projects with that freed up moolah (from our mobile making and shelf building adventures to our drawer lining project, no-sew crib skirt and even our big closet makeover).
So what do you think? Are we ready for a baby or what? And what really is cuter… baby shoes or baby clothes? We're so excited to finally share our big nursery reveal with you guys and we'd love to know if any of you are making over a nursery in your home- or sprucing up a kids room for your own growing bambinos. Heck, even if you're kid-free, are you planning to take on any of the projects that we tackled for this space like ceiling painting, curtain making, dresser refinishing, closet organizing or shelf building? Do tell.
Psst- Wanna see our nursery progress from the very beginning? Here's our painting post, our big shopping spree, our crib hunting rundown, our curtain-making tutorial, our fun little chair search, our mirror-painting extravaganza, our DIY faux sheepskin project, our big dresser makeover (and subsequent drawer lining project), our closet makeover, our homemade crib skirt undertaking, our DIY mobile, our shelf-building adventure and our art wall makeover. Oh the memories…