Ok, we'll let you in on a small semi-gross secret. Our master bedroom mattress was way way old. Hugh Hefner old. And it was a hand-me-down. In fact, John's sister graciously donated it to us when we moved to Richmond three years ago (after decades of use with it herself). They say mattresses get stiffer with age and we can definitely vouch for that fact. Ours was as tough as a brick and about as comfortable as one too. But it certainly did the job over the past three years and we weren't in any place to purchase a new one off the bat as we embarked on our extreme home makeover one room at a time. Paint, primer, other furnishings and accessories- even a kitchen remodel- came first. And every night we retreated to bed sore and tired and woke up more achy than the night before. Here are John and Burger demonstrating how not fun our old mattress was. Look at those sad faces.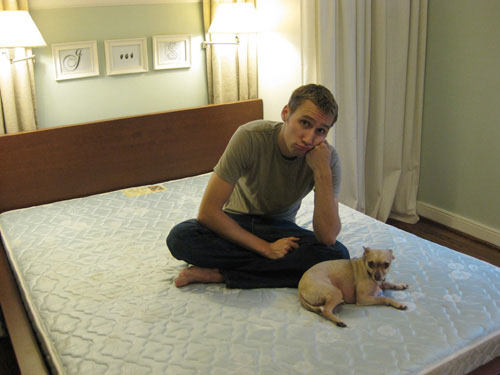 But three glorious years later, the time finally came for us to bid a sweet we-won't-miss-you-at-all farewell to our ancient mattress and welcome a new sleeping companion into our lives. Now we won't go to bed with just anything these days, my obsession with all things eco made me yearn for a pure and organic mattress free of fireproofing chemicals and made from 100% natural materials that are just as good for the planet as they are for people.
After hours of googling I found a great little organic mattress comparison site, which led me straight to the arms of our new bedroom companion: the Organic Serenity Natural Dunlop Latex Mattress By Savvy Rest. It was the top ranked mattress and it was actually the most affordable one as well (other than the much lower rated and thinner one at the bottom of the page).
At $1999 for a queen mattress, it's hardly a drop in the bucket. In fact it's pricier than every piece of furniture in the entire house. But when you think about how much time you spend on a mattress, and how this baby is warrantied for a full 20 years, it really breaks down to pennies a day and the added fact that it's so good for the planet and our bodies really was a selling point for us- even if it upped the price a bit. So after a few months of saving (we literally had a "mattress fund" in our savings account) our new bedmate arrived in three different boxes. And yes I did that squealing and clapping thing that I do when I'm excited.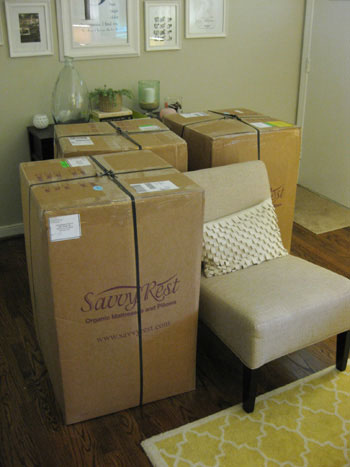 Possibly one of the most amazing features of the Organic Serenity Mattress is that you get to customize the firmness. It's made up of three three-inch layers of natural latex encased in a certified organic cotton & wool cover so each layer came in its own box (another added bonus is that it shipped from nearby Chrlottesvile, Virginia so it didn't have to travel many miles to our door- hooray for buying "local"). Here's one of the layers along with the organic cotton and wool cover: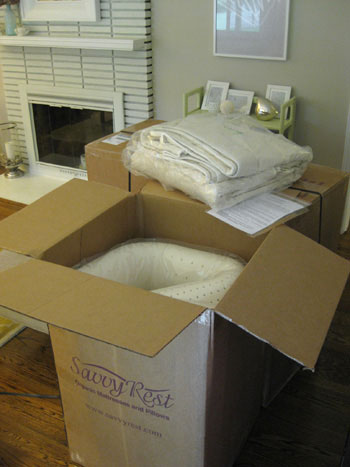 The fun began about a week earlier when we got to personally select each layer's density online during the ordering process (choosing between soft, medium, or firm) so we could create the perfect customized mattress just for us. You can even split each layer up the middle so if John liked a soft mattress and I liked a hard one, we could have chosen different latex densities on either side of the mattress for an individualized result. Since we both like a moderately firm mattress (not brick-firm like our former one, just not too soft since we're back and belly sleepers) we chatted with one of the phone consultants and ended up going with one layer of "medium" followed by a second layer of "medium" and a layer of "soft." And needless to say when those three layers arrived in their own boxes we couldn't wait to put everything together. You know we like DIY projects around here! First we cleared out our old mattress (which we Freecycled by the way):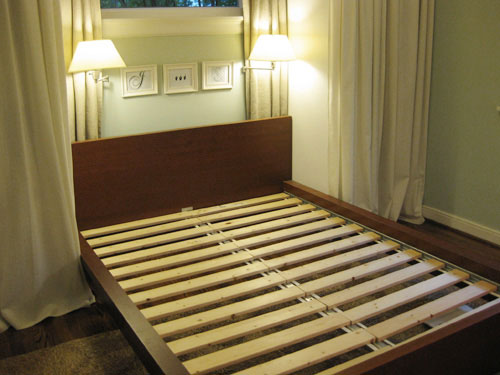 Then we followed the so-simple-Burger-could-do-it directions that came in one of the boxes. First we laid out the bottom part of the organic cotton & wool cover: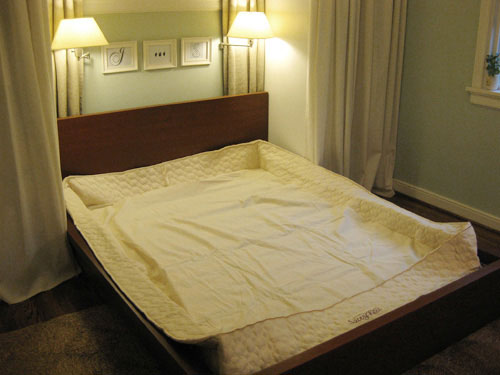 Then we took out the layer of natural latex marked "bottom, medium" and stuck it into the cover, wiggling it around like we were shaking out a rug until it was centered and even across the bottom of the cover. Even with just one 3″ layer of hole-riddled latex our bed was eons more comfortable than our old inner spring antique.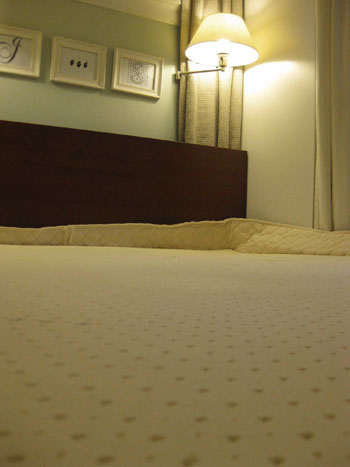 Then we placed the "middle, medium" layer of latex on top of the "bottom, medium" one and followed that with the "top, soft" layer, which you can see John adjusting below: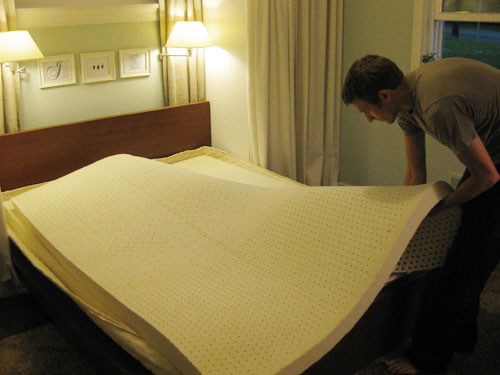 Once each layer was stacked evenly and aligned in the cover, it was time to bring in the top of the cover and zip it around all three pieces of latex to hold them in place for the long haul (20+ years according to the warranty).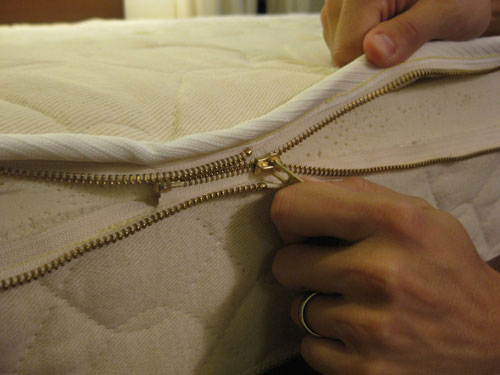 John worked his way around the whole mattress, zipping as he went, and before we knew it we had a fully functioning new mattress to call home. And since each layer is 3″ thick plus there's the quilted organic wool & cotton cover, our new mattress is a decadent 11″ thick (as opposed to our crochety old 6″ inner spring variety). Words can't express how much we love our 2 year anniversary present to each other (cotton's supposed to be the 2-year anniversary theme, and by golly the cover is actually pure organic cotton!). Look how good life is when you have a new mattress. You start posing like they do in those commercials with the wine glass on the bed: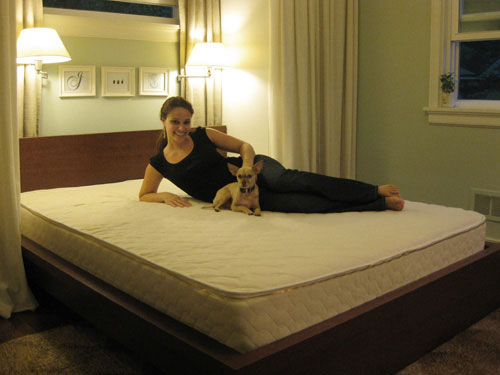 So that's the story of aching backs, researching, ordering, and assembling which resulted in sleeping like babies ever since (no more pinned featherbed required). Our actual anniversary isn't until July 7th but we sure are glad we saved our pennies for something that we'll appreciate for years (and years) to come. And speaking of the passage of time, look who was still hanging out on our new mattress hours after we assembled it and retreated to the den to watch some tube. Yup, Burger was sold from day one.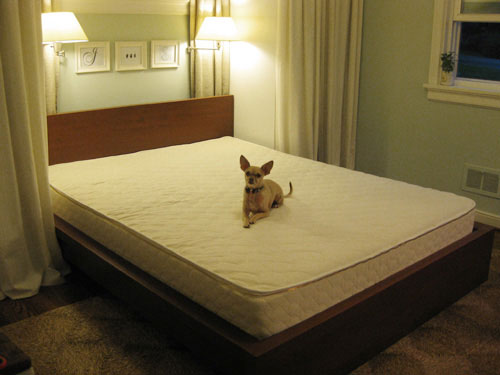 How about you guys. Are any of you in need of a new mattress or another household staple like a couch? Any wedding anniversaries coming up with cotton (or something else) on the agenda? Do tell.
Psst- Looking for an update on how we like our mattress? Check out this follow-up post where we detail how we feel about our big mattress switcheroo after a good amount of use.