We originally wanted to include a few shots of the office as it looks when it's converted into a guest bedroom in this morning's post, but we just snapped too many pics to squeeze it all in! So here's a p.s. post of sorts, with photos of the little tweaks and twists that we implement when we need it to work full time as a guest bedroom for our friends and family.
Here's the full-sized sofa bed all folded out and dressed for company (with linens that we already owned from the full sized bed that used to exist in the space before the room was converted into a two-person office). The pillows are from Pottery Barn and the quilt is from Bed Bath & Beyond by the way: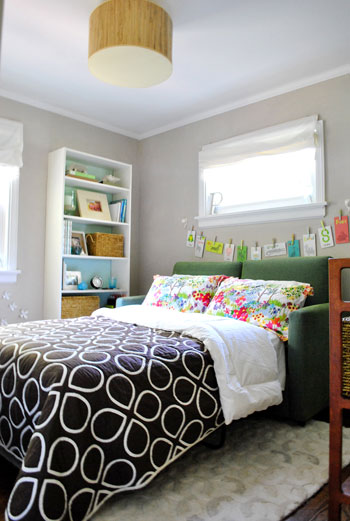 We use the bigger sofa cushions to create a headboard of sorts behind the fold out bed (and the two smaller sofa cushions that are removed in order to fold things out get stashed under the bed so they're out of the way). We also toss our files and paperwork into the open desktop cubby or our file boxes underneath the desk when guests come to stay. And we move one of our our laptops out into the den (since we still have a small desk in the corner where I used to work full time).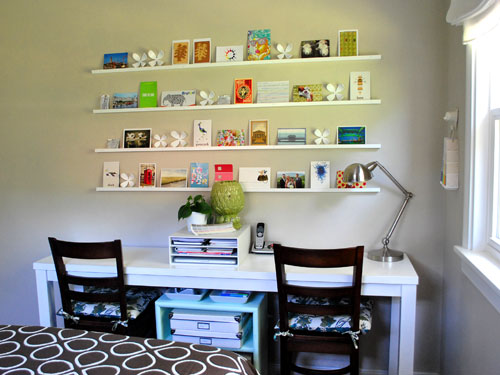 Our other laptop can be slipped right into the bottom cubby to free up some nice tabletop space for our guests (and to make it feel less like they're sleeping in a cubicle).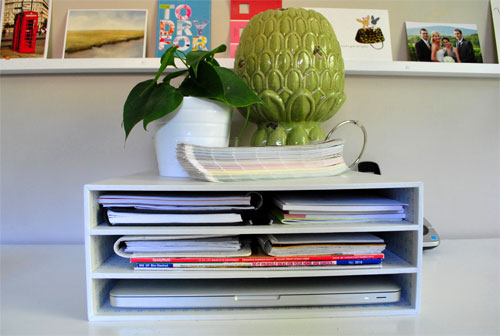 It's easy to wonder how much spare space is in a small 10 x 10.5′ room that has to house a slim two-person desk and a fold-out full sized bed. The answer: not much. Admittedly we would love to have more than a foot of space between the bed and the desk, but our guests have all said it's still easy enough to squeeze through if need be (luckily there's not much that they need access to on the other side of the bed anyway). Frankly we're just happy that the bed can fully fold out without hitting the desk since a standard depth desk wouldn't have worked out as well.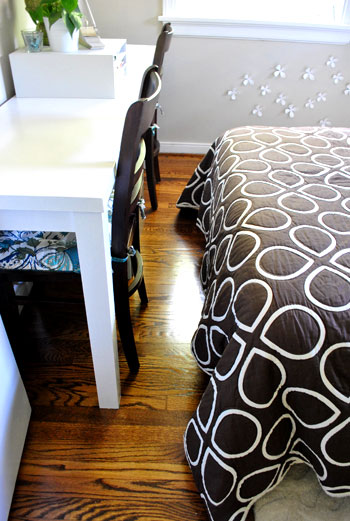 We always believe in offering some sort of a nightstand drop zone for guests to remove jewelry, charge their cell phone, place a glass of water, etc. So we quickly tweak this nightstand-height bookcase shelf that can easily be reached from bed. Here it is before the guests-are-a-comin' edits: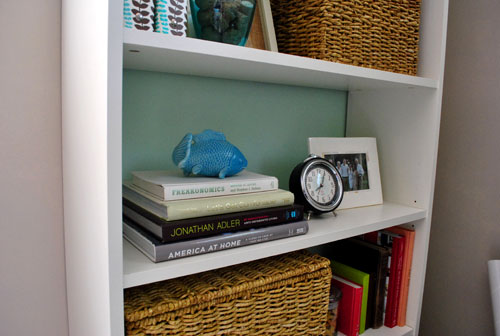 And here it is after we get it all ready for friends and family: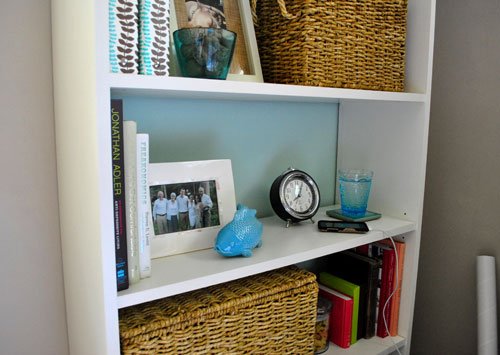 We just stand the books up to make room for a coaster and a glass of water along with a charging cell phone (there's an available outlet nearby as well). We also like to switch out the photo in the frame with one of us and our visitors if we have a moment.
Here's another when-guests-aren't-coming photo, this time of the closet: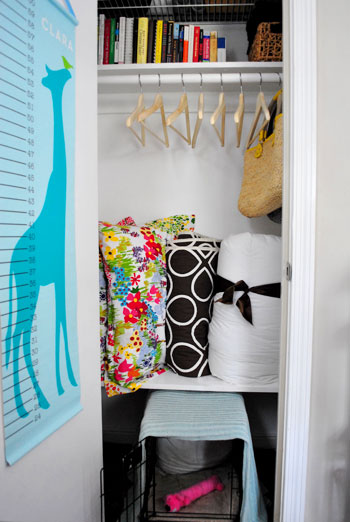 But when guests are in town all the bedding is on the bed, which frees up the shelf for any luggage that our visitors may have (and leaves more room for hanging up clothes that might otherwise get wrinkled).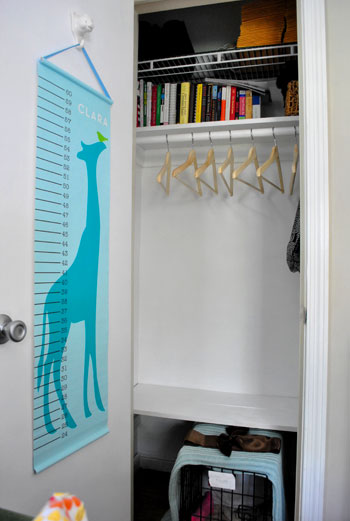 We also love to leave some Richmond related maps and magazines out so people who are here from out of town can get to know our beloved city. It's also nice to leave some other mags that might suit your visitors' interests, so we try to grab something that seems like it could be up their alley (like a gossip mag, a gardening glossy, or a parenting pub) and toss it into the mix as well. Note: stay tuned for more info on those two patterned boxes on the top shelf below- we'll be back with a tutorial soon!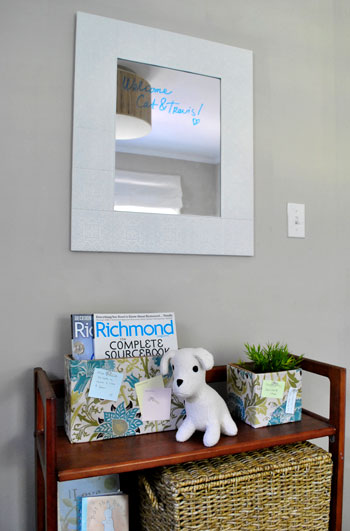 Oh and we can't forget that we erase our to-do list on the mirror (which we write with a dry erase marker) and throw up a welcome message for our guests instead.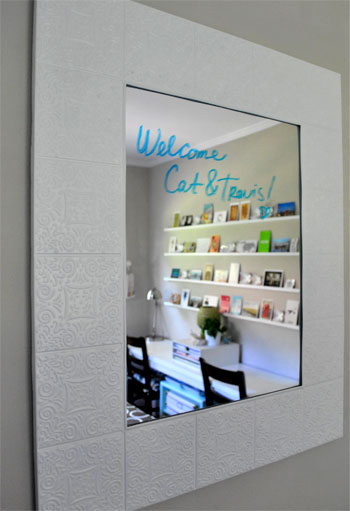 And since this room definitely has three functions as opposed to just two- here it is in all of its playroom glory: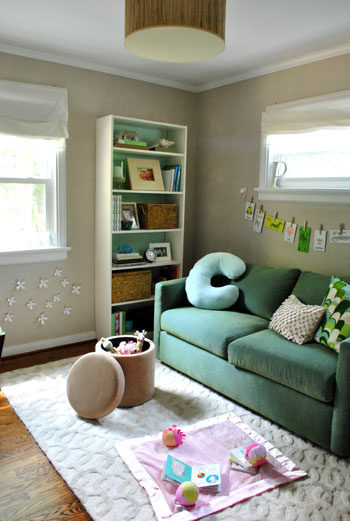 We love that we have lots of room on the rug for Clara to spread out and do her thing. And we really look forward to her playing with the magnetic wallflowers and interacting with her flash card clothesline above the sofa. Safety note: twine, wire, or ribbon can be strangulation hazards. Hanging things out of reach and keeping an eye on children who may get hurt is always advised!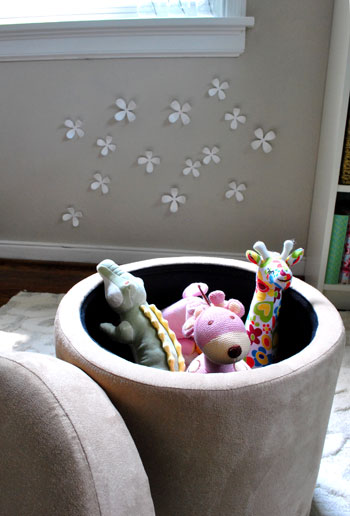 Plus the bookcase dedicated to all of her toys, books, blocks and blankets really helps control the chaos (along with the $27 ottoman that we snagged from Target).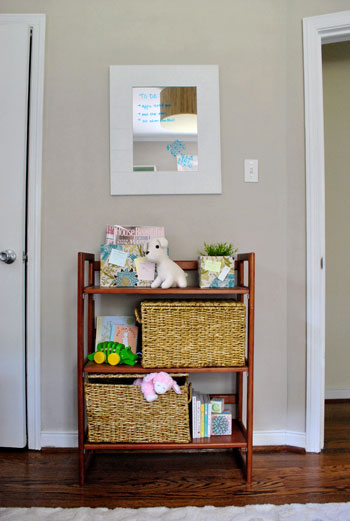 We're just psyched that we were actually able to wrangle three separate functions into one small space where we spend at least 80% of our time (believe me, we had our doubts). Check out what the room looks like every day as an office right here. Do you guys have any guest bedroom tricks or toy-storage secrets to share? We'd love to hear how you make people feel right at home when they're visiting or how you keep the kid clutter to a minimum. We're definitely still learning when it comes to that…
Oh and don't forget to check out our decorative clothespin tutorial over on Babycenter today!
Psst- Wanna follow the entire office/guest bedroom/playroom makeover? Click here for the intro post, here to read about the big sleeper sofa hunt, here for the DIY desk play-by-play, here for the homemade light fixture project, here for our hacked Ikea bookcase, here for the file storage we built, here for how we squeezed in some toy storage, here for how we picked out some DIY art that we could agree on, here for how we wrangled our wires, here for the play-by-play of creating our postcard art wall, here for our magnetic wallflower paint project, here for our closet overhaul, and here for the whole shebang big reveal post.