Thanks to time lapse photography (aka, us remembering to take the occasional picture of our backyard garden) we present to you our patio planting progress over the last few months.
In February it was a blank canvas. We planted about a million annuals for our backyard wedding the year before, but now wanted to introduce some evergreens and a few lower maintenance perennials for color and texture that comes back every year and looks good in every season.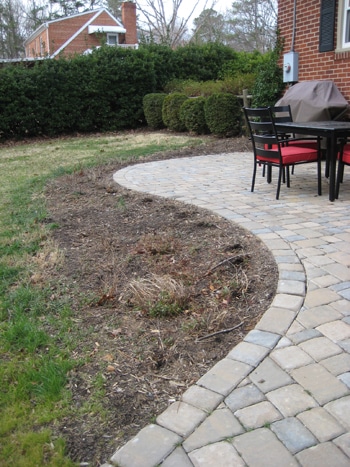 In early March we brought in a bunch of evergreen plants (which never drop their leaves) for some year-round shape as well as some hardy perennials for spring, summer, and fall color. If all goes well they'll come back every spring through fall while the evergreens will stick around all year to keep things from looking too bare.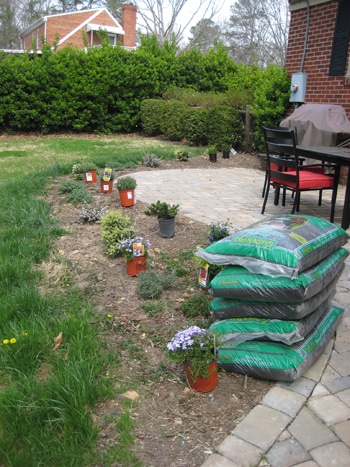 After we planted them they looked kinda sad for a little while…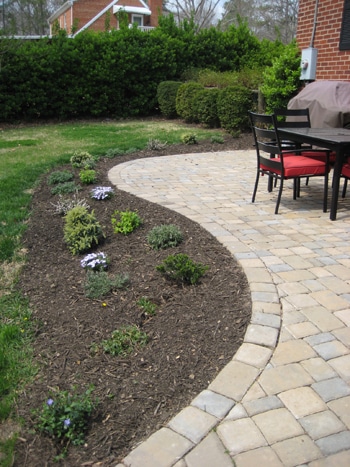 … but by late April (thanks to all the showers) they hit their stride. And now each and every texture, shape, color and even smell (the purple flowering Catmint bushes smell nice and minty) is so worth all that digging and mulching. (Note: the other difference in this "after" is that we switched out the red seat cushions on our patio chairs in favor of neutral ones to create a more natural look).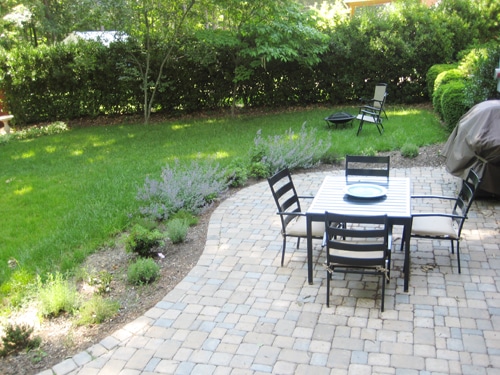 In case you're curious, a few of our favorite evergreens are Variegated Dwarf Gardenia, Firepower Heavenly Bamboo and Dwarf Cavatine Pieris (below middle) while a few of our favorite perennials have turned out to be the aforementioned Catmint (below left), French Lavender, and Sunny Border Blue Veronica (below right). We stuck to a white and pale purple color scheme when it came to flowers to keep things looking calm and not like a crazy-kaleidoscope-of-chaos.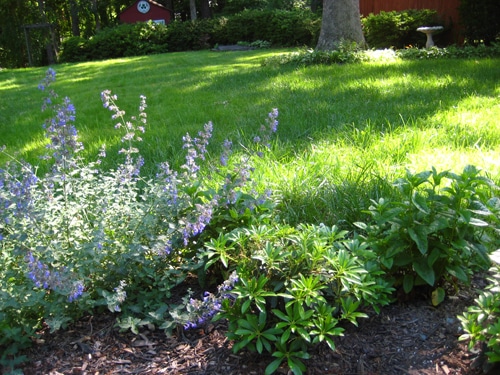 Things will continue to fill out and hopefully by next year more of our evergreens will grow a bit larger for more presence in the bare winter months.
Until then, our cat sized dog can be found enjoying the Catmint (not by eating it, just basking in its sweet minty scent).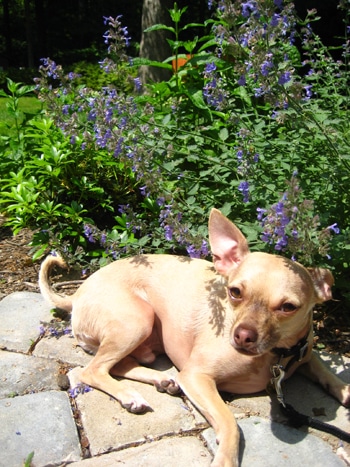 Gotta love a dog who's appreciative of our ongoing landscaping efforts.