So did you guys think we spent the long weekend relaxing and eating burgers? Do you know us at all? Ok, so we did do our fair share of grillin' out, but we also found the time to transform the back patio. Yep, we mentioned that we longed for a welcoming and functional outdoor room to grill stuff up, chillax with a good book (or glossy shelter mag) and whip up some melty s'mores… and we just couldn't wait one minute longer to make our backyard dream a ready-for-summer reality. Here's what our back patio looked like before Memorial Day weekend- all lonely except for an old Target table and chair set purchased about two years ago.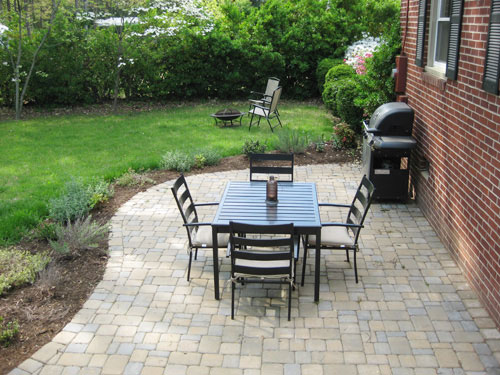 And here's what it looked like Saturday morning after a bit of assembling, potting, and even a quick fire-pit-building project. We happily got 'er done in a few hours so we had the rest of the long weekend to enjoy our newest room. Here's how it all went down.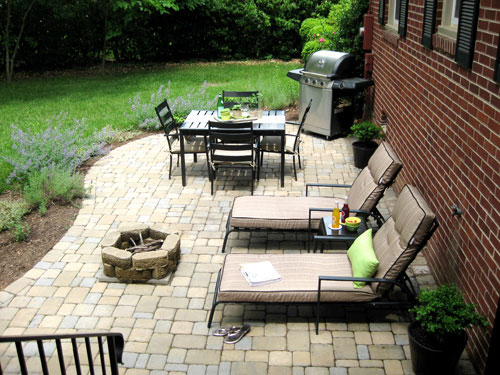 We actually ordered these two Walmart lounge chairs (which appear to be sold out now) a few months back with birthday money from our families. We were dying for a place to read, watch Burger run around, and maybe even do some outdoor blog stuff (and a friend with two lounge chairs totally inspired us to take the plunge). But although they were sadly on backorder for what seemed like forever, these matching loungers ended up being well worth the wait (and their $277 price tag for two). In fact we were so excited about finally getting our mitts on them that John assembled 'em on Friday night at dusk- because neither of us could bear to wait another minute to enjoy them.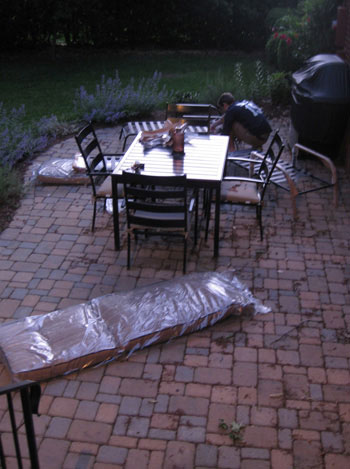 You think I'm kidding. Here I am taking one out for a spin that evening. In the dark. Yeah, we're nerds.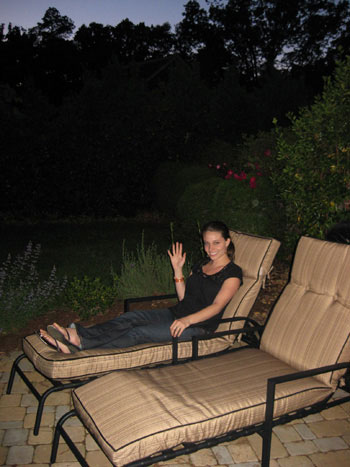 And of course we're loving our little firepit that we made by stacking some heat-resistant pavers far enough away from the house and any low trees to be safe.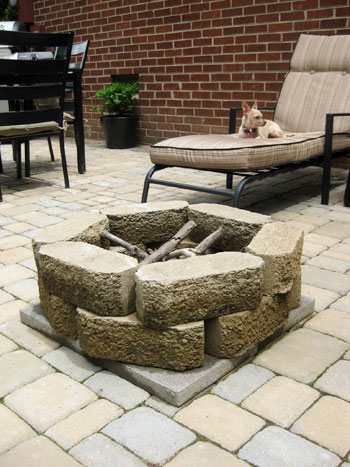 We also brought in two simple black planters that we purchased at Ikea a few months back and popped some $6 boxwoods in 'em for a bit more life and color on our newly spruced patio. You'll also notice the green lumbar pillow (stolen from our porch makeover) on our lounge chair. We liked the pop of hue so much that we're thinking about bringing home two more for our lounge chairs so this little green guy can go back to his former home on the front porch.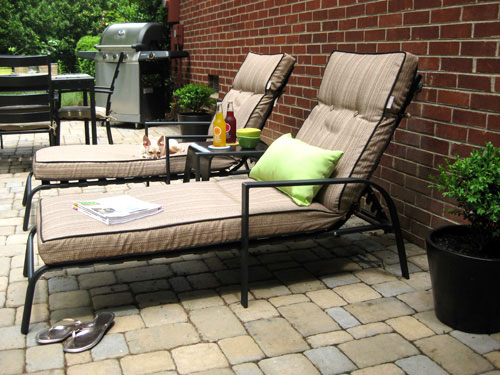 We already had our big-ish stainless steel grill (we actually purchased it for our backyard wedding where our dads grilled up grub for our guests) – but we found that we rarely used it since… probably because the rest of the patio left much to be desired. As a testiment to our new makeover, we've grilled up at least four meals in the past three days so we're extremely excited to be using it instead of spending years keeping it covered and never even cracking it open.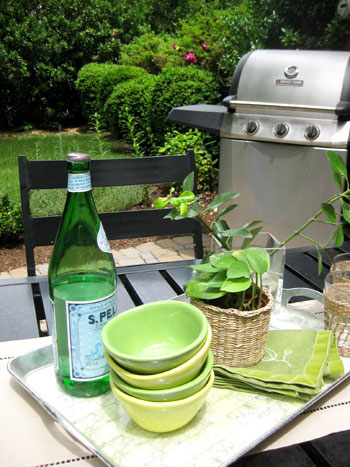 Here's another view of the brand-spankin-new set-up. We love that there's more than enough room to move around and that we were able to create a few different functions in one not-that-huge area. Making a space multitask is definitely one of our favorite ways to force ourselves to use it more frequently (it's why we moved our dining area into our hardly-ever-used living room and now we're in there all the time).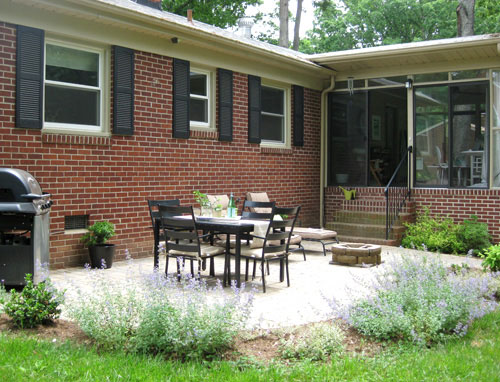 Of course Burger loves the new set up and has already claimed both lounge chairs as his (he switches chairs every twenty minutes or so for good measure).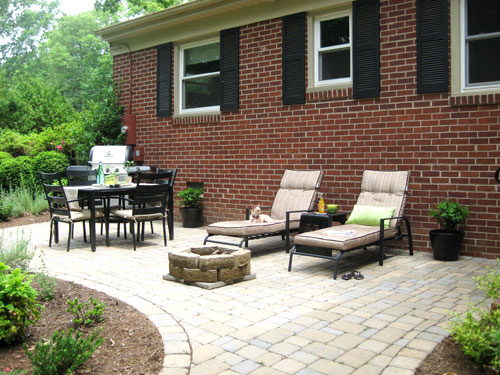 But every once in a while John and I actually get to steal them back and enjoy our lovely backyard with a book on our lap and an ice cold beverage on the "new" side table (an old Ikea stool in the garage got a coat of black exterior paint and a topcoat of outdoor poly). Life is good when you have the perfect little spot to drop a drink, a book or a snack.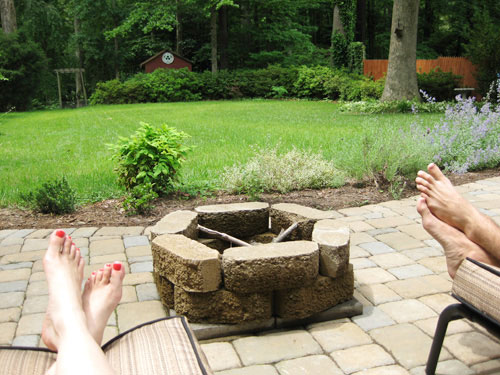 And if you're Burger, life is pretty good no matter where you are or what you're doing… but it's especially fabulous on those new lounge chairs. At least that's the story his eyes are telling in this photo.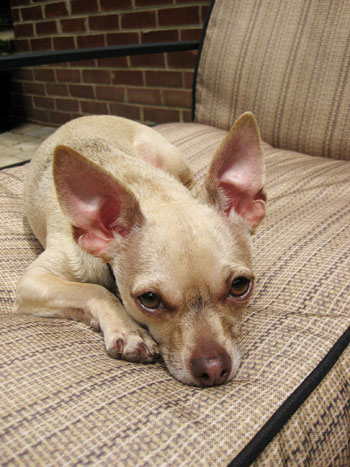 And speaking of the good life, we even got a chance to take our fire pit out for a spin yesterday night when we whipped up a few s'mores after a yummy dinner courtesy of – you guessed it- the grill.
Is there anything better than a scorched marshmallow smooshed onto a hunk of chocolate and sandwiched in a honey graham cracker? I think not.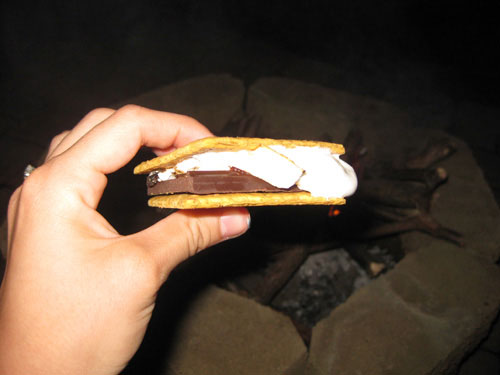 And apparently I'm not alone in that sentiment. Here's John loving his s'more to the max (as Burger lurks in the shadows).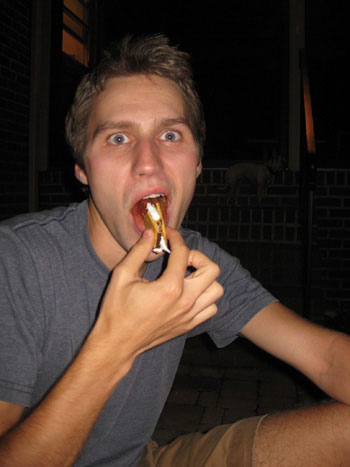 And since we know you guys are figure-heads, here's our fun little budget breakdown. Since our patio was a lot bigger than our front porch we figured it would run us well over $500 for the whole shebang, but we're super excited to report that we did it on a whole lot less (especially since the money that went towards the lounge chairs was a b-day gift from both of our families).
Lounge chair set: $277
Two black Ikea planters: $30
Two boxwoods for the planters: $12
Side table: repurposed Ikea stool (aka: free, but it was only $19 originally)
Grand Total: $319.00
So what did you guys do for your long weekend? Did you tackle any house projects? Did you flee your casa in an attempt to forget all the things on your to do list? Did you get to enjoy the miracle that is a s'more? Do tell.