Last week we vacationed in the Yucatán Peninsula region of Mexico with our two kids (ages 8 and 12) and yes, even our dog Penny came! This was our second time traveling internationally as a family, so we definitely don't qualify as experienced world travelers or aspiring travel bloggers. But just like the last time we went abroad, we wanted to share the details for anyone who is considering something similar – especially if it's your first time going to Mexico. So here are a bunch of answers to the most common questions we got. We'll also cover where we went, what we ate, and how we navigated the logistics of bringing a pet with us.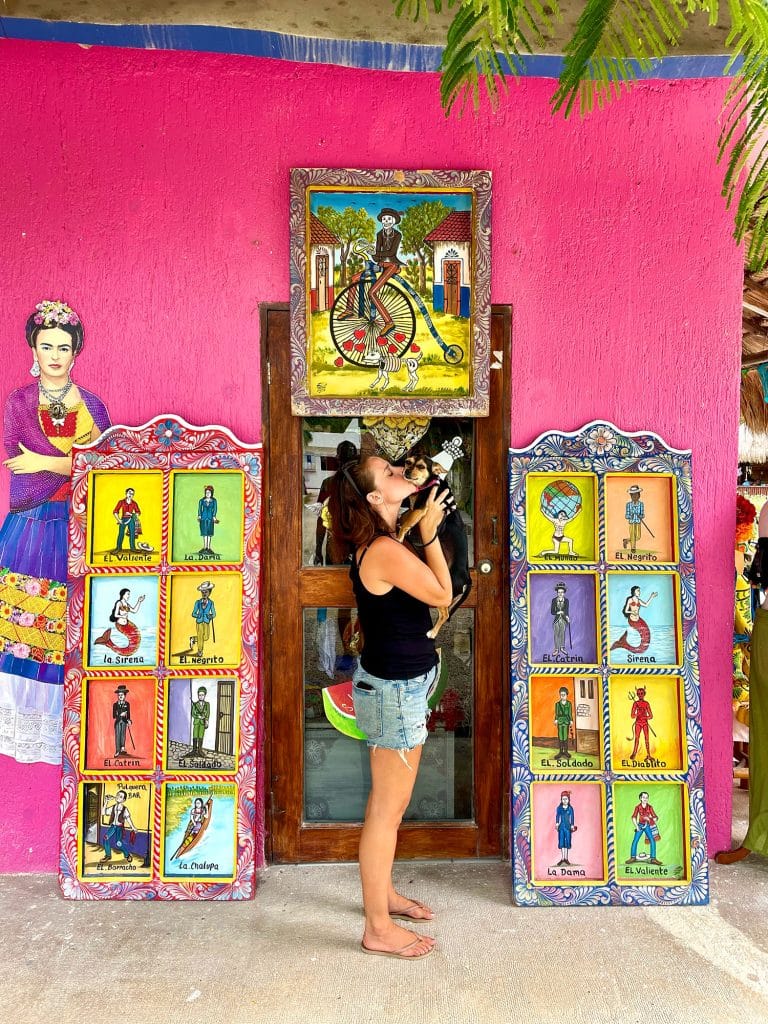 Oh, and as usual, no part of this trip was sponsored. We paid for all of the flights, lodging, food, and activities ourselves (thanks in part to a lot of saved credit card points, which is our favorite way to book big trips).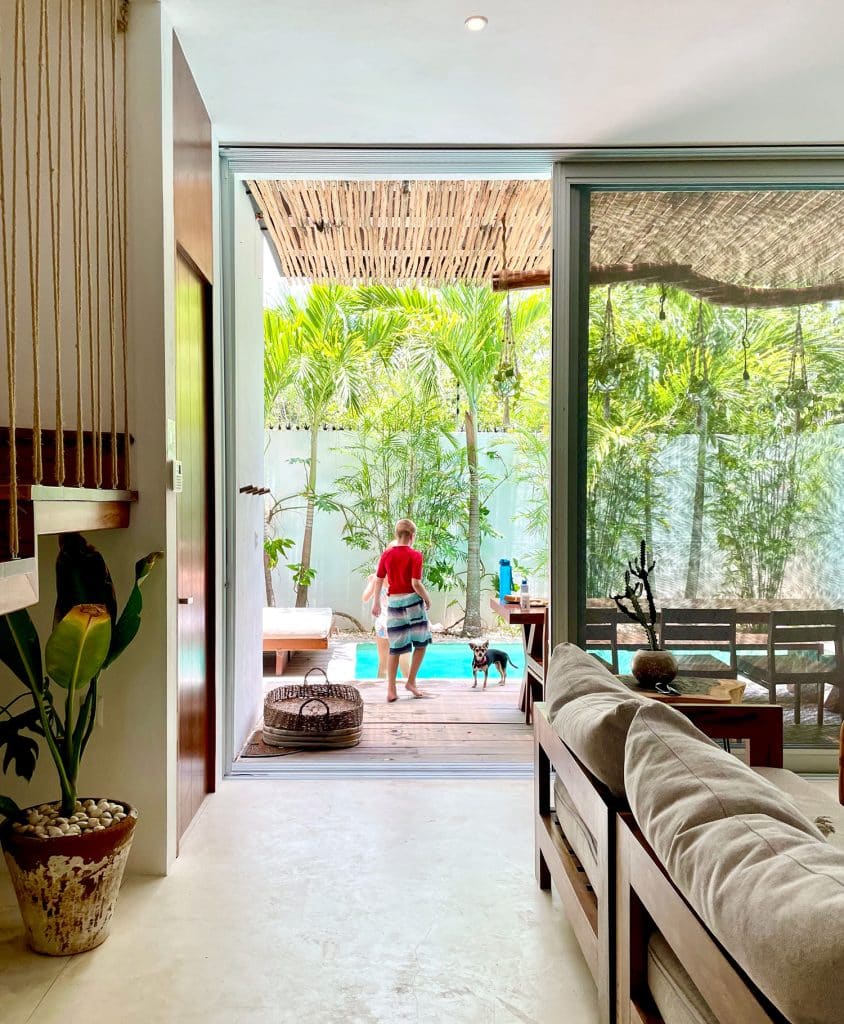 Why Mexico?
We had hoped our family trip to Costa Rica in January 2020 would be the start of regular travels to other countries with our kids. We had really enjoyed getting out of our comfort zones, seeing how others live, having new experiences with our children, and taking in the beautiful sights along the way. Well, then Covid happened.
This summer (June of 2022) we finally felt ready to venture off on another international trip, and Mexico felt like a fun and relatively easy/close destination for our first big trip in over two years (we hadn't been on a plane since Feb of 2020 when we bought our house!). Two sets of our friends had also recently been to Mexico without their kids – so that definitely made Mexico top of mind.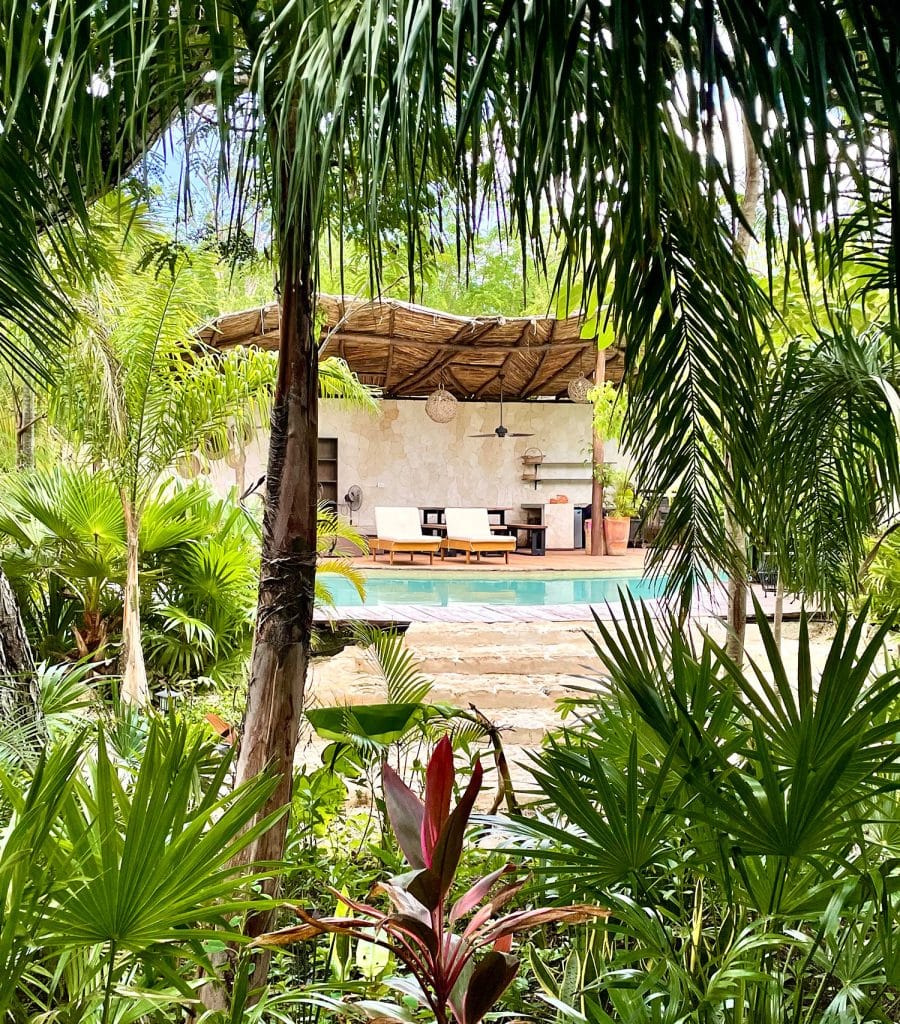 Mexico also boasts a lot of the things we love – incredible nature, interesting wildlife, colorful artwork, and (at the risk of sounding basic) the best tacos in the world. Really. The food in Mexico is amazing in general. We loved every single meal we had there. Go for the sea turtles, but don't sleep on the ceviche.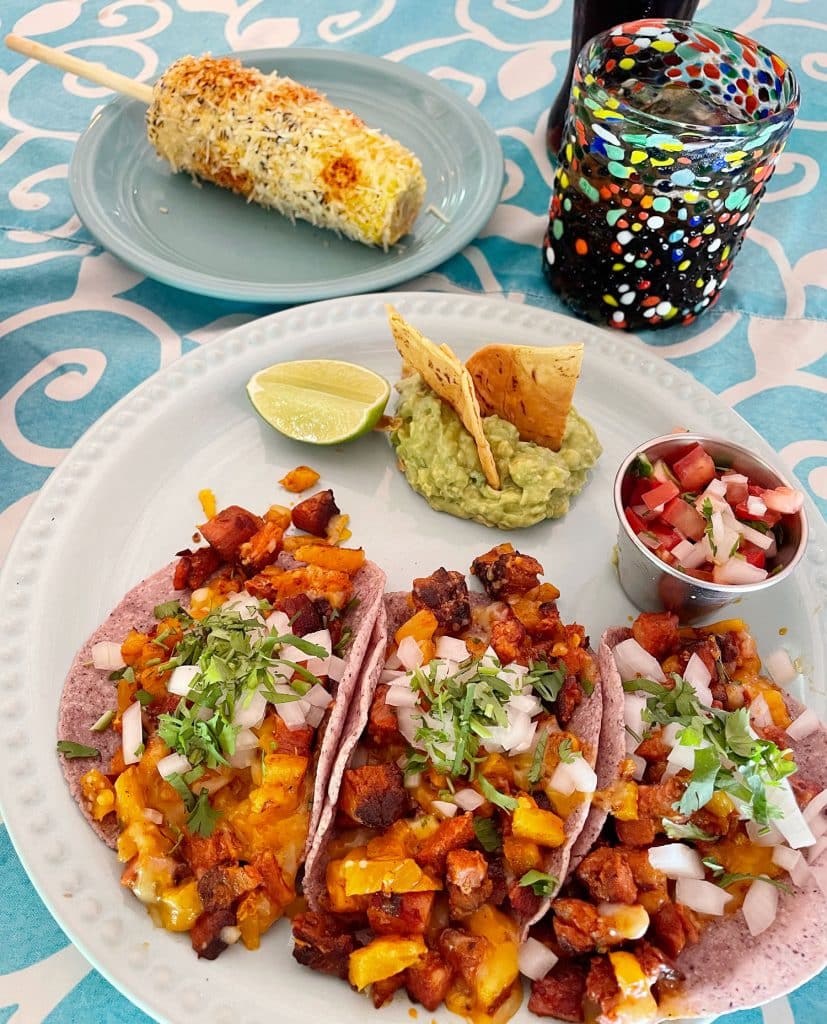 Overall, we found Mexico to be a very tourism-friendly country with lots of options for lodging, activities, and extremely kind and friendly people – from our Airbnb hosts to our snorkeling guide. But more on that in a minute.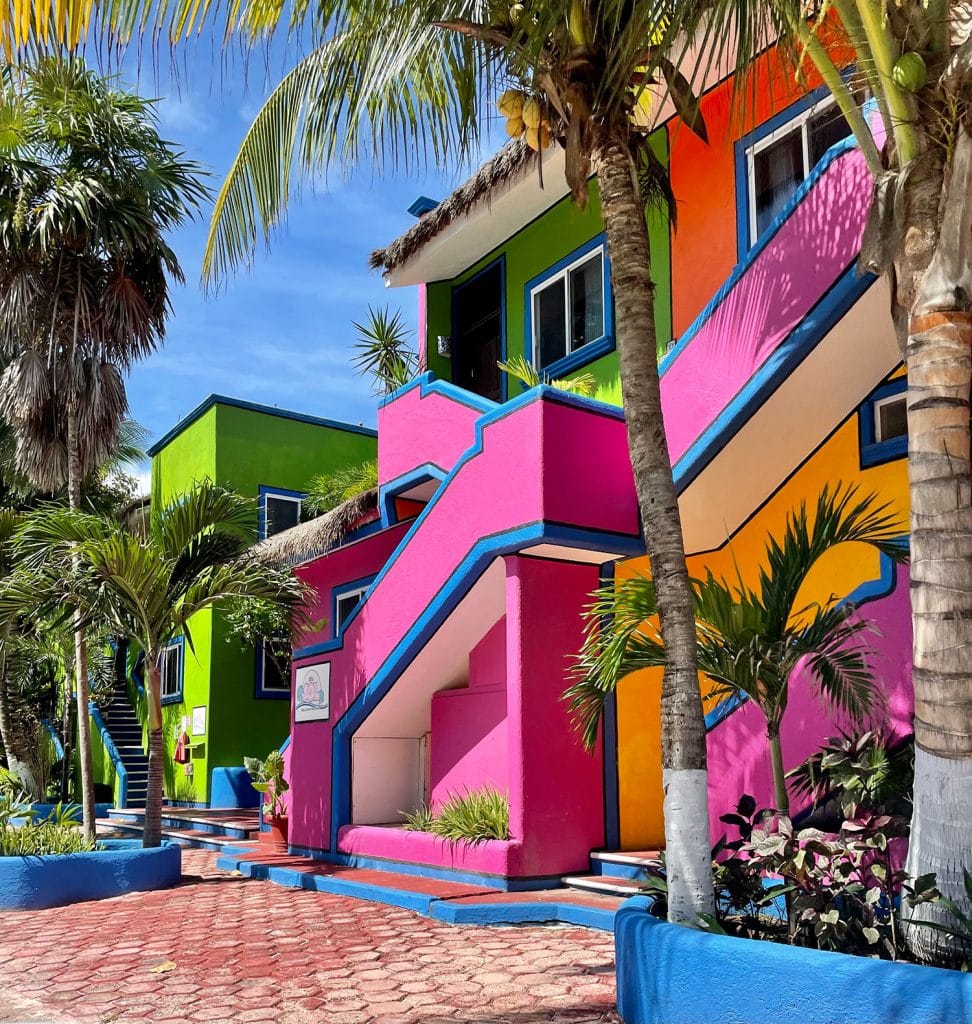 Where did you go in Mexico?
We spent 6 nights in Mexico and, just like in Costa Rica, we split our time between two different Airbnbs in two different towns. We loved how this allowed us to experience two areas of Costa Rica, so we were excited to do that again in Mexico.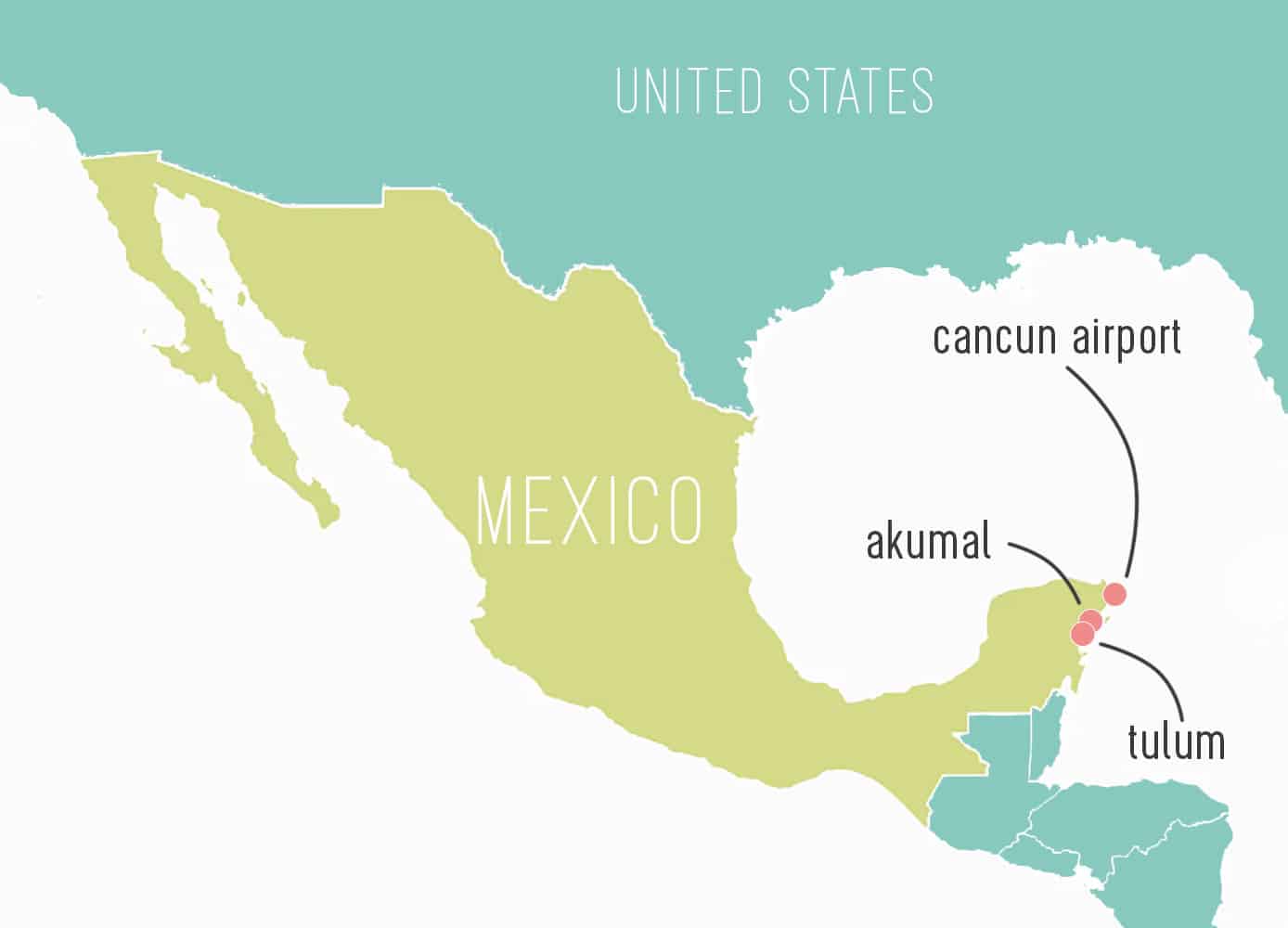 Our original target destination was Tulum, a city about 90 minutes south of the Cancun airport where we flew in because it seemed to be more laid-back and nature-oriented than more popular nightlife/party spots like Cancun or Playa Del Carmen – and our neighbors had recently returned from Tulum and loved it. So after finding an Airbnb in Tulum, we also found another one (somewhat randomly) between that Airbnb and the airport, located in the town of Akumal – just about 30 minutes north of Tulum. That was such a lucky happening because we ended up loving Akumal most of all! But more on each place in a second.
Did you rent a car? What was driving like?
Although it was the part of the trip I was the most nervous about, we did rent a car and I'm SO GLAD we did. We briefly considered trying to get around with taxis and shuttles, but both of our Airbnb hosts highly recommended having our own car and they were totally right.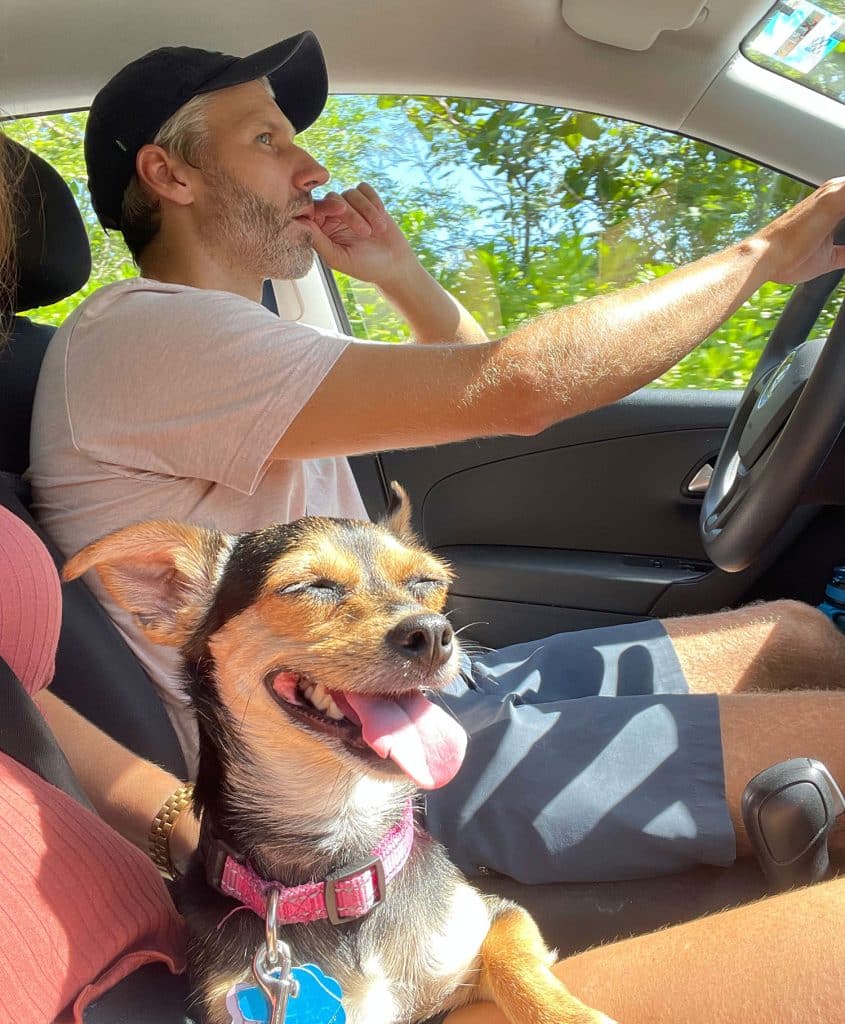 We really appreciated the freedom and flexibility of driving ourselves everywhere and we had zero issues. Not a one. We booked our car through Hertz ahead of time and picked it up – coincidentally with a Chihuahua license plate! – at the Cancun Airport. Just a heads up that you will need to purchase insurance, since your American policy won't cover you in Mexico.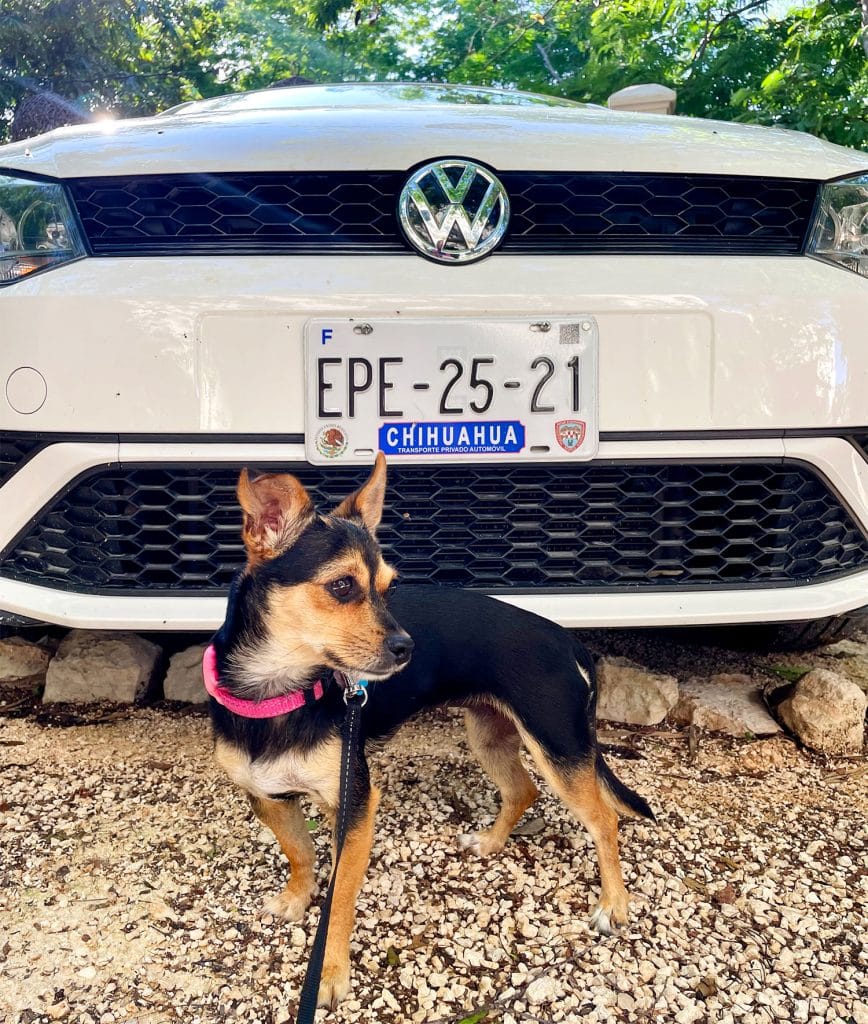 Overall, I found driving in Mexico to be no more difficult than driving in the United States. And in some ways, the Mexican drivers seemed more polite! We were very careful to obey the speed limits, even if it meant having locals zoom past us in the left lane – which honestly happened less than it does here at home. There are also some quirks – like speed bumps called "Topes" that can come out of almost nowhere, even on the highways – but they were all easy to navigate.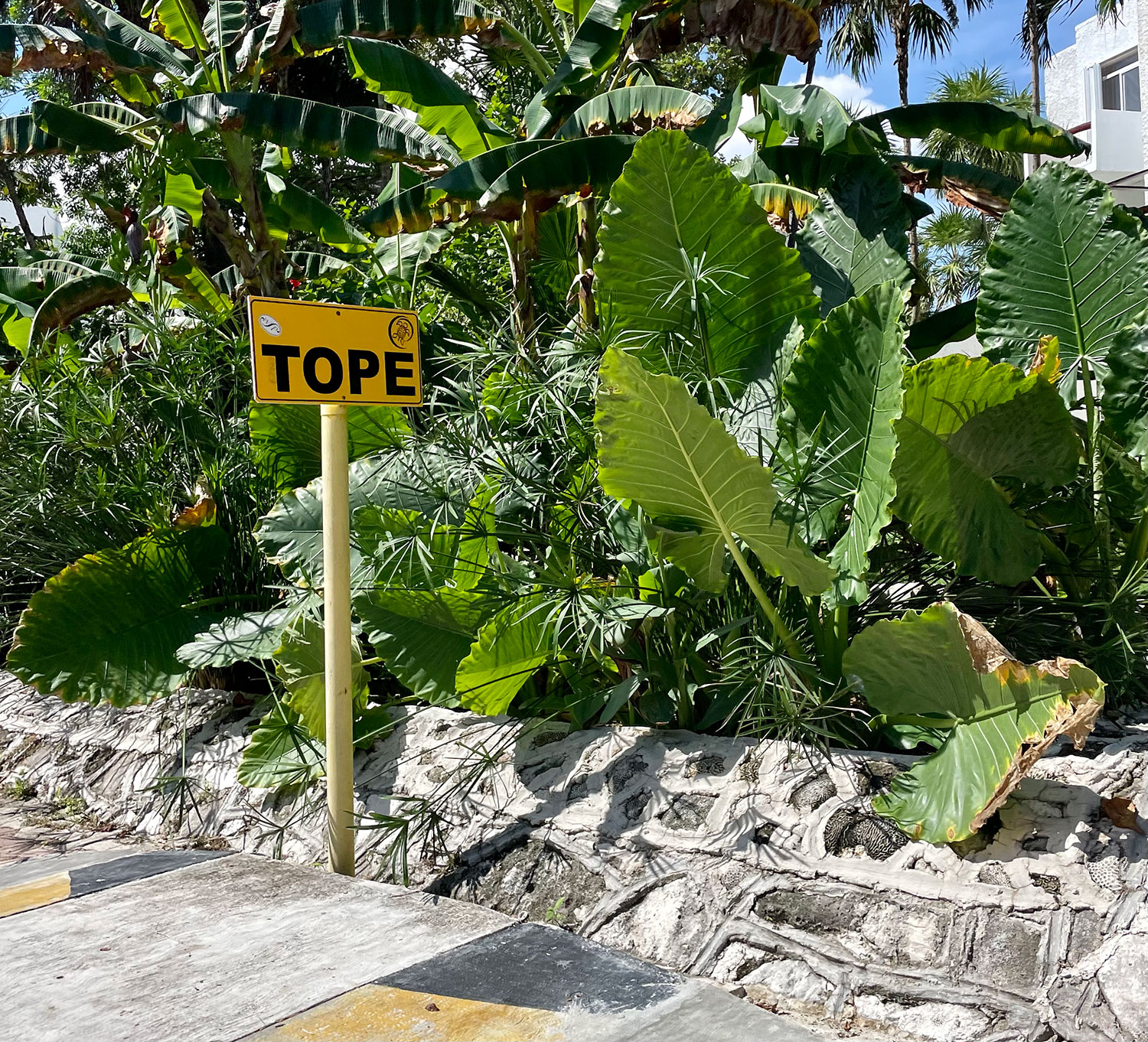 Was there a language barrier?
While we all only have a very basic understanding of Spanish (I'd classify us all as "beginners"), it was not anything we couldn't figure out with big smiles and hand motions. When the cashier asked if I wanted a bag for the food in Spanish, and I didn't understand, she held up a bag and pointed and I said "Si! Gracias!" So overall we don't think it's necessary to know Spanish for a vacation here, and it was a great opportunity for us to learn even more simple phrases and have some very memorable chats (the locals seemed especially excited to chat with our kids in Spanish, which they also loved).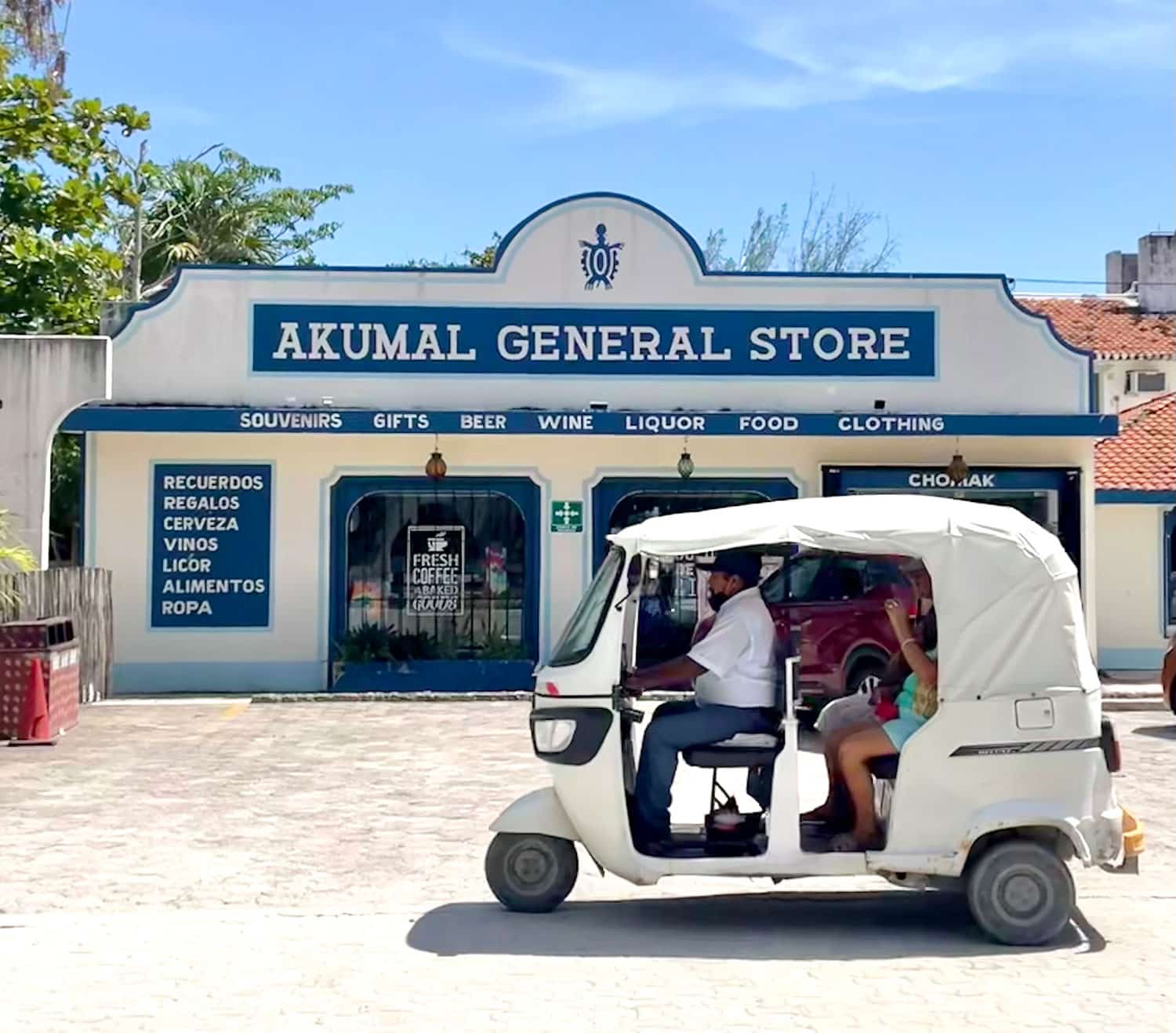 Both of our Airbnb hosts, our snorkel guide, and most restaurant staff spoke fluent English, and we all enjoyed breaking out some beginner Spanish at the convenience store, the food trucks, the grocery store, etc. I took two years of it in college, but that was 20 years ago so I felt pretty rusty – but I found myself using it more regularly on this trip. Mostly for things like simple greetings, reading directional signs, and understanding numbers. And the kids and Sherry picked up some new phrases too.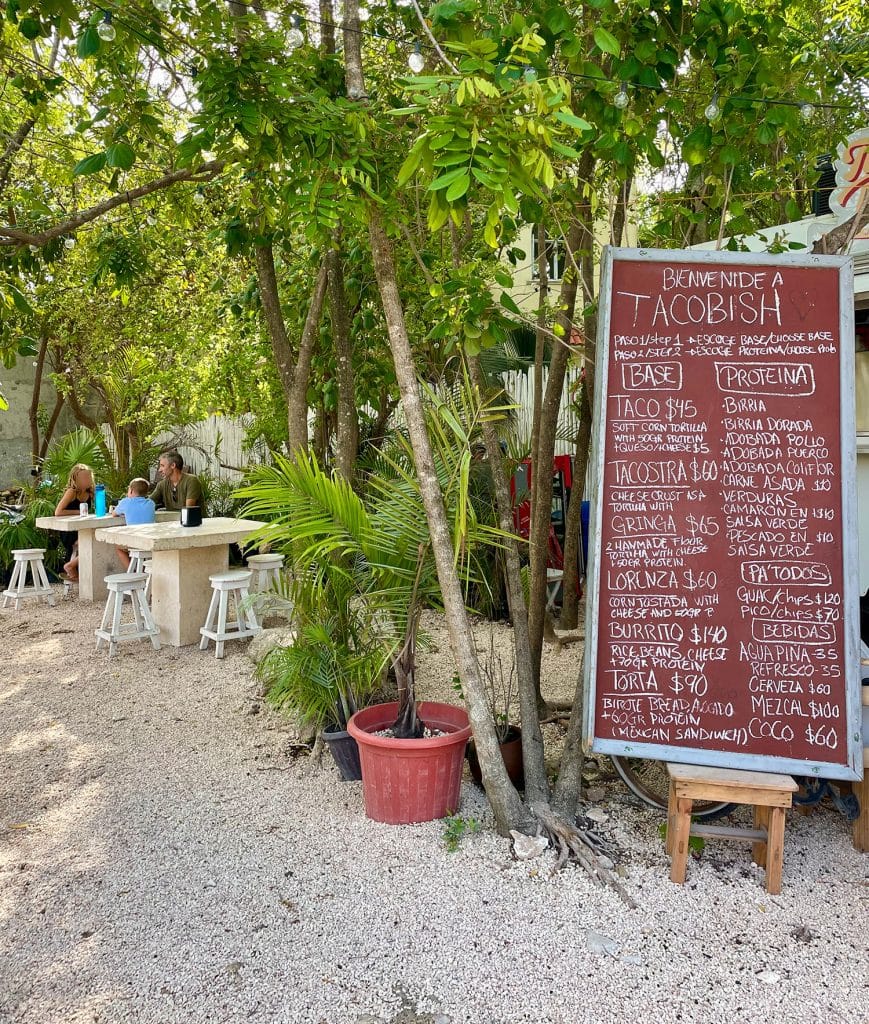 We also downloaded the Google Translate app to our phones, which I used a few times to refresh myself on some phrases along the way. It also has a voice-to-text translation feature that you can use when conversing with others. You can even take photos and translate the text in an image (like below) so that's helpful if there's a sign or menu that you want to be sure you understand.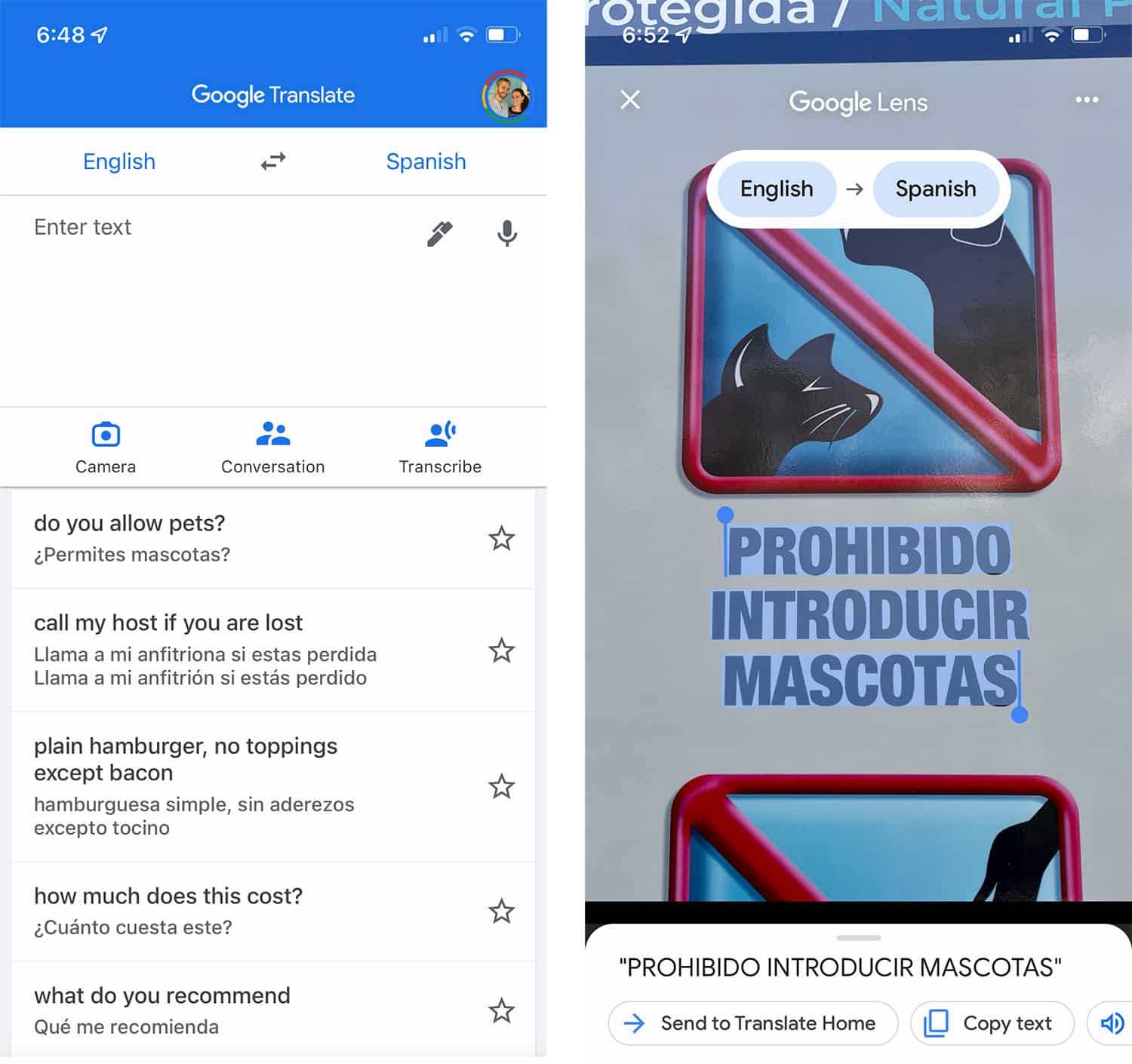 Perhaps our favorite story of the whole trip was when our snorkel guide was trying to tell us about the creature living in a giant shell that he showed us. He spoke great English, but didn't know the particular word for "snail." So our conversation went like this:
Guide: It's a…. do you know the cartoon sea sponge?
Us: Spongebob Squarepants?
Guide: Yes! His pet?
Our daughter: Gary?
Guide: Yes!
Our daughter: Oh, he's a snail!
Guide: Yes! It's a snail!
Truly, Angel was the best guide ever, so if you ever find yourself at Turtle Bay in Akumal, definitely try to get a tour with him. There's more info about his tour further down this post.
What about currency?
Mexico uses the peso and we're definitely glad we had a bunch of pesos on hand upon arrival. I remember being surprised by how many places in Costa Rica accepted or even preferred US dollars, but this was NOT our experience in Mexico. We used our credit card for most of our large purchases (rental car, gas, restaurant meals) but arriving with pesos was great for gift shops, ice creams, and tipping. We ordered pesos online from our bank before we left and they arrived by mail, safe and sound.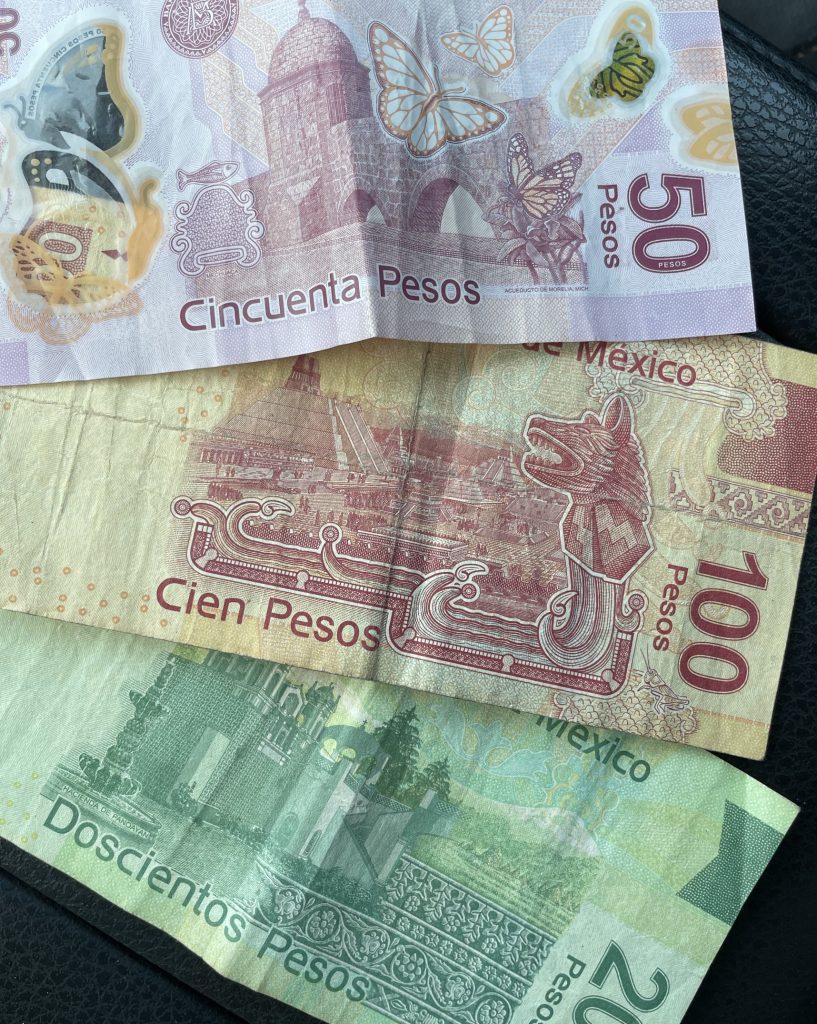 The currency conversion is pretty easy: $1 USD is equal to about $20 MXN, so a $50 USD meal would be just over $1,000 MXN. We downloaded a currency converter app, but even our kids got the hang of making a rough conversation because the quick trick was to "remove a zero, then cut that number in half." So if they saw something in a gift shop that was $200 MXN, they'd remove a zero ($20) and then cut it in half – meaning the item was about $10. It was a quick & easy way to get a sense of how expensive something was when eating or shopping.
Did you feel safe?
Yes! Everyone we encountered was so kind and we never felt unsafe at all while in Mexico. Obviously we practiced common-sense measures that we use whenever we travel anywhere like locking the car and not leaving bags or other valuables unattended – but those are things we do in the US and basically anywhere we go. The only "safety concern" that required extra vigilance was walking near traffic in Tulum. There weren't sidewalks everywhere, so sometimes we had to be extra careful of passing cars or scooters. But it wasn't much different than the roads in our neighborhood at home, so our kids are well-practiced at walking in areas like this.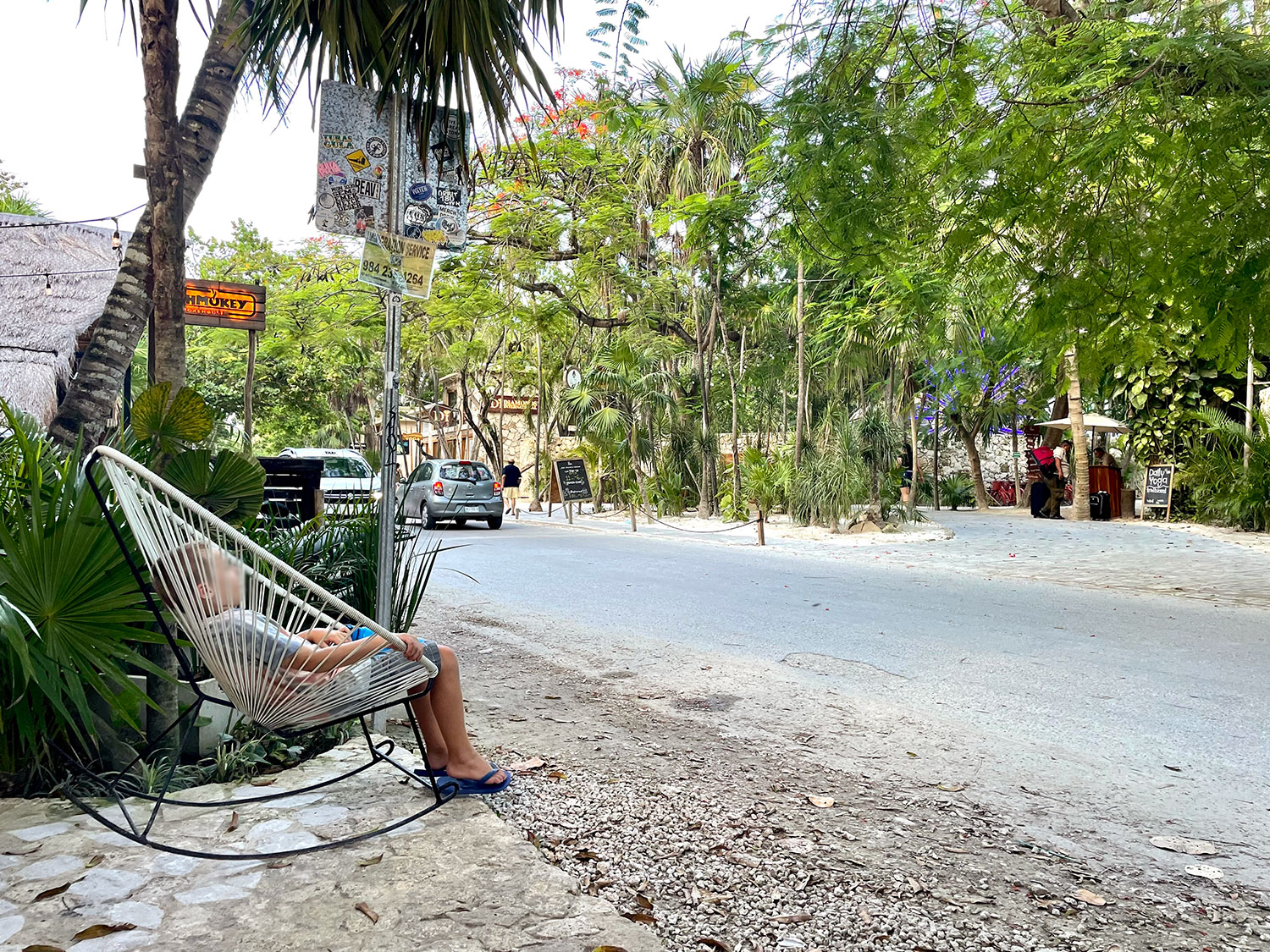 I will say that Tulum has a lot of noticeable security measures around town (most of the newer homes and hotels are fenced, gated, and sometimes also have electric fences around their perimeters) but again, we never felt unsafe walking or driving anywhere that we went. We did end up back at home by around 8pm every night, but that was mostly so we didn't have to drive on unfamiliar roads in the dark (and also because we're too old and boring to be caught up in any bar scene or nightlife. Ha!).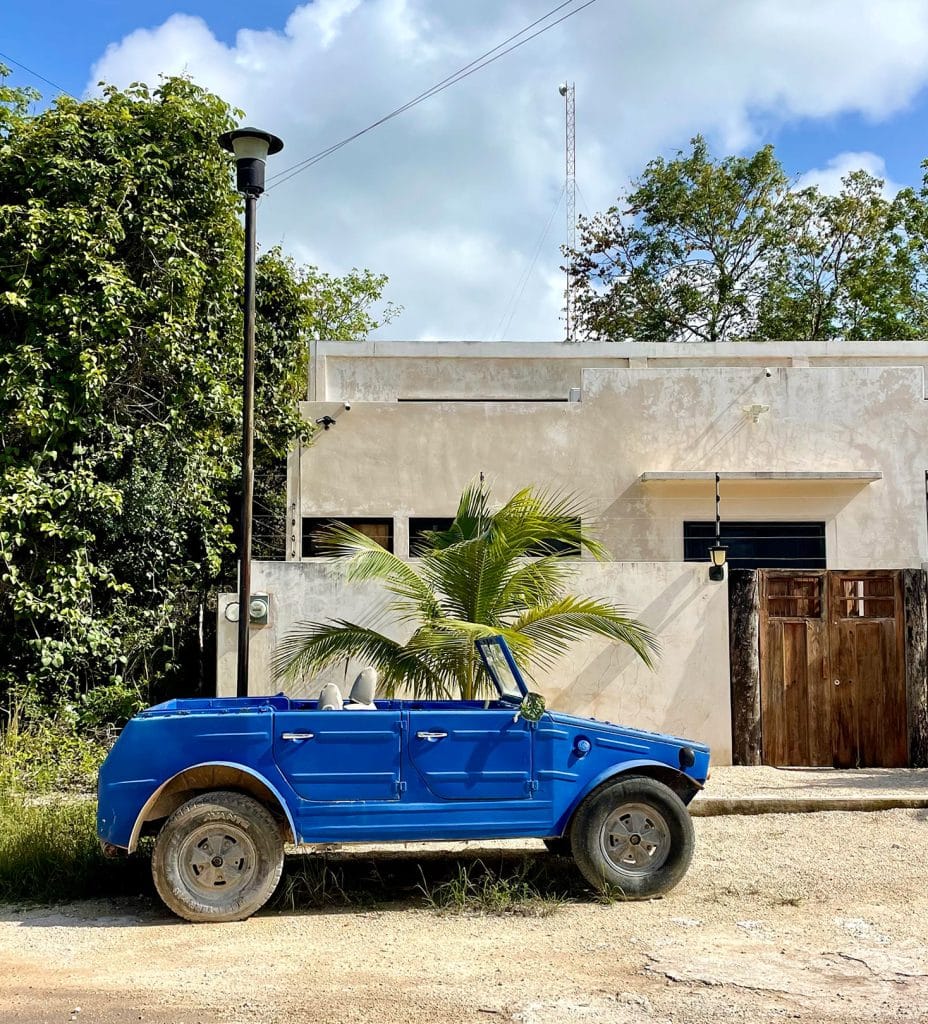 Any tummy issues while you were there?
Nope! None of us had a single tummy issue on our trip. Both Airbnbs had filtered water coolers and most restaurants offered bottled water or made it clear that their water and/or ice were filtered. And foodwise, we said yes to anything and everything. Food trucks, seafood, ceviche, smoothies, etc. We tried it all. And I'm glad we did, because all of the drinks and food and desserts were DELICIOUS. Below is our breakfast from the Tierra restaurant in Tulum.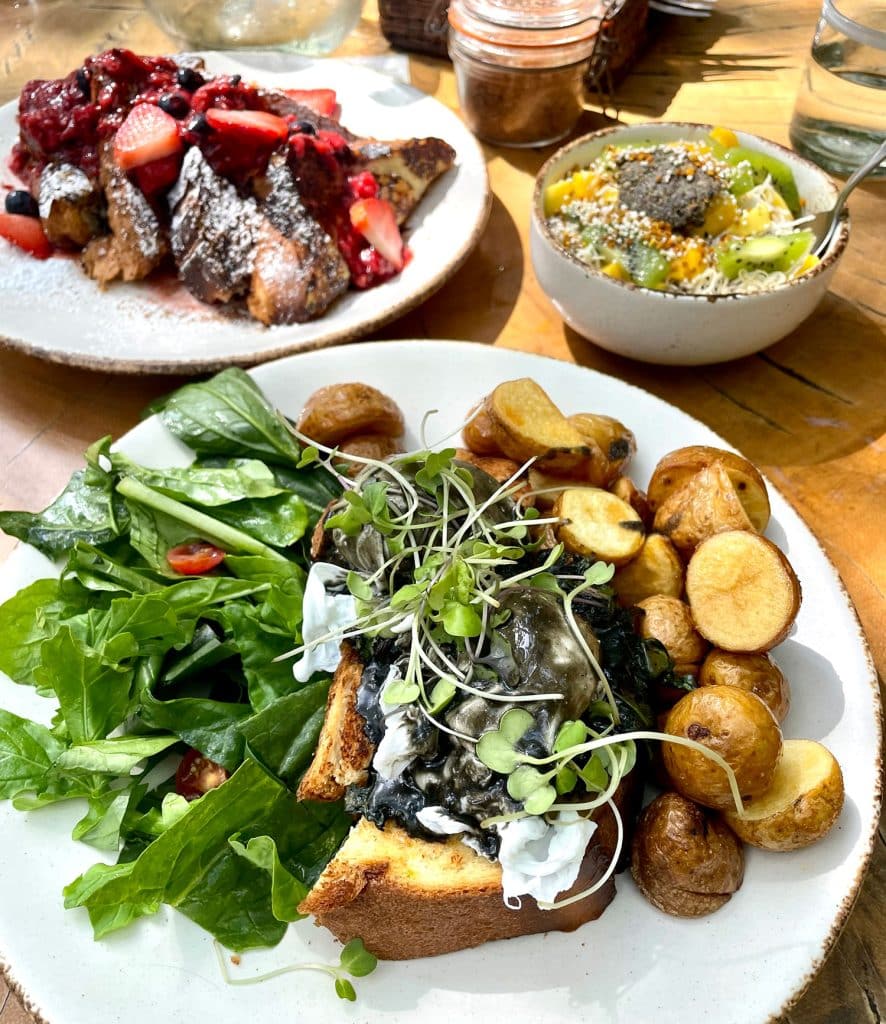 Let's hear about those Airbnbs!
Our first Airbnb was called ARKAH and was located in Akumal, Mexico – about a 75-minute drive from the Cancun airport. We found it when we were booking our trip and wanted to extend our time in Mexico longer than the 4-nights that our Airbnb near Tulum was available for, so we mainly chose it because it was en route to Tulum, didn't have a minimum night's stay (we stayed for 2 nights), and was dog-friendly. Oh, and it was super affordable – only $77/night!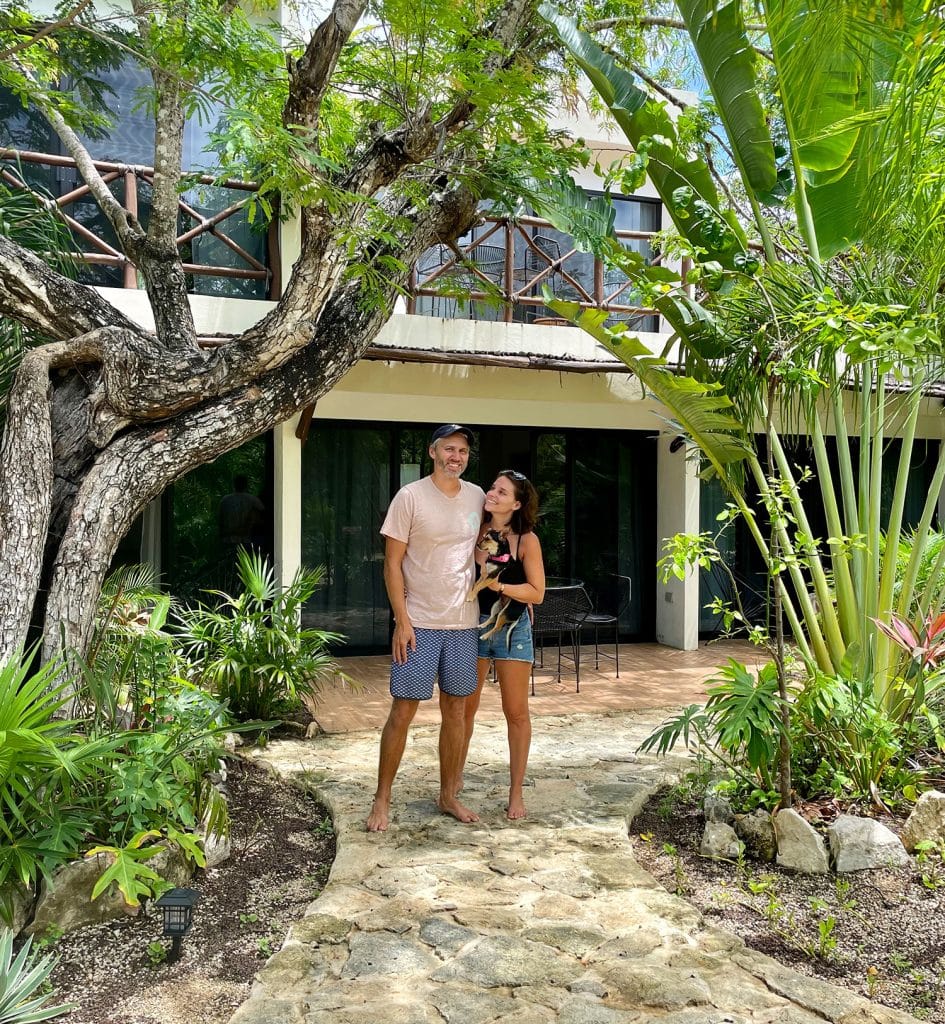 ARKAH is a small complex of 4 duplex apartments around a central pool/lounge area with some beautifully lush walkways between each of the buildings. We worried about it being noisy or busy with other renters around, but it was shockingly quiet and serene. Besides the renters in the unit above us (we saw them out on their balcony a couple of times and waved), we barely spotted another guest there. I think we saw more lizards than people, actually.
The apartment itself was very simply furnished and the kitchen was a bit rustic (I had to light the stove with a match!) but we had a great, relaxing stay there. We actually ended up liking the town of Akumal even more than Tulum, so it was such a happy accident to have found this place!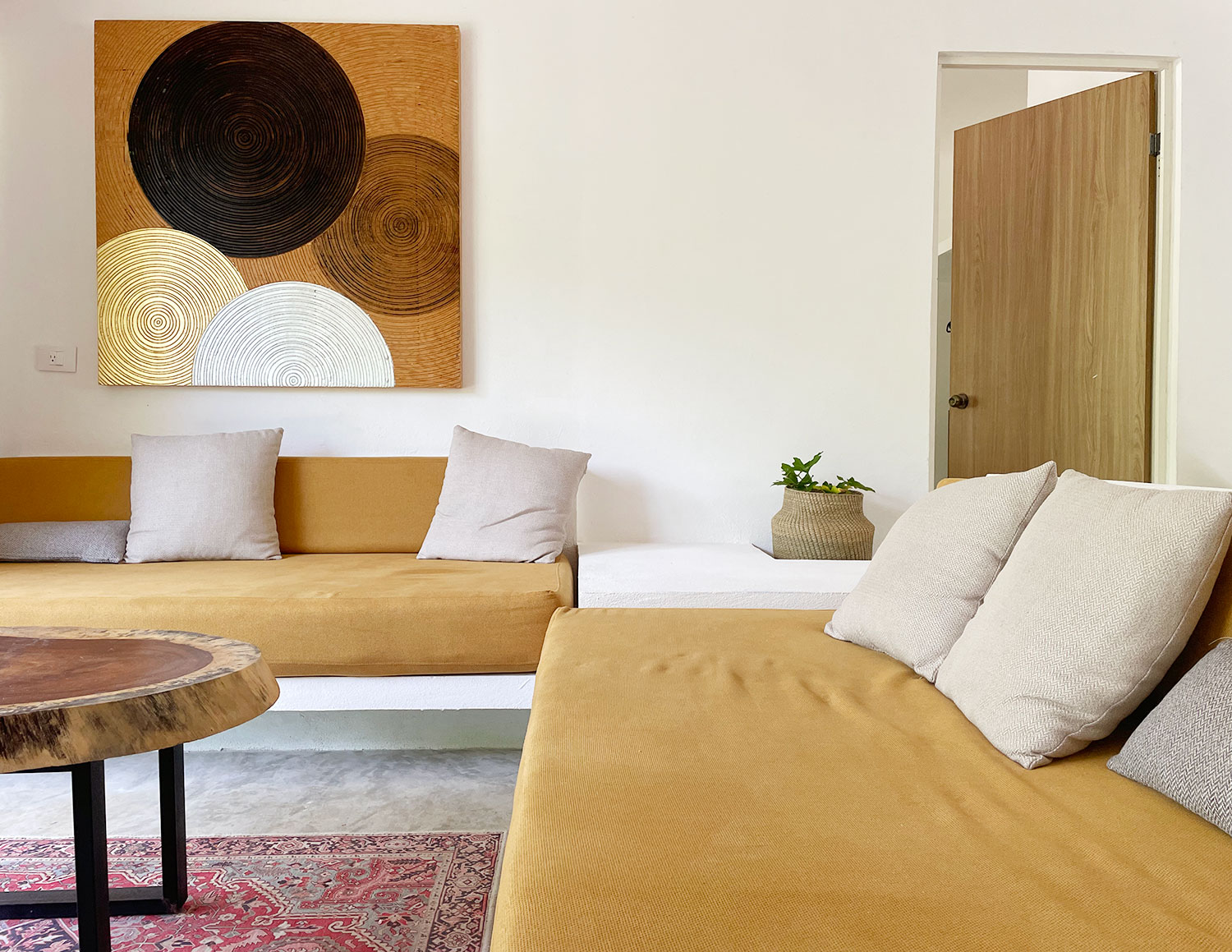 Our Airbnb near Tulum was called Villa Lu'um and it's definitely the fanciest Airbnb we've ever stayed in, although definitely not the most expensive (it was $280/night – just about what we used to charge for one side of the Duplex!). Sherry shot this quick video below before we dragged the rest of our stuff in. Forgive us for the vertical format. She made it to text her friend with the message: "THIS IS THE MOST REAL HOUSEWIVES HOUSE I'VE EVER STAYED IN!"
Note: You can also view this video on YouTube.
The "Villa" was a townhouse that felt extremely private, was beautifully decorated, and looked exactly as nice as the listing photos.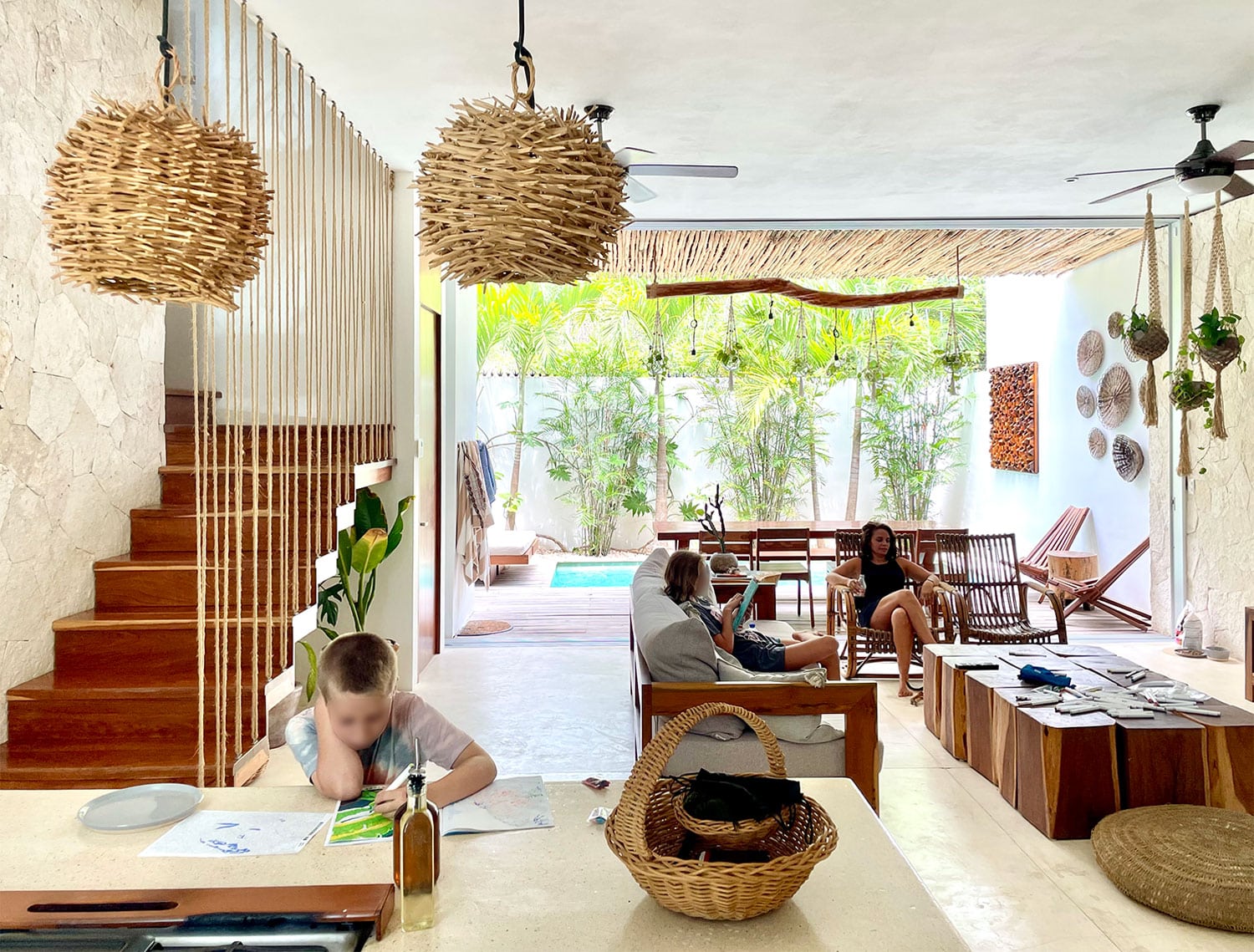 The pool was our favorite feature and the kids didn't tire of it even though we now have a pool at home. It was great for cooling off after exploring each morning, and we twice ordered meals to the house using Tomato.mx (sort of like Uber Eats) just so we could eat out by the pool. And the big glass doors could fully retract into the wall for a totally open first-floor living area.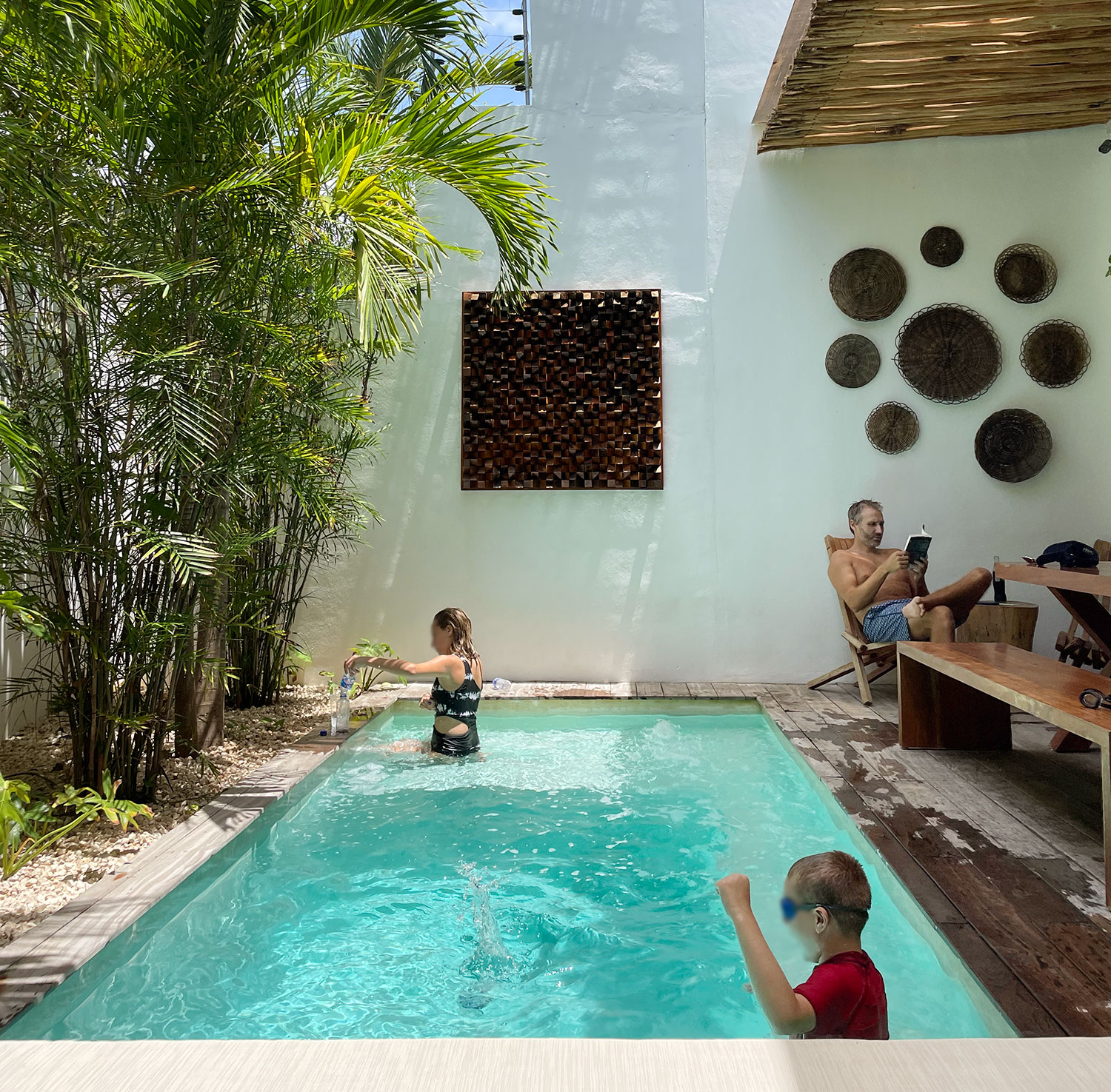 Villa Lu'um was located in a neighborhood called La Veleta that was pretty close to the central shopping and restaurants of Tulum Town, which meant we could walk to some restaurants from this Airbnb (unlike our place in Akumal). La Veleta is very much under construction due to Tulum's growing popularity. It wasn't too noisy, but the roads were pretty bumpy. We joked that they reminded us of our clay/sand street back at home in Florida that also gets potholed and bumpy after rainstorms.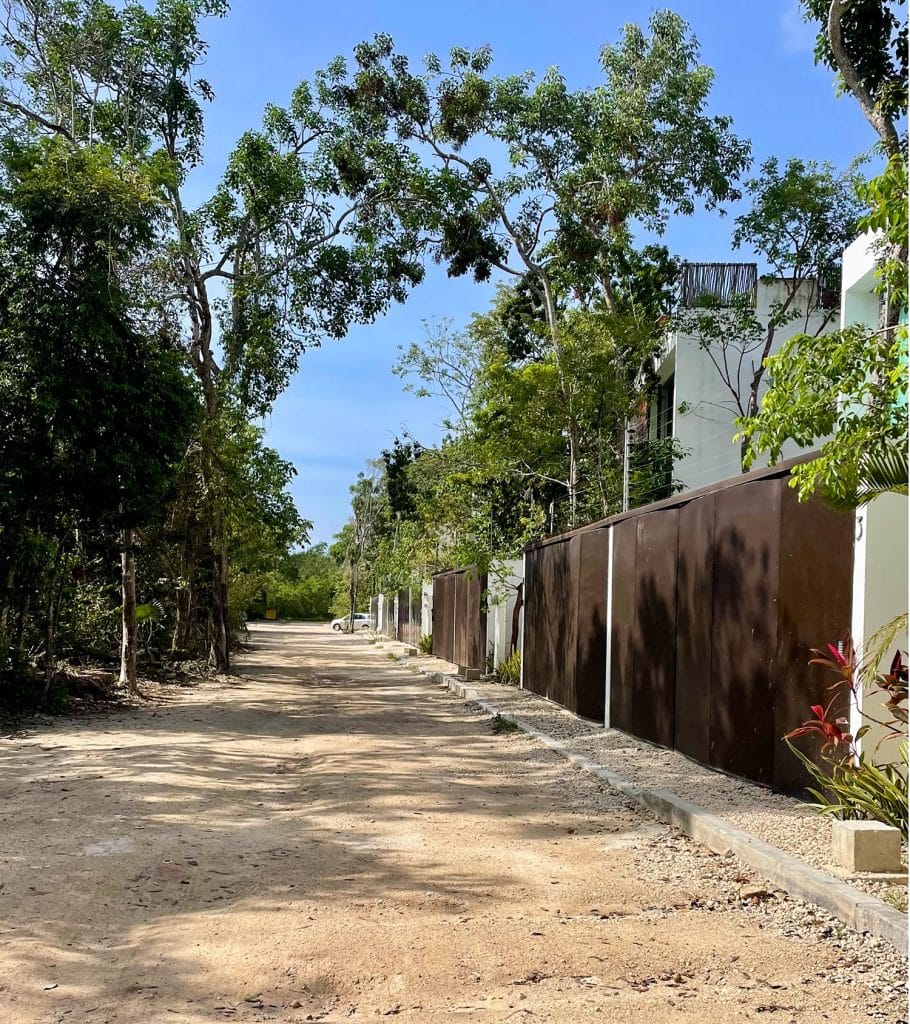 Our Airbnb was about a 20-minute drive to the beach and the Hotel Zone where there are more resorts, beach clubs, and trendy shopping. We went one day to check it out but it wasn't really our scene, so we didn't regret not staying closer to the beach. Being able to walk to Tulum Town was really nice, so location-wise, we really liked this spot (although we liked the restaurants, walks, shops, and activities in Akumal even more than anything we did in Tulum).
What activities did you do?
We kept this trip a bit more low-key than our Costa Rica vacation – lots of relaxing, eating, walking, and more eating – but we did do a few excursions that we really loved. Starting with our favorite of all:
Turtle Bay Snorkel Tour in Akumal
The day we arrived we booked this snorkel tour with Akumal Ecological Guides to hopefully see some sea turtles. Even though we have sea turtles here in Florida, we haven't spotted many in the wild, and this was a chance to see them up close! The tour included snorkels and life jackets and, even though none of us had really ever snorkeled before, everyone got the hang of it right away.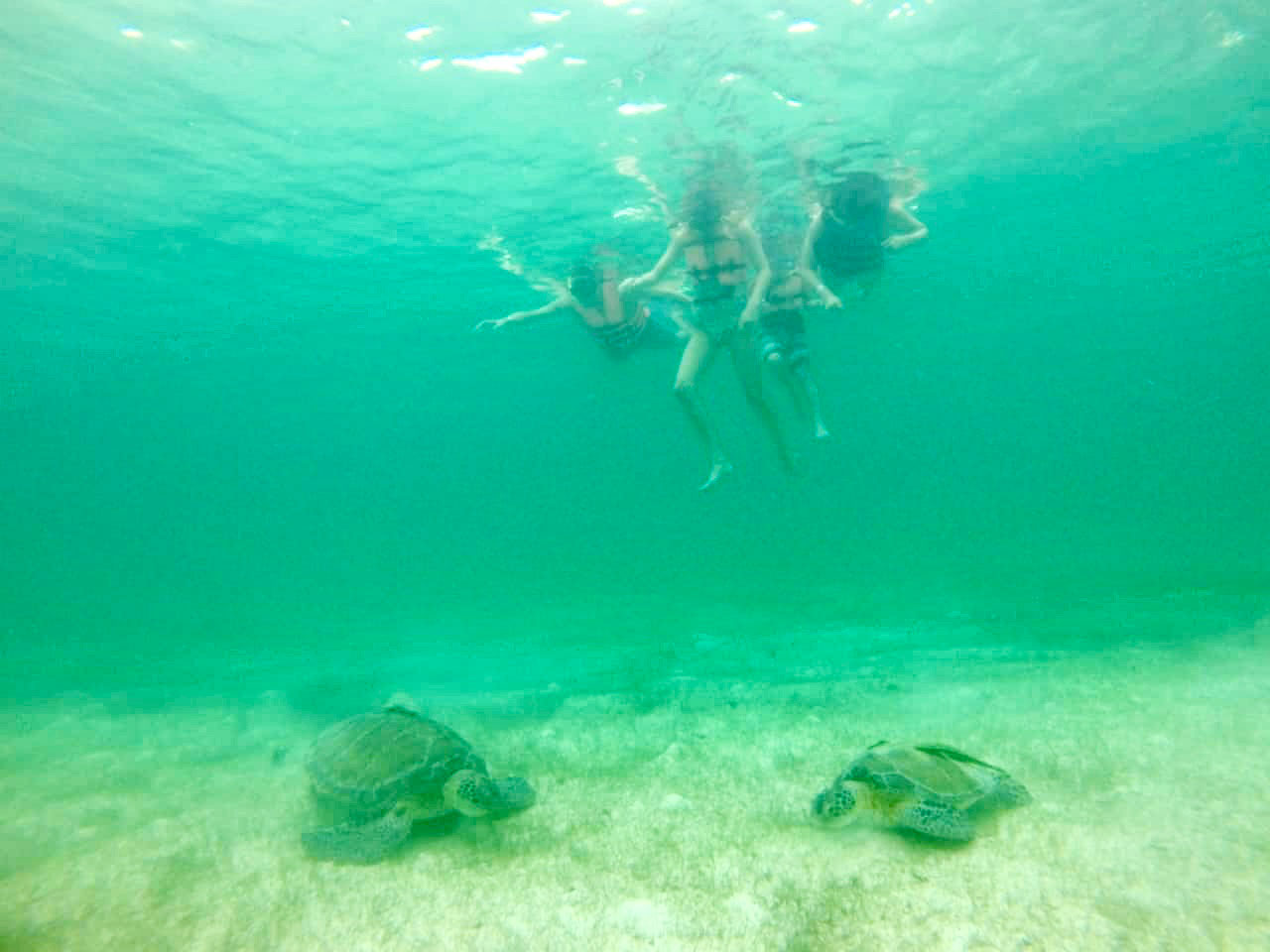 We booked the first tour of the day and were the only 4 people in the group, which was great! Our guide, Angel led us through a roped area of Akumal Bay that is only accessible with a guide, and over the course of about 45 minutes, we saw SEVEN giant sea turtles. Right in front of us. It was amazing.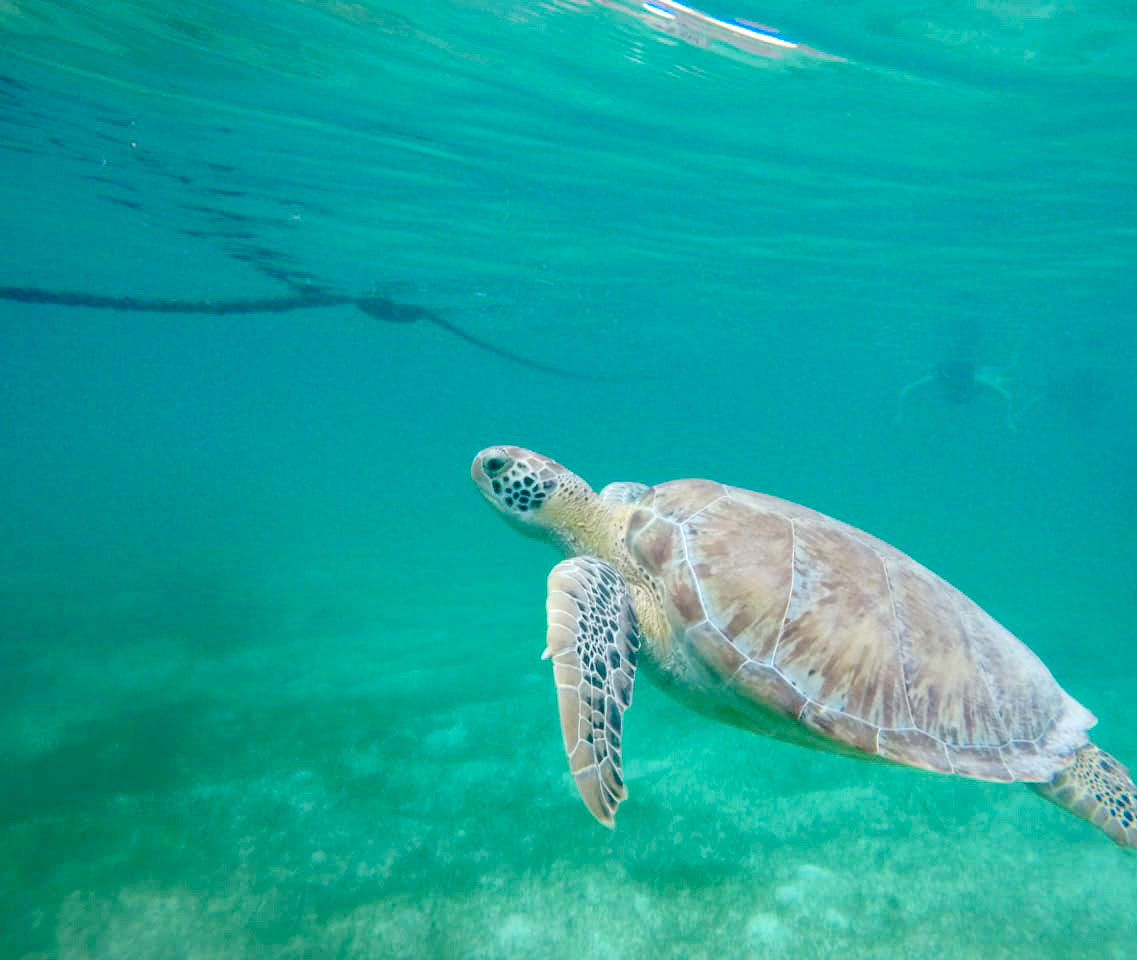 We didn't realize that Angel was going to take underwater photos the whole time, so that was an amazing surprise (we brought our underwater camera to Mexico, but the tour website said photography was not permitted so we left it back at our Airbnb). We enjoyed this tour so much that we almost booked it again the next day! It was by far the highlight of our entire trip (Sherry referred to it as "a top-five highlight" of her entire life). Do it if you can!
Swimming In A Cenote
Cenotes (pronounced SIN-oh-taze) are similar to the natural limestone springs we have in Florida, except these in the Yucatan more often have dramatic caves as a part of them. There are a bunch all over the region, but we ended up at one called Cenote Cristalino because it was near our Akumal Airbnb and the parking lot was empty (it had just opened). So we'd recommend going right when they open and you could have the whole thing to yourself!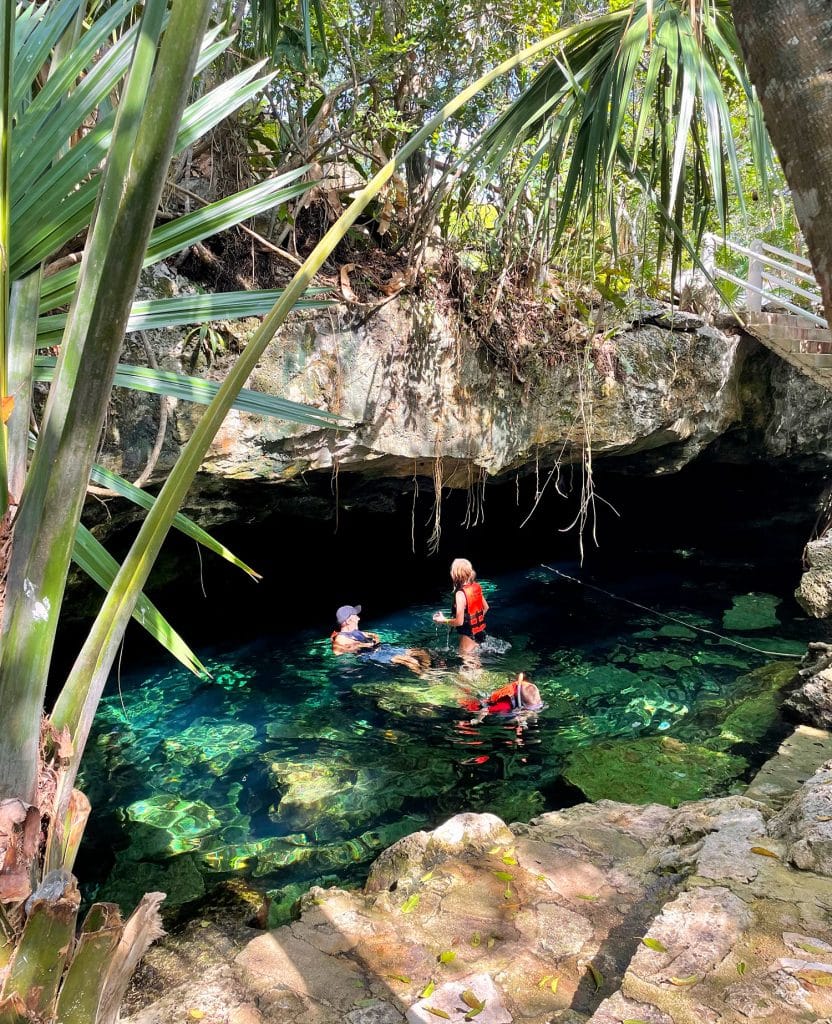 The admission (which converted to about $8 each, if I remember correctly) included a life jacket and they also had lockers and snorkels for rent too. It stayed uncrowded enough during our visit that we could just stay near our bag, so we skipped the locker, and we had brought a snorkel with us from home that we shared along with our underwater camera, which was great to have.
The water was a little chilly, but refreshing, and it was beautifully clear. The kids used their new love of snorkeling to watch all of the fish and Sherry and I just floated around, explored, and took 903 pictures.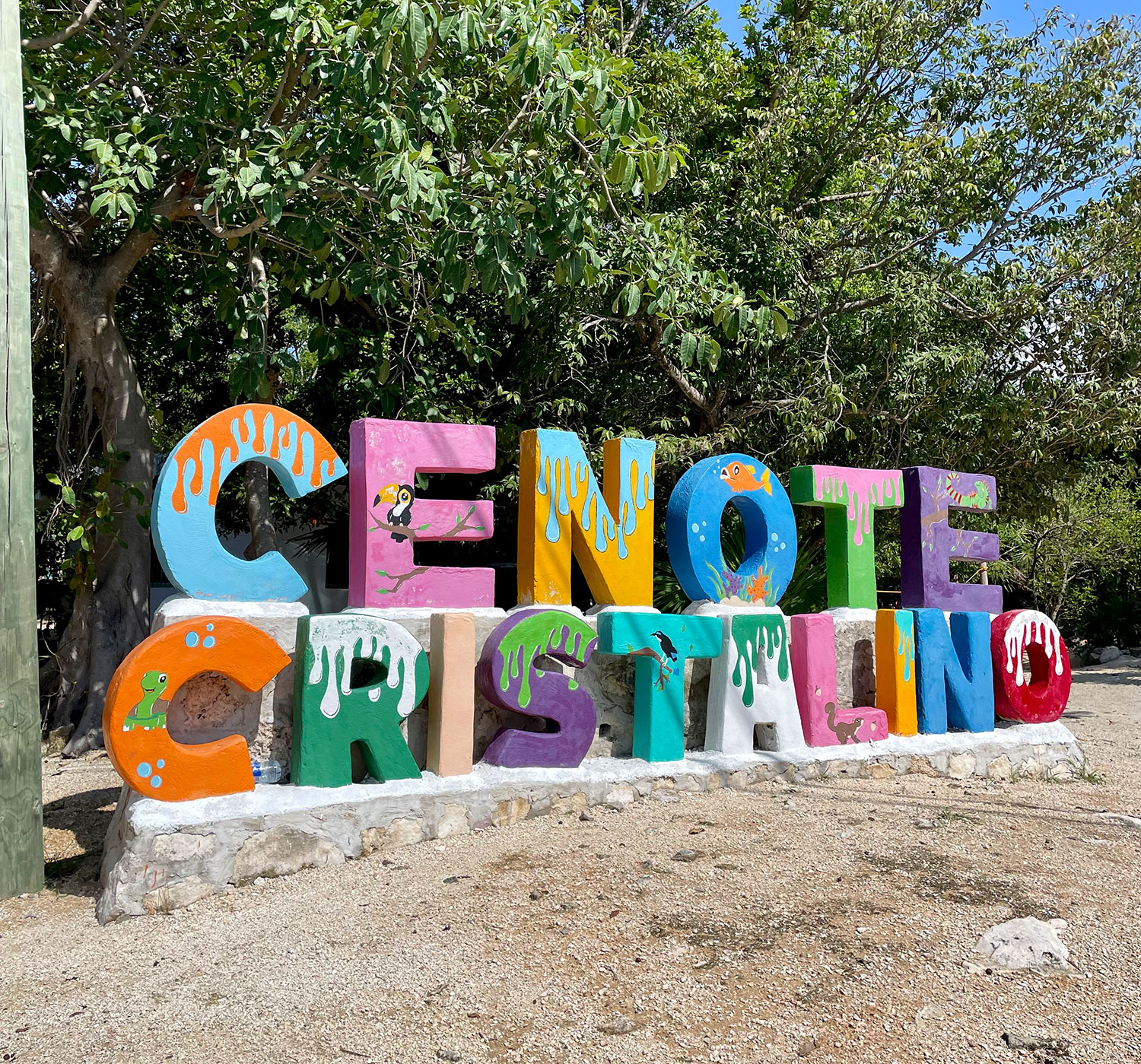 The Holistika Art Walk
This was actually within walking distance of our Tulum Airbnb – within a resort called Holistika which is an eco-conscious yoga-retreat type place (I would almost use that description for most of Tulum). After eating at their restaurant for breakfast, we followed the path back to the public "Art Walk," which is a collection of large murals painted on freestanding stone walls in the middle of the jungle.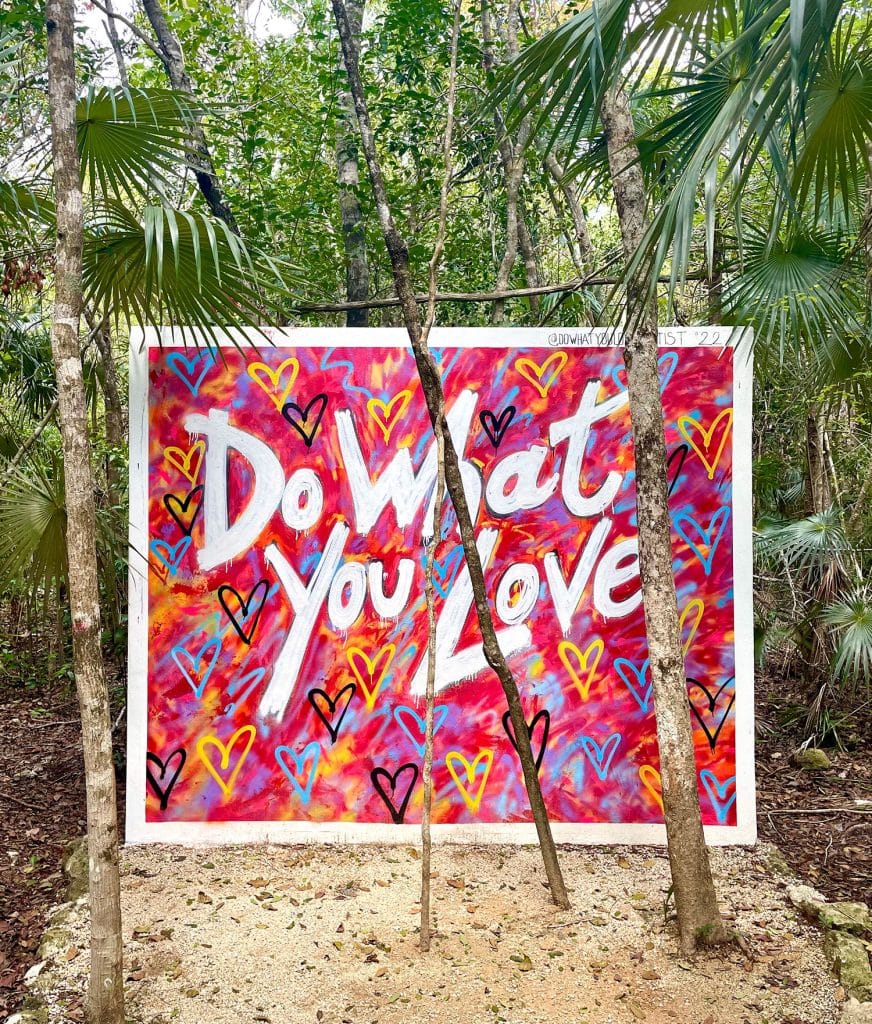 The art was colorful and fun, and the peaceful natural setting was such a contrast to the urban environments where you usually find murals. Plus, several of them were interactive – you could climb on or walk through them. It was SUCH a cool experience.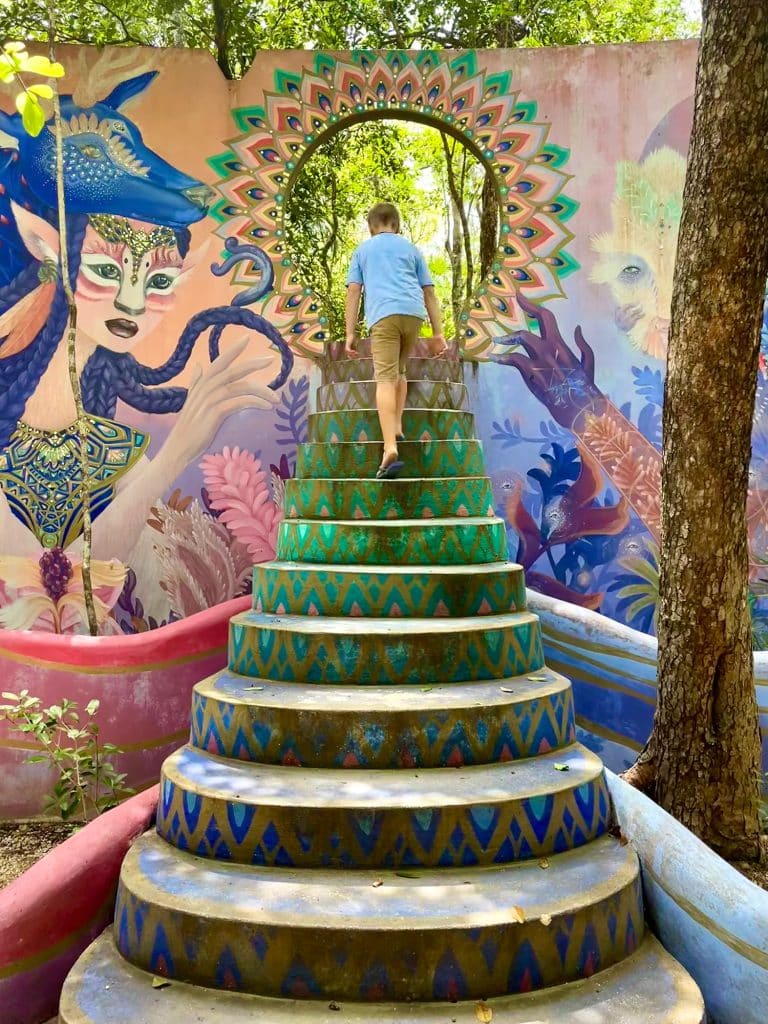 Our only regret is that we didn't apply bug spray first! Overall the bugs didn't really bother us in Mexico otherwise (not at our Airbnb, at restaurants, etc) but they were more noticeable in the jungle-like environment of the art walk. This might have been our favorite thing to do while in Tulum though! Go early (again, we went right after breakfast) – we were the only ones there! So we could take our time & snap another 908 photos.
The Mayan Ruins in Tulum
Having never seen Mayan Ruins in person, we didn't want to miss this little bit of history located right on the coast in Tulum. We opted not to go as part of a guided tour so that we would have more flexibility and the jury is still out on if that was a smart decision because we know firsthand how much an awesome guide can add to an experience.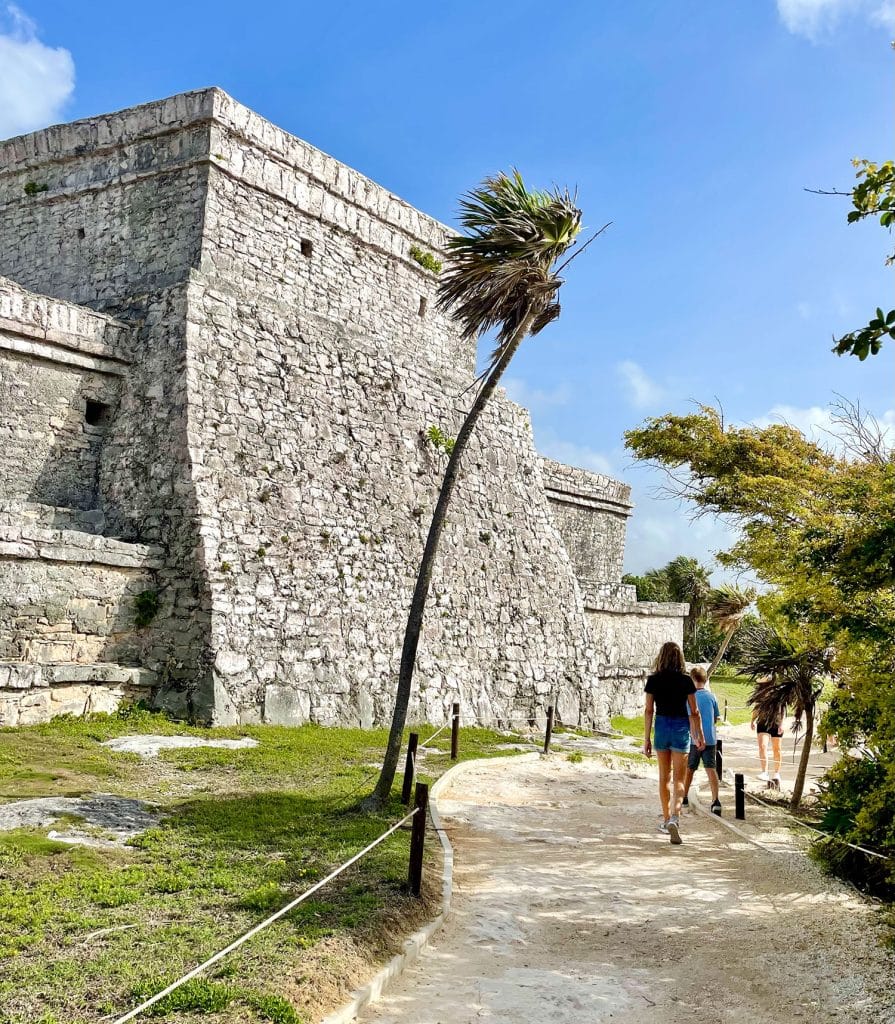 On one hand, it was very hot – even though we got there right when it opened and there was a good breeze off of the water – so we quickly became sweaty messes and I knew we had about an hour or two tops to spend there before everyone melted. So I'm glad we had the flexibility to seek out shade and leave before anyone become mutinous.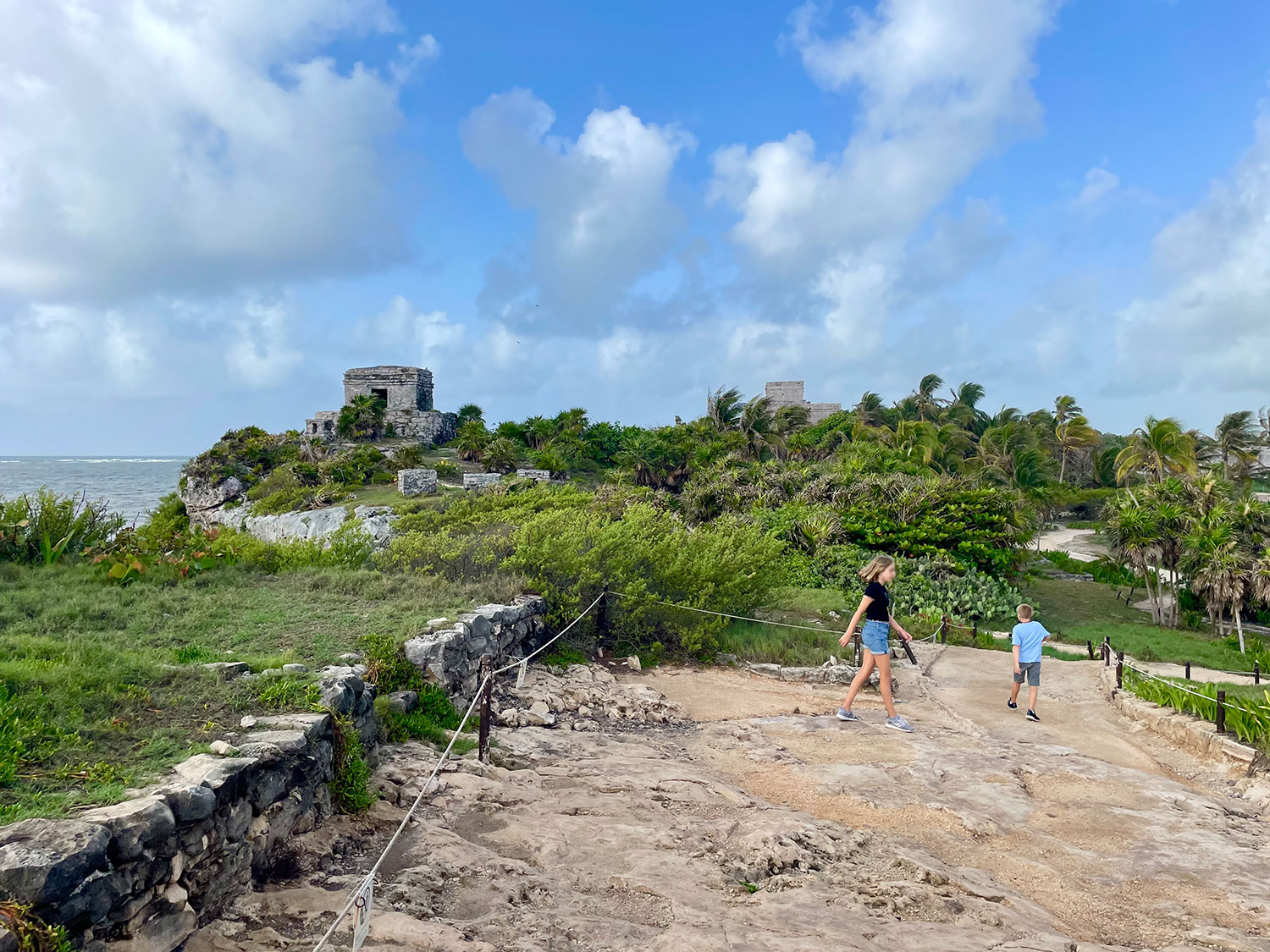 I definitely think we would've left with a greater understanding & appreciation for the ruins if we had been part of a tour. So maybe if you go on a day that doesn't feel too hot, go for that option? There were tons of tour groups while we were there, and they definitely had a lot of interesting stuff to share.
Shops in Akumal & Tulum Town
Second only to the snorkel tour, everyone's favorite activity was probably just perusing the shops in both towns. We weren't looking for anything more than a few souvenirs, but everyone – including Penny the dog! – loved walking through the various outdoor shops and open-air carts in Akumal and Tulum Town (not Tulum Beach, where the shopping was more fashion & high-end, I'd skip that with kids).
Our favorite was probably a shop with multiple locations called MexicArt that featured lots of Mexican artwork, including souvenir-sized dolls, ornaments, decor, etc. They didn't allow photography inside and there's just no way to convey how colorful and lively it all was. We went into three different MexicArt stores on our trip, and the one in the plaza in Akumal was probably our favorite.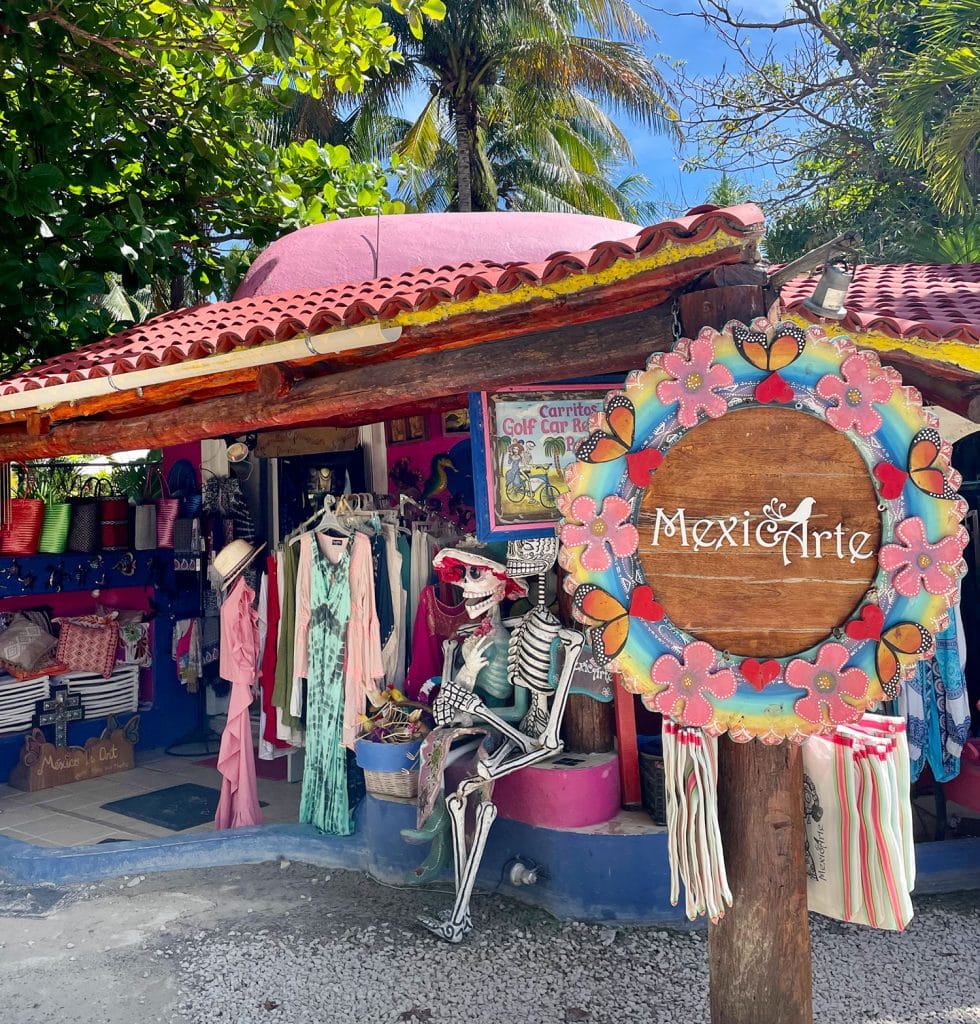 You may notice that the beach is missing from this list. Would you believe that we never went to the beach in Mexico, despite it boasting those beautiful Caribbean waters?! We were technically visiting in hurricane season and the Caribbean happened to be pretty rough and choppy while we were there. There was also a lot of sargassum (harmless algae that appears this time of year) on the beaches, but since we live a few blocks from the beach back at home, it thankfully wasn't a big deal for us.
That factor may be something to consider if you're planning a visit in June and really want lots of beach time though (avoiding hurricane season might yield less heat, calmer water, but peak season pricing, so it's all a balance).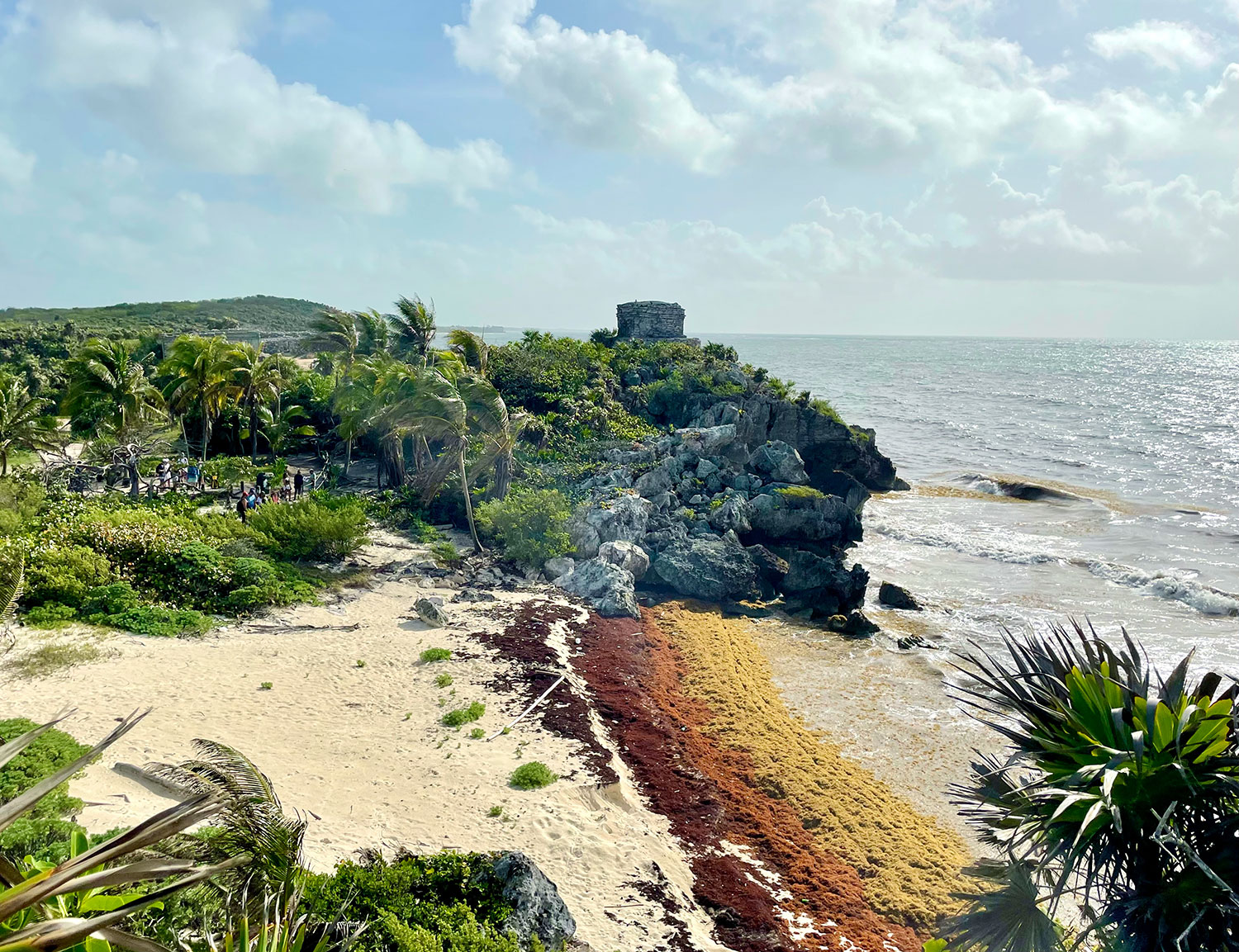 Where did you eat in Mexico?
We love Mexican food here at home, so we were excited to encounter some more authentic-style fare in Mexico. We hit up a lot of widely well-rated spots there, as well as some highly recommended food trucks and restaurants that came from our Airbnb hosts and other locals that we met along the way (always ask their favorite spots to eat, if you can! It often leads to the very best meals of our trips & lots of nice chats with locals).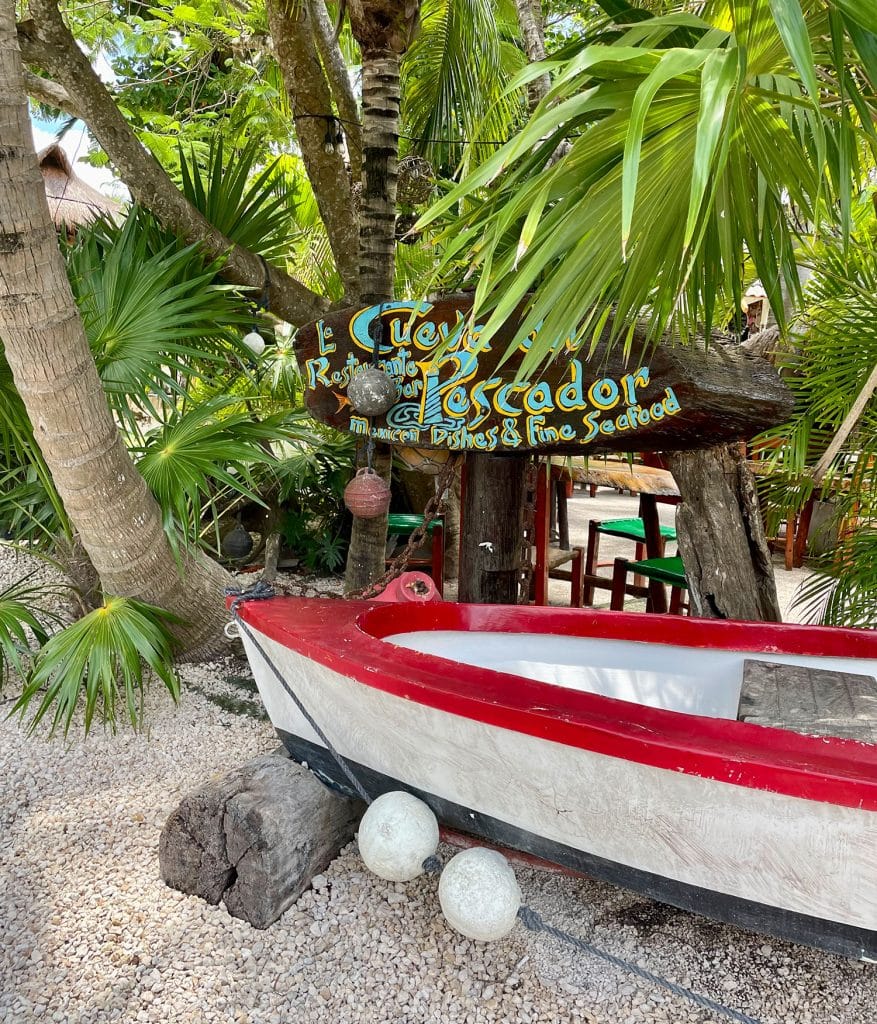 We generally ate one very basic meal at "home" every day thanks to some food we got at the local market (maybe some eggs and toast with loads of fresh fruit for breakfast – or some simple sandwiches for lunch) and then enjoyed the other two meals from a local restaurant or food truck. Here were some of our favorite meals:
La Cueva del Pescador (Akumal) – shown above, our favorite food in Akumal!
La Buena Vida (Akumal) – our favorite ambiance in Akumal & a great meal!
Turtle Bay Bakery & Cafe (Akumal) – great seafood & desserts
Burrito Amor (Tulum) – charming outdoor ambiance & good food
Aldo Gelato (Tulum) – our favorite dessert in Tulum! (shown below)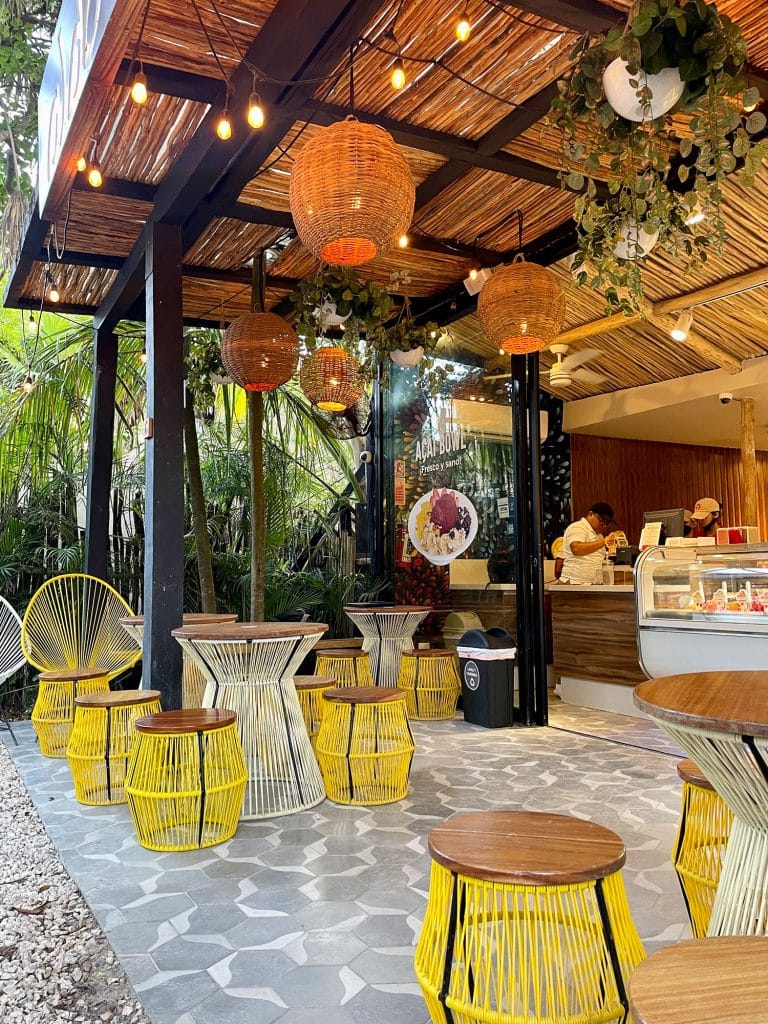 Tierra at Holistika (Tulum) – our favorite ambiance in Tulum!
Cafe Don Tomas (Tulum) – we ordered this via Tomato.mx delivery
Roraima (Tulum) – we ordered via Tomato.mx delivery
TacoBish Food Truck (Tulum) – our favorite food in Tulum! (shown below)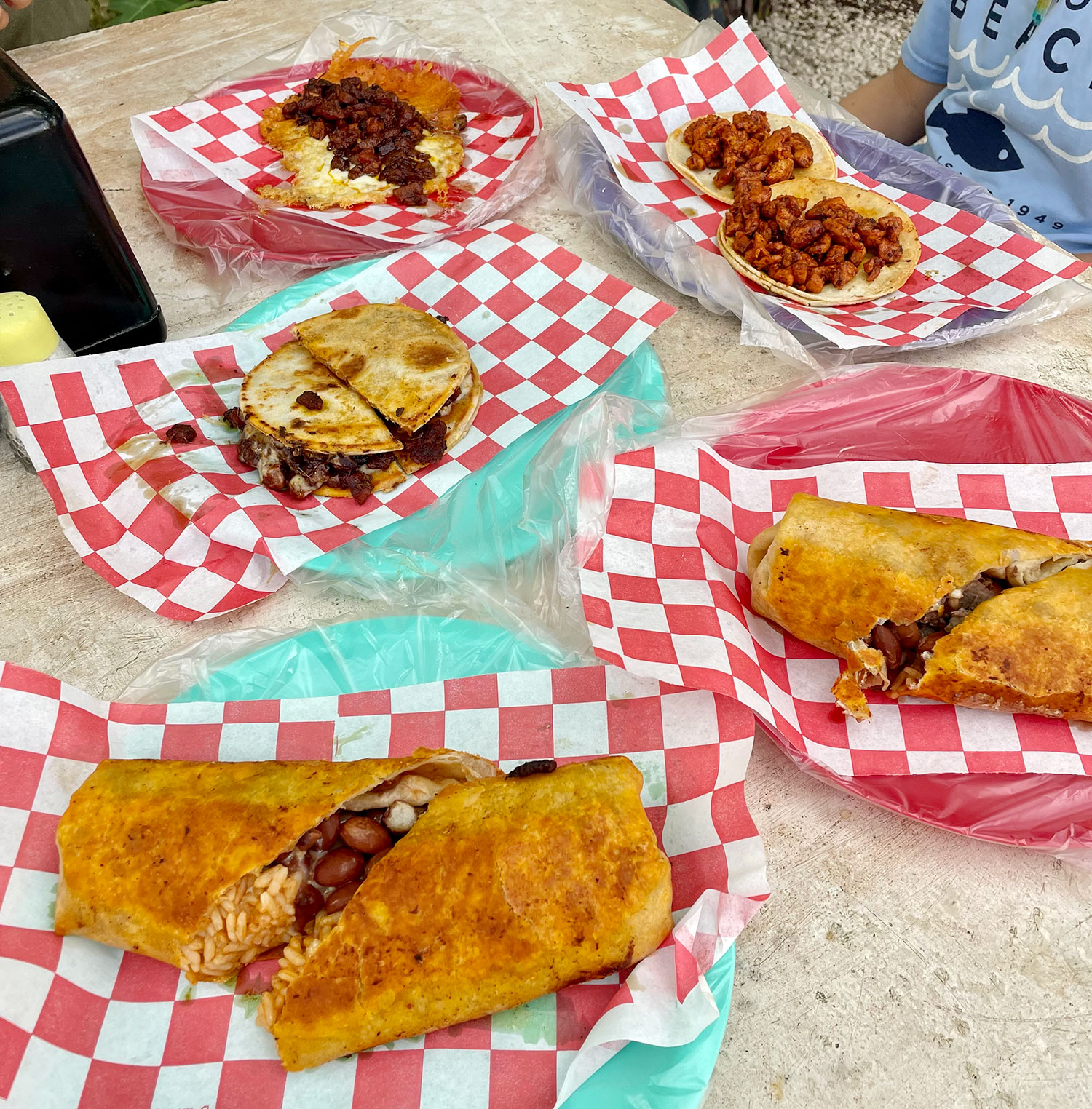 How did you bring a dog? Was Mexico dog-friendly?
We decided to bring our 3-year-old chihuahua-yorkie mutt, Penny, because she's part of the family and a good traveler, just like our previous chihuahua Burger (she's been a road trip champ since we got her). We joke that she had the best time of all on the trip. So much sun! So much sleeping! So much to sniff! It also was an easy choice to bring her because we learned that it's pretty straightforward to fly from the US into Mexico with a dog (no quarantine or anything like that).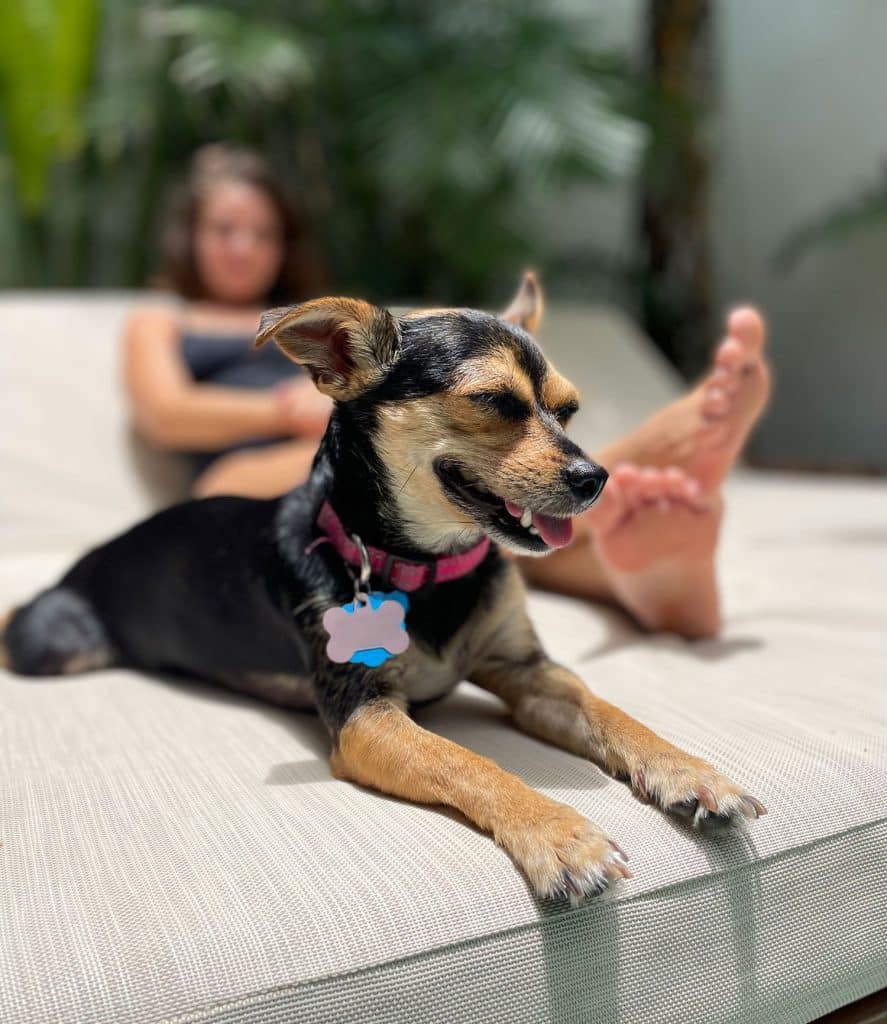 We'd flown with Burger several times – including a ton of spring break trips to Florida and even to Alaska for our honeymoon! – so flying with a dog isn't new to us. All we needed to do to get Penny into Mexico was an official health form from our vet within 5 days of our departure. The form verified that she was up to date on her vaccines and showed no signs of illness or parasites.
Initially, we were told we only needed her rabies record to enter Mexico, but both Mexican and American customs officials asked for her health form from the vet – so we're very glad we got one before we left!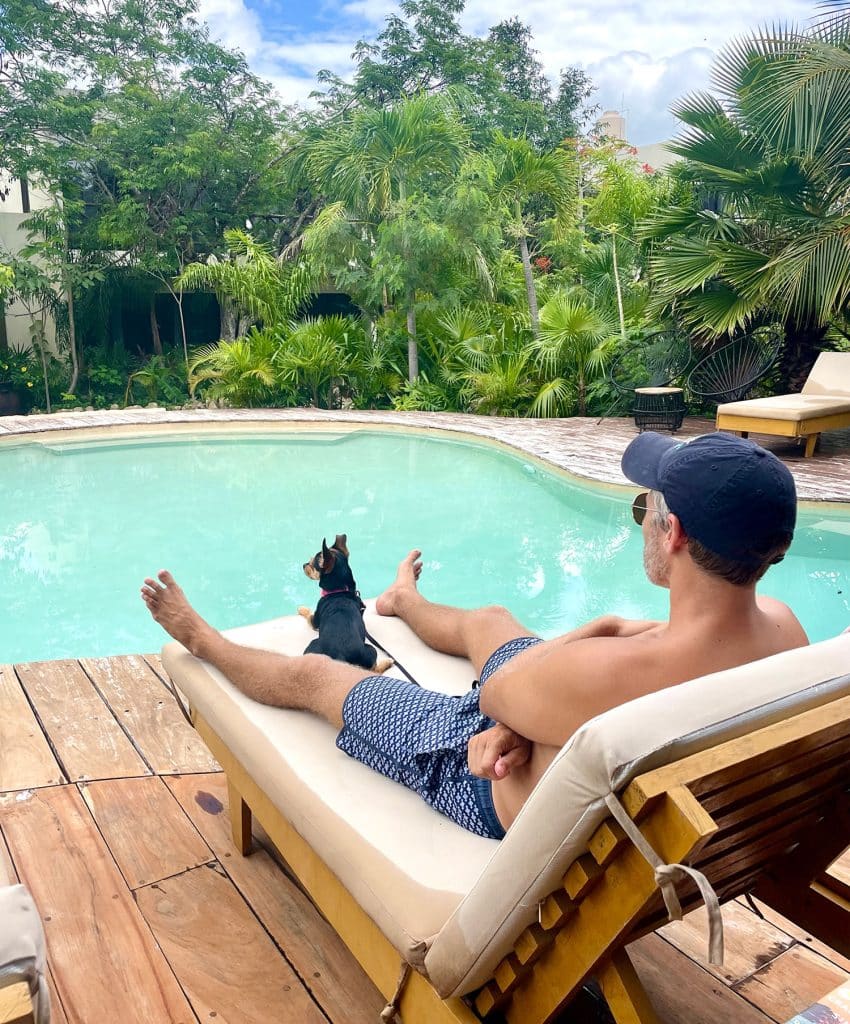 Penny just hung out and slept in her little carrier at our feet on the plane, just like Burger did (people always say "you had a dog this whole time?!" when we deplane because they're such good little quiet travelers). When we arrived at the Cancun airport customs, we were guided to a special room for Penny to be visually "inspected" to make sure she appeared healthy. It was super fast and easy.
Once in Mexico, we found it to be extremely dog-friendly, so we brought her along on all of our walking and dining excursions. We only visited restaurants with outdoor seating and they all enthusiastically greeted Penny (many also offered her water, which we always have on hand for her in case they don't). We typically pick her up & carry her when going into an open-air shop, or one of us will wait outside with her if it's a particularly crowded or small store that's enclosed (or anywhere with food, like a market). Zero issues with that. Again: our impression was that it was super dog-friendly, more so than most spots in the US.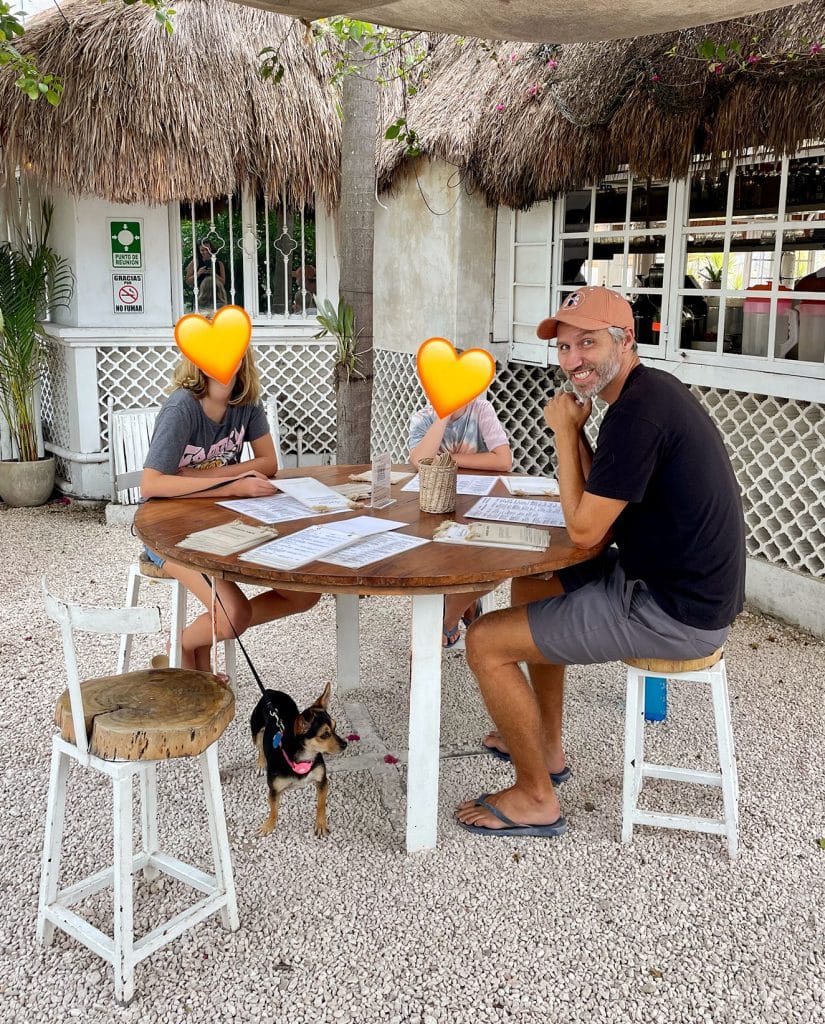 Obviously, dogs can't come snorkeling or cenote swimming (although some places allow them in, just not into the water itself) and the ruins are not dog-friendly either, so for those adventures we left Penny at the Airbnb for a few hours and she relaxed on the cold concrete floors (she loved them so much).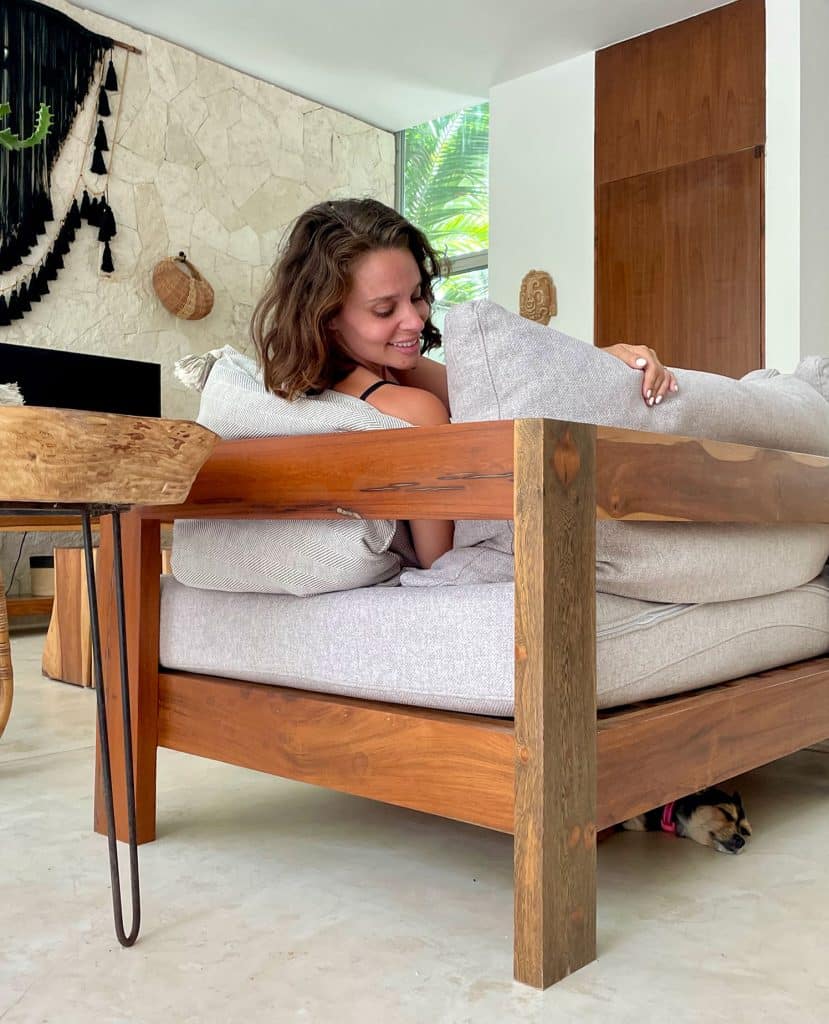 Was Tulum kid-friendly?
This is a popular question online and one that we researched before choosing it as a destination. We didn't find Tulum un-friendly to kids (ours had a great time!) but we definitely didn't see many other kids there. So while you're not going to find boundless toy shops and candy stores, that's not really what we look for when planning a travel destination. So to us, there's still plenty – cenotes, beaches, ruins, etc – that will keep kids entertained and engaged.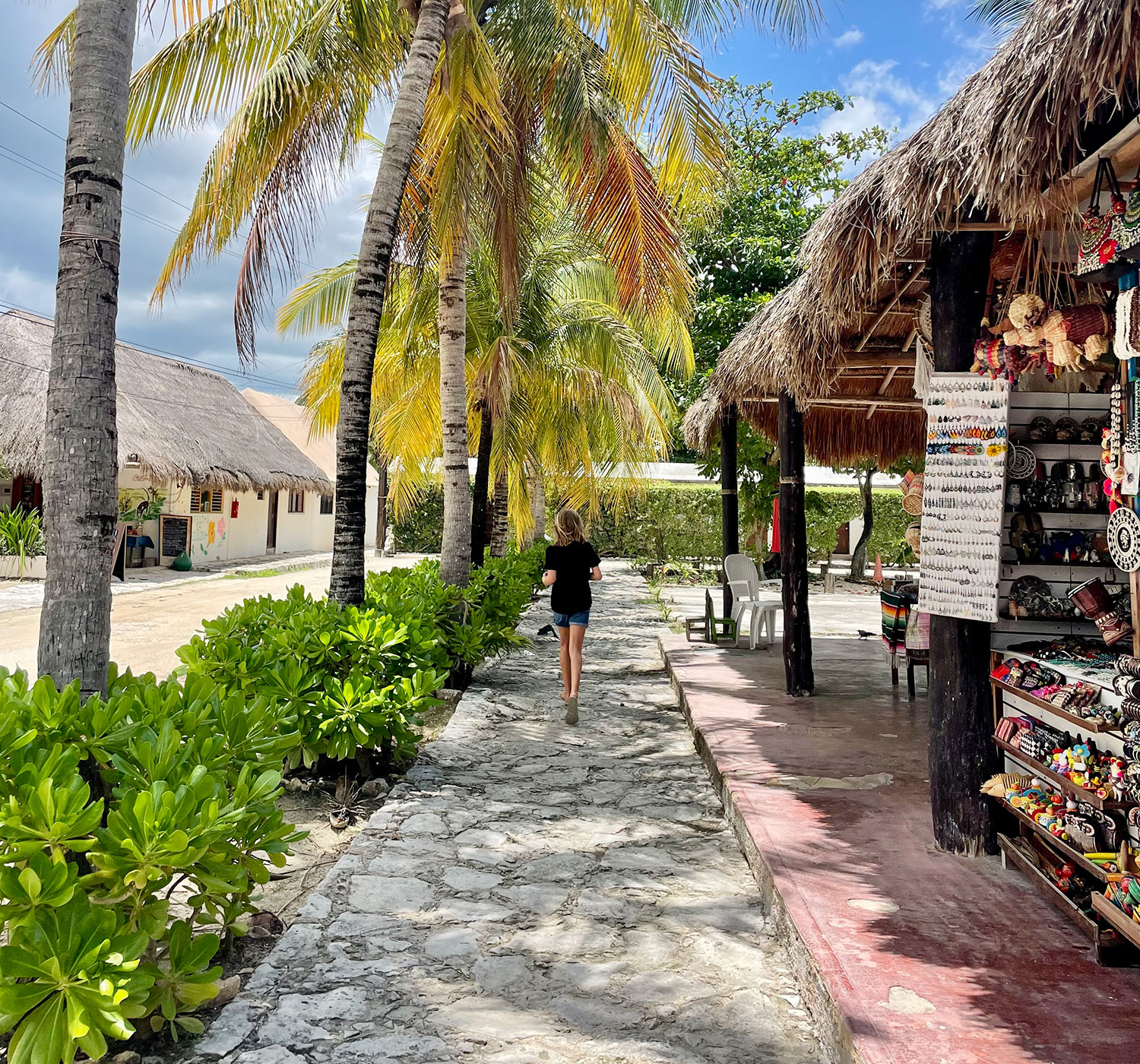 That being said, I don't think we'd go back to Tulum again soon. Not because we didn't like it, just because it feels like we've seen and done a lot of the Tulum activities that interest us.
If we were to do it again, I think we'd spend more time in Akumal actually! It felt a bit more laid back and was closer to other kid-centric attractions like a monkey sanctuary, an outdoor adventure park, and more cenotes. So we left feeling like there was more to see and do if we returned. We also had our very best meals there (take me back to La Cueva del Pescador and La Buena Vida!) and we'd love to go snorkeling with the turtles again.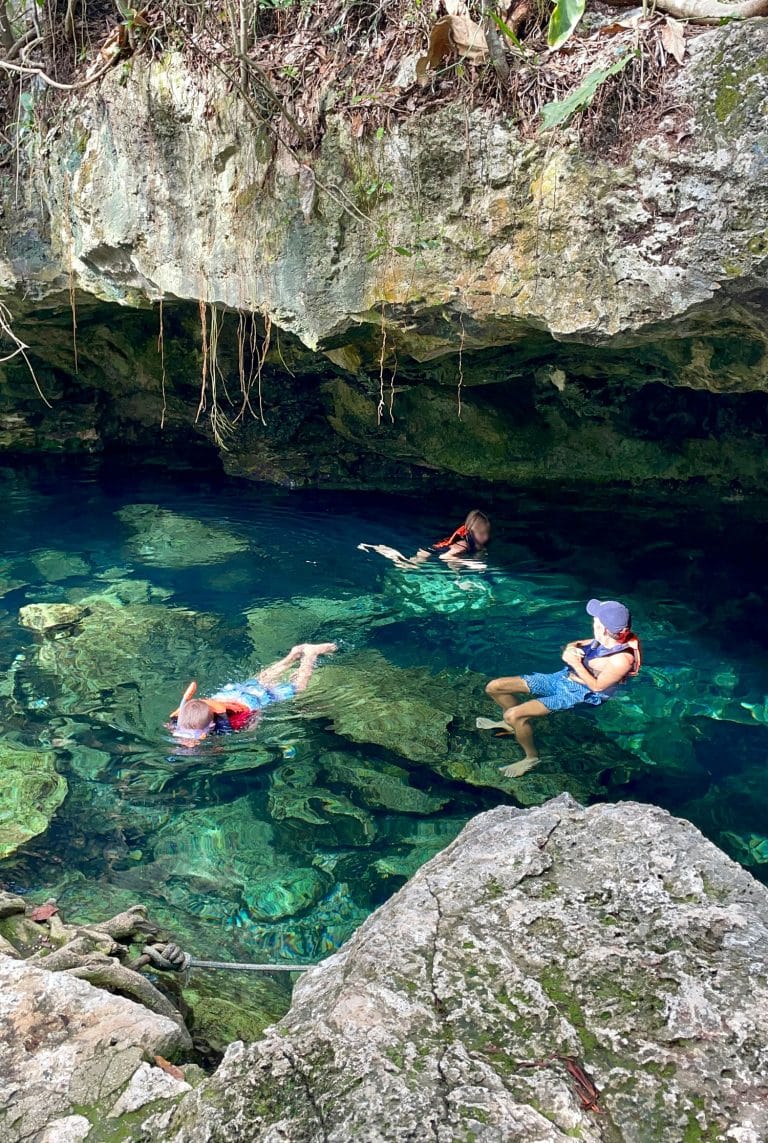 So that's our not-so-brief overview of our family vacation to Mexico! Gracias por leer! That means 'Thank you for reading!'… and yes, I checked my translation app before typing that.
*This post contains affiliate links, so we may earn a small commission when you make a purchase through links on our site at no additional cost to you.